The sun is out, the flowers are blooming, and another great summer is ahead. Sault Ste. Marie is once again topping the list of great Ontario destinations this year. There is so much to do in this action-packed summer city including a shiny new river boat, an incredible train adventure, world-class mountain biking, summer festivals, sandy beaches, great dining, and the list goes on. Here's why visiting Sault Ste. Marie could make this the best summer yet.
Riverboat cruise the northern way: Introducing Miss Marie Sault Lock Tours
In her inaugural season, the beautiful new boat, Miss Marie, is sailing from May 22 until mid-October this year. Take a 90-minute cruise where you can enjoy spectacular views while relaxing on this gorgeous vessel.
Passengers conveniently board Miss Marie in the heart of downtown Sault Ste. Marie's waterfront. Departing from Roberta Bondar Park, the vessel traverses the St. Marys River and travels back in history as it cruises through the famous Sault Locks, a feat of engineering that has connected Lake Superior and Lake Huron since the mid-1800s. Experience the Locks' gates and chambers used to raise and lower boats between the water levels of the two Great Lakes.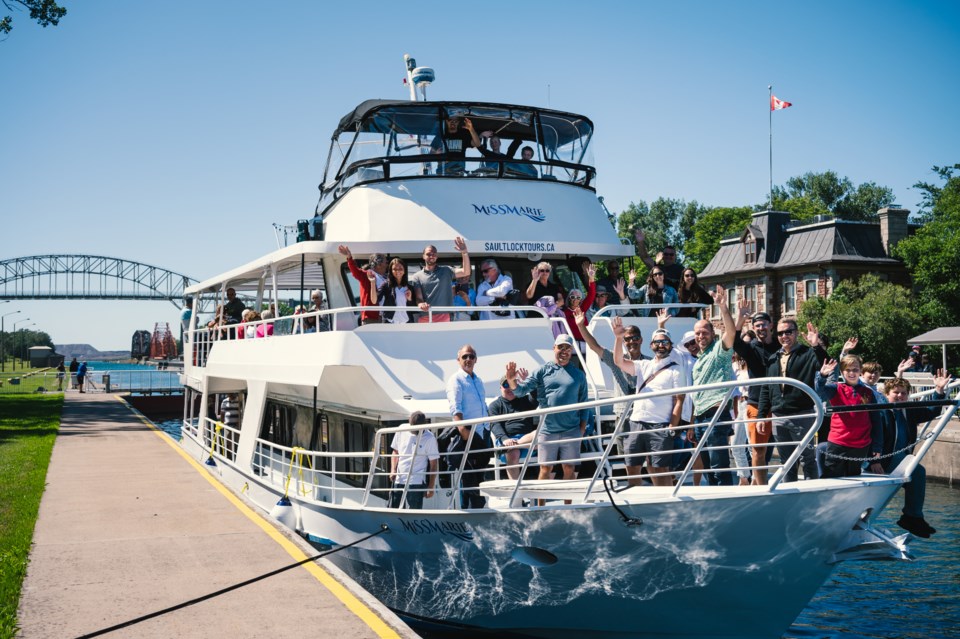 From the Locks, Miss Marie passes under the International Bridge to the crystal clear waters of Lake Superior, eventually passing back through the Locks and returning to the downtown waterfront.
Cruises run in the day and in the evening and are suitable for all ages. The boat has a capacity of only 100 passengers so book ahead to avoid disappointment. For prices, booking, and more information, visit Sault Lock Tours online.
All aboard for one of Sault Ste. Marie's iconic adventures
The Agawa Canyon Tour Train is one of Sault Ste. Marie's iconic adventures. It is listed as one of Destination Canada's signature experiences for a good reason. The train tour through beautiful spruce and maple forests is four hours each way and begins in downtown Sault Ste. Marie. The train features a snack and beverage canteen, comfortable seating, audio commentary, and breathtaking views from the windows as well as from the train-mounted cameras.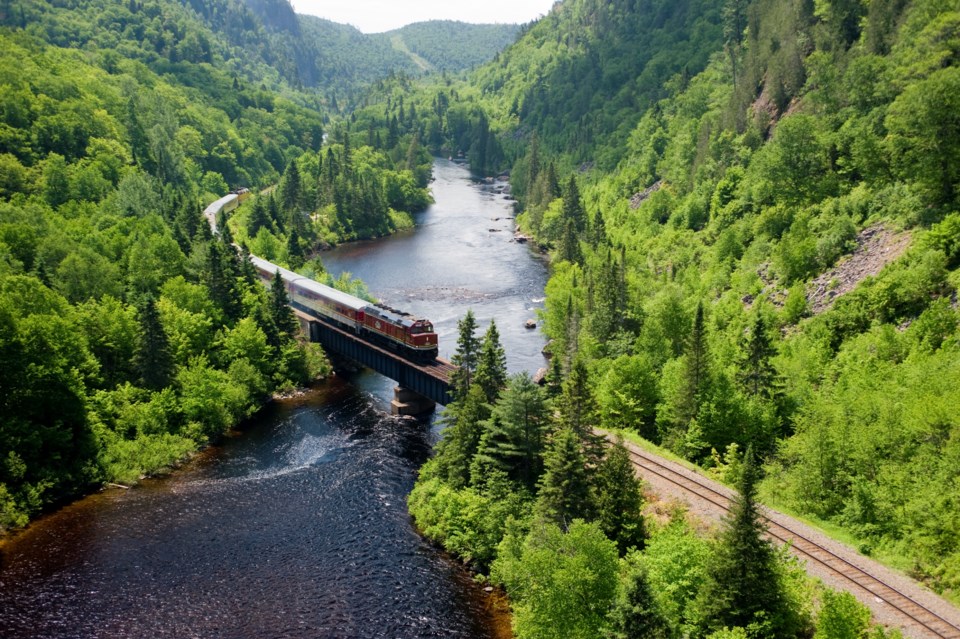 The train takes passengers through the incredible landscape of Algoma Country all the way to Agawa Canyon Park. Along the way, expect to be amazed by the incredible forests and wildlife of the Canadian Shield, which served as inspiration to the famous Group of Seven painters. Once the train arrives at Agawa Canyon Park, travellers have 90 minutes to explore, hike, picnic, or just relax in this impressive destination before heading back.
The train runs from August 3 until October 15 and all ages are welcome. While it is a beautiful trip at any time, book later into the season to take advantage of the gorgeous fall foliage. For more information or to book your seats, visit the Agawa Canyon Tour Trains website.
Ride the Canadian Shield
Sault Ste. Marie is quickly becoming one of the top destinations for mountain bikes in Ontario. There are trails for every age, ability and style. Whether you are looking for jump and flow trials or enduro-style trails, there is something for you in Sault Ste. Marie.
Hiawatha Highlands features over 40 km of trails rated from easy to advanced including 12 km of brand-new world-class trails. Hiawatha also features a new pump track and plans are underway for the construction of even more single track along with a mountain bike skills park.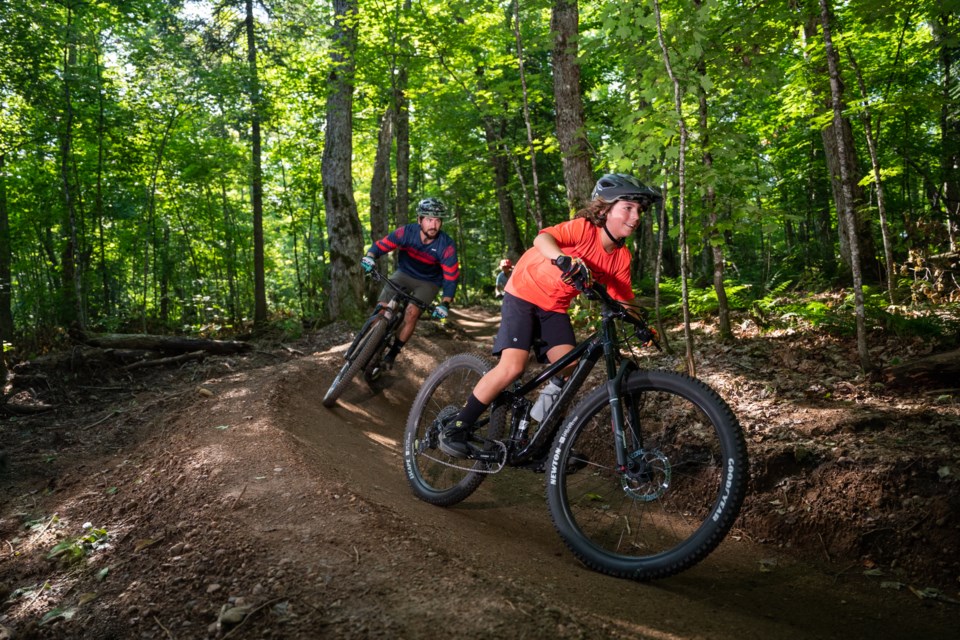 To experience the Sault's growing network of trails and have a good time doing it, check out the inaugural Salty Marie Trails Festival. The event will be held on July 29, 2023 and include mountain bike and trail running races for all ages, kids events, vendors, bike demos, local food and drink and more.
If gravel riding is more your speed, the Algoma region has endless possibilities for unpaved cycling adventure. East of the City, Sylvan Valley offers meandering and scenic gravel and backcountry paths that seem to stretch on forever. One of the most popular day trips is the Rock Lake loop, which covers approximately 140 kilometers.
Start planning your mountain biking adventure here and see why Sault Ste. Marie is considered Ontario's best trail town.
Discover endless summer vibes on some of the best beaches in Ontario
Sault Ste. Marie has a remarkable coastline of exquisite sandy beaches, some of the best in Ontario and just a short drive from the City.
Step onto the expansive golden sands and admire the crystal-clear blue waters of Lake Superior. It's a tranquil place where you can create cherished memories with your loved ones and soak up the endless summer vibes. At Point Des Chenes Park, you can unleash your inner adventurer, whether it's swimming or playing a friendly game of disc golf.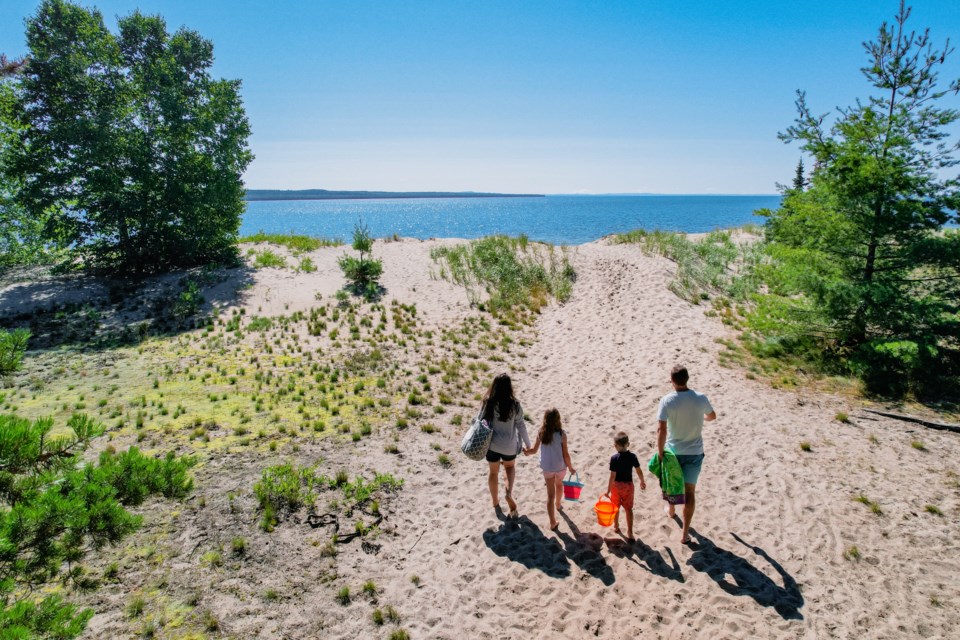 If you're looking for a secluded retreat, Batchawana Bay offers a picturesque 5km beach, a hidden gem waiting to be explored. You can also embark on an exhilarating journey on a SUP or kayak, navigating the calm and sheltered waters of Pancake Bay.
Plan your unforgettable beach vacation here.
Breathtaking hiking trails that offer up Instagram-worthy views
Embark on a memorable adventure within the city limits, immersing yourself in the beauty and experiences that Sault Ste. Marie has to offer. One of the top choices is the John Roswell Hub Trail, spanning an impressive 22.5 kilometers. This trail winds its way through various city neighborhoods, green spaces, commercial districts, and along the stunning St. Marys River. Whether you prefer hiking or cycling, this trail welcomes both enthusiasts.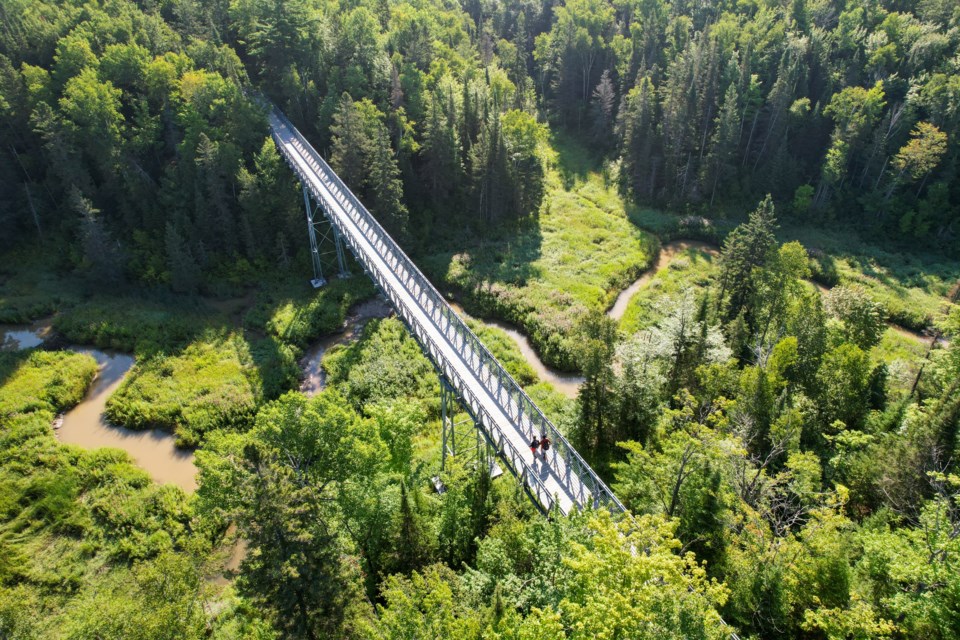 For a captivating nature experience make sure to visit Whitefish Island, a National Historic Site of Canada and territory of Batchewana First Nation. Conveniently connected to the Hub Trail, here you'll find three kilometres of winding trails that will take you on a journey surrounded by the iconic Sault Locks, tranquil ponds teeming with wildlife, and the energetic rush of the St. Marys Rapids. It's an opportunity to reconnect with nature and capture some incredible shots for your Instagram feed.
Just a short 15-minute drive from downtown Sault Ste. Marie, you'll discover the enchanting Hiawatha Highlands. This natural paradise offers a chance to hike alongside the cascading waters of Crystal Falls. Wander along the elevated boardwalk, allowing the soothing sounds of the falls to relax your senses. Along the trail, you'll encounter various viewing platforms where you can pause, admire the breathtaking views, and capture the essence of this serene setting.
Discover your next hiking adventure here.
There really is no end of things to do this summer in Sault Ste. Marie. Sandy beaches, incredible dining spots, craft breweries, hiking and paddling adventures, and great fishing are all right here. Be sure to check out the Summer Moon Festival from June 15 to June 17, Queen Street Cruise on June 16 and June 17, and Rotary Fest that runs from July 13 to July 15. A complete list of events can be found here.
To plan your escape and make this summer the yet, visit Tourism Sault Ste. Marie.