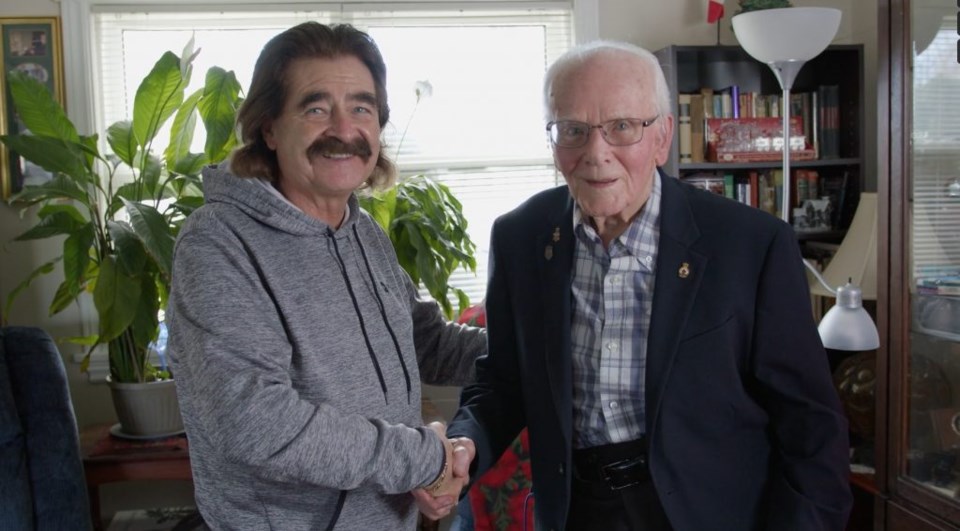 I want to say thank you. Thank you to this incredible community for giving me the honour of representing you over the last seven years.
I want to give a special thank you to Burd Sisler. Burd is 106 years old, he is a Second World War veteran and a resident in our riding. Burd was also my nominator at my nomination meeting last Thursday. As someone whose advice I always heed, words cannot describe how honoured I was to hear him share his stories and to support our team. Burd – you are an anchor of our region and I will work every day to earn your support.
If you'd like to see Burd's comments just head over to my Facebook page where they are proudly displayed.
Being your MPP has been the privilege of my life, and I truly wake up every day feeling like the luckiest man alive.
Here in Niagara-on-the-Lake, we've come a long way, and I think we can all agree that by working together we've put our issues on the provincial agenda. There has been no shortage of differences of opinion on the issues we've raised, but by committing to work across divides and party lines, we've been able to reach compromises on issues with incredible success. I think most recently of our united push to get all-party support to clear the MRI backlog that was plaguing our region. This issue was first raised to me by a resident from Niagara-on-the-Lake, and in just a few short weeks, we were able to secure the funding necessary for residents to get these vital scans.
Of course, as you can imagine, there are areas where I do not agree with the current Premier and where I will offer an alternative in the election just seven months from now.
As many of you know, I have dedicated my career to fighting against the privatization and cutting of our healthcare system. I believe in Niagara, where one in four residents are seniors, that we need to invest in improving access to healthcare, not reducing it. This was most recently highlighted with our campaign to have OHIP cover PSA testing, and monitors for those with type 1 diabetes.
I also firmly disagree with plans to rip up our Greenbelt or to pave over our natural heritage. Three times we have faced plans to develop on our Greenbelt, and three times our community has raised its voice to say absolutely not. In the coming election, some parties will claim this environmentally sensitive space must be developed. I disagree. Once our Greenbelt is opened up to development, it's gone and we can never replace it. I believe we must hand our children a healthy community and environment, the same way we were given one.
I do not believe the only solution to housing inequality is the development of suburbs on our protected spaces. Above all, I believe the public should be consulted on these development issues, and their voices should come first. The practice of using Ministerial Zoning Orders (MZO's) to bypass public input on community development is wrong, and must be halted. Of course, as many of you recall, I firmly oppose cuts to the public services we rely on. One of the reasons I originally ran for this office in the first place was because of the Wynne Liberal Government's decision to close Parliament Oak. Their decision to ram through the closure of that community school represented the very disconnect from the local municipalities that I vowed to reverse. To make matters worse, both provincial governments have stepped back from filling the hole created by the shuttering of that property. It was in that fight for Parliament Oak that I learned how deeply this community appreciates its local heritage. Any person hoping to be MPP must be tapped into that community spirit if they ever hope to represent the communities that make up this town.
We've come a long way, and I believe that since that time there is no one who can say our town's issues are not front and centre at Queen's Park.
But I believe we have more work to do.
Healthcare must be made more accessible to seniors in our community, long-term care needs an immediate overhaul to create a system where families know their loved ones are safe and cared for. Our wineries need provincial supports to level the playing field and create more jobs for our young people and housing costs must be addressed to make owning a home or renting more affordable here- to name just a few.
I am proudly running for the NDP, but I am just as proudly running as the local candidate. To those who have supported me, I am eternally grateful. To those who haven't, I am going to keep working every day to earn your trust.
 Working together, we've built a strong, made-in-Niagara-on-the-Lake platform. In just a few months' time I hope to continue that work.