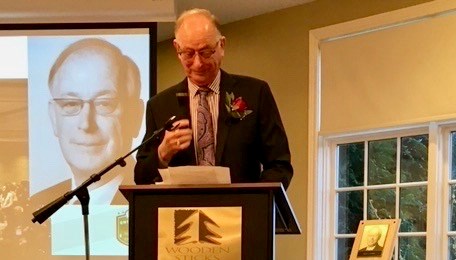 The honours keep coming for Niagara-on-the-Lake resident Warren Crosbie, a member of the Professional Golfers' Association since 1967.
The longtime head professional at Bayview Golf and Country Club in Thornhill, Ontario was named to the Ontario Golf Hall of Fame in 2018. In 2020, Crosbie was one of the inaugural members inducted into the PGA of Ontario Hall of Fame.
That same year, the PGA of Canada honoured Crosbie by naming its community leader of the year award after him. And on Thursday, Jan. 27, during an online awards night, Crosbie will enter the PGA of Canada Hall of Fame.
His name will be enshrined amongst past members such as Richard Zokol, Mike Weir, Lorrie Kane, Moe Norman, Cathy Sherk and Stan Leonard.
"I'm incredibly honoured to be on this list with the people in this Hall of Fame," Crosbie tells The Local. "They're some of Canada's greatest."
He's also excited that for the second year, one deserving individual will be taking home the Warren Crosbie Community Leader of the Year Award at the online event.
"Having the award named after me, it's something that is going to come up every year," he marvels. "When I look at the list of the people our awards are named after, there are only two of us who are alive - Mike Weir and myself. My name will come up every year, even after I'm gone. I think that's probably incredibly important."
Crosbie was born in 1948 in Simcoe, where he earned some money caddying at Norfolk Golf and Country Club. Eleven years later the family moved to Burlington. That's when Crosbie picked up clubs and started to play the game, joining the Chedoke Golf Club as a junior member at about 13 years old.
After high school he attended Mohawk College, graduating from their three-year business program.
"It helped me with a really good business grounding," he recalls, "which I could use to run my business in the pro shop. It's a really important role of the club professional."
While attending Mohawk, he was also working at the Burlington Golf and Country Club for the man he refers to as his mentor, John Davis, the head professional there from 1960 until 1992.
Crosbie's first head professional job of his own was at Tyandaga Golf Course, a public layout in Burlington. After 12 years there, he moved to Bayview, where he built his career and his reputation over 32 years.
He quickly became known as the consummate club pro. In a 1992 article in SCOREGolf Magazine, Crosbie calls himself "a dying breed," while author Tim O'Connor says he's "an entrepreneur and a renowned merchandiser in the industry, with a reputation so good that talented assistants want to work for him."
And that's been his focus through the years, mentoring future professionals just as John Davis did for him in Burlington. In fact, Crosbie's collective efforts to train and guide the careers of countless golf professionals is exactly why he has earned so many distinctions in the business.
Through a number of roles he took on over the years, Crosbie has continued to be involved in the development of the modern day training program for hopeful professionals. He's been right there as the golf world has adapted to changes in technology and to the changing responsibilities of the club pro.
"Our education programs for our various associations are now moving into various streams," Crosbie points out. "You have people now who are dedicated teachers and coaches, who are kinesiology people, schooled in how to make a golfer play better."
He continues, "then we have what I would call G.P.'s, similar to the old-fashioned head professional like me, who manages everything. These people are retail and operations experts, who focus more on the business part of it. Our golf professionals are more educated today than they were years ago."
Crosbie taught retail and marketing in Niagara College's professional golf management program (now part of its sport management program) for a number of years. He's currently the chair of the Golf Management Institute of Canada. Working with that organization, Crosbie was responsible for writing a number of training manuals for their education program.
He was the president of the PGA of Canada from 2006 until 2008 and was granted honourary membership status in the Professional Golfers' Association in 2008. Crosbie also served as president of the PGA of Ontario, was named an Honorary Director of PGA of America and is the chair for the Golf Canada Hall of Fame committee.
He is proud of the work he has done to help develop the PGA of Canada Benevolent Fund, which provides temporary assistance to past and present PGA of Canada members and apprentice members who find themselves in financial hardship. The fund provides basics such as clothing, food and shelter, as well as financial assistance for mental and physical health care services to those in need.
He says he was never a tournament player of any note, and points to his skills around the green as the best part of his game. And over all those years working at golf courses, he's never had a hole in one.
"I've come really close, on the edge a few times, but I've never had one," Crosbie laughs. "I've had some good scores, but usually for nine holes. I've had a 29, a 30, a couple of 31's, but I found the problem I had was that there was always something going on at the club, always something on my mind. By the time I got back to the shop, my attention span had changed."
Crosbie is an honourary member at Bayview and makes a point of getting back to the Toronto area to play a couple of rounds at his old club annually. He also hosts Bayview members when they visit the Niagara region.
Warren and his wife Deborah moved to Old Town about 12 years ago, when he retired from Bayview. He was certainly familiar with the Niagara area from a young age, as his younger brother was a goalie for the old St. Catharines Black Hawks in the 1970-1971 season.
The lifestyle of NOTL and its wineries and restaurants drew the couple to the region, and they both love the town's proximity to both Toronto and the U.S.
Crosbie does still enjoy about a dozen rounds per year, mostly divided between the NOTL Golf Club and Cherry Hill in Ridgeway, where some high level tournaments have taken place.
But rather than walking around a stretch of nine or 18 holes, these days Crosbie's walks take him around town with Deborah and their dogs.
As he takes his rightful spot in the PGA of Canada Hall of Fame, he reflects on a local connection to his 32 years at Bayview.
"An interesting thing, one of the teaching professionals that was at the club in Toronto for some time was George Clifton," Crosbie says. "If you look at the list of professionals at the club here in town, he was the professional here in 1948, which was the year I was born."
Crosbie will be sharing space in the PGA Canada Hall of Fame with that very same George Clifton following his induction this week.