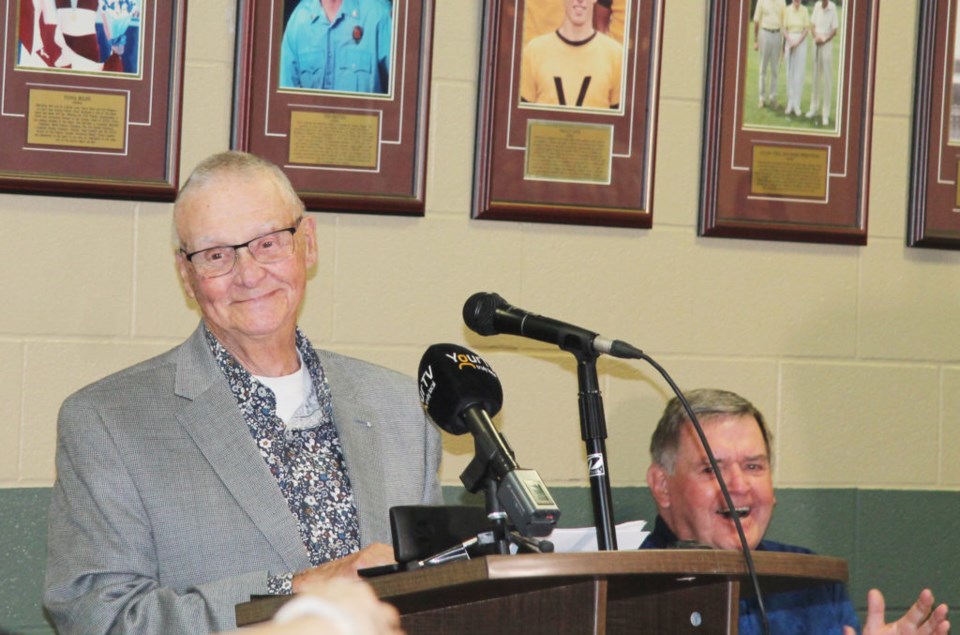 The Meridian Credit Union Arena corridor containing the town's Sports Wall of Fame served as the backdrop to honour two notable Niagara-on-the-Lake residents for their contribution to community sports.
About 60 friends and family members gathered Friday to celebrate the induction of Doug Garrett and Dave Wall, whose photographs will now be added to the arena wall.
Garrett was inducted as this year's athlete recipient, while Wall was recognized for his behind-the-scenes efforts as a builder.
Sports Wall of Fame chair Ward Simpson emceed the ceremony and engaged the audience with humour and reminiscing.
Lord Mayor Betty Disero and Niagara Falls MPP Wayne Gates attended on behalf of the Town and Province, presenting plaques of recognition.
"I am a sports nut and the one event I enjoy coming to yearly is this one," Gates said. "It is amazing to me how you honour your athletes, and more importantly how you build your community."
"The Sports Wall of Fame is a wonderful way to recognize talent, dedication and leadership and community," said Disero in her introductory speech.
"Congratulations for all your successes, all of your accomplishments, both on and off, the greens are outstanding," she said to Garrett.
Regarding Wall's contribution, Disero said, "our community is a better place because of your leadership in the arena and on the diamond. Your dedication to the community is incomparable. And, I'm certain the Wallbangers will continue to play for many, many decades."
When people put so much of their life into giving back to the community, "they are truly community builders. Community builders play a large part in helping a town be what it is," Disero said.
"It is because of you that we have arenas, baseball diamonds and the spirit of Niagara-on-the-Lake that we have."
Introducing Garrett to unveil his photo, Simpson said, "it is every golfer's dream to shoot his age on the golf course, however (Garrett) can't because he is 92 and can never shoot over 90. I'd like to shoot my age, but the way it's going, I'd have to live to be 120."
"It is a great honour to be here," Garrett said. "Thank you to the board for its kind remarks and to the members of the community as I stand here before the Wall of Fame."
Garrett said in his golf career he had only one hole-in-one, Aug. 8, 1971 on the second hole at the old golf course. "In those days," he joked, "there were a lot of holes-in-one that never were, but mine did happen because we had a boy on the hill witnessing it."
Other memories Garrett shared included caddying for 35 cents for nine holes, and 75 cents for 18, and sneaking beer in wrapped-up towels to a group a golfers after they finished their fifth round. "What I am trying to explain is that there is nothing new to having a beer cart on the golf course."
Garrett's golf idol was Ben Hogan, who said, "'The most important shot in golf is the next one.' And, that is true."
Another prominent golfer Garrett worked alongside was George Knudson, who taught Garrett the fundamentals, rules and how to control his temper.
"I was golfing with him one day and made a terrible shot. I was so mad I threw my golf club. He made me go get it, looked at me and said, 'you are off the course for two weeks.'"
"Boy, I cried. I certainly learned my lesson, never threw another club."
Knudson carried a tiny camera and took photos of Garrett's swing in each of the stages. When Knudson laid out the photos and pointed out what Garrett needed for his swing and where the equipment was to be placed, showing the pro as "ahead of his time" in teaching the sport, Garrett said.
Garrett's Wall of Fame description says, "A Veteran, Legionnaire, Mason and even a former horse-drawn wagon milkman, Doug Garrett still made his largest impression on our community on the golf course. His personality, competitiveness and athleticism led him to 21 NOTL Club Championships at all levels plus one Senior Champion of Champions for the entire Niagara District, His indomitable spirit and joyous personality coupled with innumerable course records still evoke joy and awe for all those who know him."
Garrett also extended congratulations to Wall for his acknowledgement as a builder, saying he considered it a privilege and honour to be inducted with Wall, especially since they were fellow golfers and played a few rounds of locker room cards.
Wall's Wall of Fame photo description cites him as, "In youth, a well-rounded athlete in a myriad of sports, it is primarily for Dave's behind-the-scenes efforts he is now being honoured. Dave was instrumental in the organization and fundraising for both of Niagara's Arenas. Among many other accomplishments, he was one of the initiators of the Wallbangers Hockey Team in 1984, which continues to thrive to this day. He was also a director, coach and manager of the slo-pitch league and sponsored innumerable sports teams for decades in all of NOTL's youth leagues. His enduring legacy will long remain something to strive for all the thankful residents of NOTL."
As an avid sports fan, Wall was energetic, enjoyed playing sports and worked to achieve the highest level he could. He played hockey, baseball, decades of golf and in his retirement years took up tennis, horseshoes and billiards.
Simpson introduced Wall as a "successful businessman, as there was always a sale at Walls Furniture," drawing some laughs from the crowd.
He said that Wall's contributions to the building of two Virgil arenas, establishing the NOTL Wallbangers, and helping to build the ball diamonds were important, successful contributions to the community.
Upon receiving the honour, Wall said, "It's nice to be in a community where people love their community more than they love themselves."
Wall's son Richard described his father's achievements as "visionary."
He recalled that when his father joined the Virgil Business Association (VBA) in the early 1960s, the organization had mandated it wanted to do something that benefited the community.
"In the 1950s and 60s, there wasn't a lot of infrastructure for sports as far as arenas, but there were some outdoor skating rinks, baseball and soccer fields," Richard said.
When Wall was elected the second president of the Virgil Business Association, town council and the association decided to build Virgil's first closed-in arena.
With that, Wall took the position of chair of the fundraising campaign.
The goal was $120,000, which, Richard said, "was a stretch. That was a lot of money in those days and a lot of people wanted it, but they were unsure and couldn't believe it could be done. It was too much for a small community."
Nonetheless, the fundraising was completed and in 1967 the Centennial Arena opened.
Wall and the VBA's fundraising efforts were recognized at then provincial level in a letter written by the Premier John Robarts, citing it was the most successful fundraising campaign in celebration of Canada's centennial anniversary.
The same year, the Town of NOTL recognized the community milestone by naming Wall Citizen of the Year.
Richard described the recognition as "pivotal" moments for his father.
The visionary term Richard explained as "coming from his understanding that sports is an important part of the community, is a creative social fabric and he realized that it was something that would be a benefit to the community to help the community grow."
"Somebody had to take a leadership role, which I believe he did," Richard added.
Richard followed in his father's footsteps in the early 2000s when the town decided to add a second arena and he was asked to sit on the fundraising committee.
Again, similar to the Centennial Arena fundraising campaign, it was "still a lot of dollars to raise," however, the committee was energetic and great thus again, achieving the goal ahead of schedule and on budget and opened in September 2003.
Wall's love for hockey led to the establishment of the Wallbangers in 1984, which evolved into a travelling team. The team originally began as a muti-generational father-son unit that played pick-up hockey at 6:30 a.m. Sunday mornings as that was the only ice time available.
With that in mind, Richard recalled the Sunday after the second arena's official grand opening, the Wallbangers played the first ice time of 6:30 a.m.
"Not only did the Wallbangers get the recognition of the first ice time, but also we got together as three generations, myself, my father and my son and were the first to step out onto the ice," he said.
In addition, Richard considers having a sports complex like the Centennial Arena a victory, especially in the 1960s and today, the best of its kind for the community of its size in the province.
"Not only can we be proud as a family, but as a community," Richard said. "We achieved great success with a lot of people involved in making it happen."
The NOTL Sports Wall of Fame was established to recognize those who have made considerable contributions to sports in the community either as an athlete or community builder.