UPDATE: Stewart Friesen was presented with the Eastern Motorsport Press Association 2021 Richie Evans Memorial Award for Northeast Dirt Driver of the Year on January 14, 2022.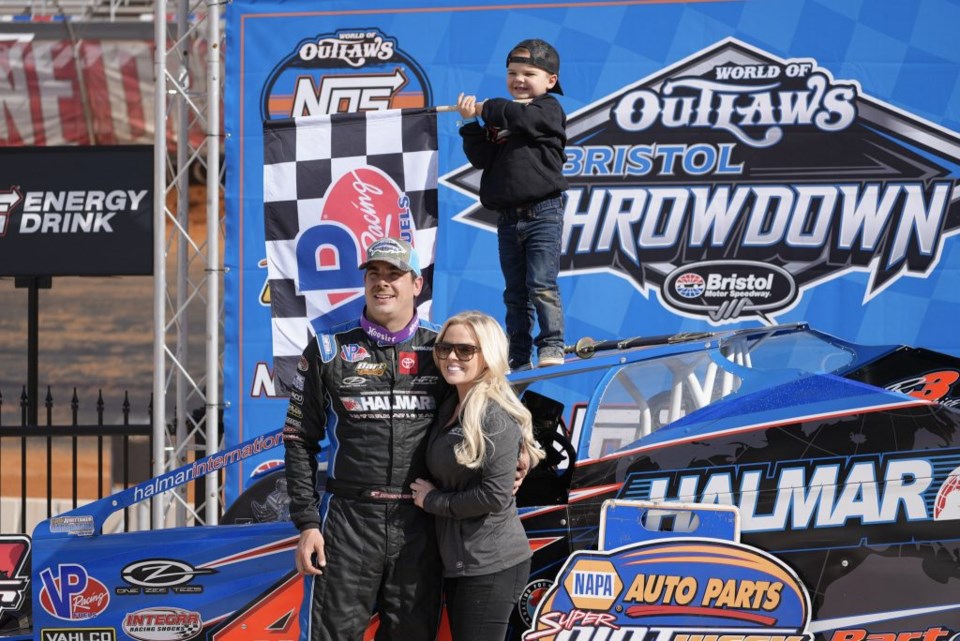 The current off-season for stock car and NASCAR Camping World Truck Series driver Stewart Friesen is a time to recharge his batteries for what he hopes will be a 2022 filled with further success on the track.
The Niagara-on-the-Lake native is coming off his best year ever on the dirt circuit with 34 total wins. And though he didn't capture a checkered flag in a NASCAR Truck Series race, he narrowly missed a shot at the championship final after spinning out in the overtime laps at Martinsville, Virginia on Oct. 30.
On the truck circuit, it was Friesen's second year running with Toyota after switching from Chevrolet in 2020. He finished 6th overall in the Truck Series this year.
"The improvement that the race team has made over this past season really turned things around," he says. "We had a legitimate chance to make the final four, and had we done that we would have won the championship. I'm really proud of the strength and growth of the HFR (Halmar Friesen Racing) team."
Friesen also marked a number of firsts this year in his association with NASCAR.
His wife Jessica, an accomplished dirt car driver herself, joined Stewart for two Truck Series races as his HMR teammate this year. Though she didn't end up running in the final at Bristol Motor Speedway in May, the pair finished 26th and 27th at the Corn Belt 150 at Knoxville Raceway in July.
"At Bristol, it was more of a dirt set-up, and that kind of hurt us with the way the track raced, really abrasive, like a pavement track," Stewart tells The Local. "At Knoxville, we were able to set up the truck differently, with Jessica's feedback, and we were able to race up to the field pretty good until we got knocked around there at the end."
Bristol, Tennessee was also the site of another first for Friesen. In March, he made his debut in the NASCAR Cup Series, driving the number 77 car for Spire Motorsports in the Food City Dirt Race, a rare dirt event for the circuit. Friesen finished 23rd that weekend.
"It was a dream come true, it was really special and neat," says Friesen. "Trip Bruce, our team manager at HFR, helped put the deal together. We worked closely with Spire and their crew chief, and we traded paint with the best in the business."
Finally, just last month he was invited by NASCAR to test drive their Next Gen car on the dirt track at Lancaster, South Carolina.
"It was one of their first prototype test cars," Friesen explains. "Every Cup Series team was there, engineers and crew chiefs observing and suggesting ideas. It's a purpose-built pavement vehicle that they're trying to make 'racey' enough to put on a good show on dirt. It was neat to give some feedback and it will be neat to watch and know I had a small part in creating the show there."
The Cup Series returns to Bristol this year, but Friesen doesn't expect to get the call to climb into the cockpit in 2022.
On the dirt circuit, Friesen's bread and butter, the highlights just kept coming.
"The big win in Port Royal, Pennsylvania, and again at the Fonda 200 in the fall, both were $50,000-to-win races," he says. "They stand out as the two big guys. It used to be in dirt modified you only had Syracuse, but now we have four of those big races. It's a great time for modified racing."
In the Super DIRTcar Series, Friesen led all drivers with six wins in 2021, with an average finish spot just better than fourth place. With him dividing his time between truck events and the modifieds, he wasn't able to compete for points championships in any of the circuits, but his 34 wins is a career milestone.
Back to Bristol for another 2021 highlight for Friesen. "Probably the most prestigious race we won was sweeping the weekend when the modifieds went there. We got two really, really cool sword trophies out of that event. Winning that kind of race, in front of that type of audience on the national stage, that's really good for the sponsors and the team and everyone involved."
When the race season wrapped up, Stewart and Jessica, along with their six-year-old son Parker, spent a week in the Florida Keys to slow things down a bit. Other than that, there hasn't been a lot of time for rest and relaxation for the family, as they get their cars ready to hit the track once again on Valentine's Day weekend.
Friesen and his crew, led by Tommy Conroy, work on his modified stock cars in his garage in Sprakers, New York. They are busy already preparing two new Bicknell Racing Products vehicles that he hopes will allow him to keep the ball rolling.
Friesen works alongside the crew, outfitting the frame and body with all the moving parts. Many of the parts from the 2021 vehicles will be moved to the new ones, so there is not a lot of fabrication needed. He does his own shocks and springs in-house, which he says is unique to most race teams.
Those cars will be shipped to Volusia Speedway in Florida for mid-February for the Short Track Super Series and Super DIRTcar Series races, Then Friesen and his team will head to Cherokee, South Carolina to vie for a $25,000 top prize in an Elite Series race on red dirt the last week of the month.
On the truck side, Friesen says his goal for 2022 is to get into the chase for the final four and win a couple of races along the way.
"This time last year I had the same goal, but it was a bit more far-fetched with where the team was," Friesen admits. "The growth we've shown this year, and with our new race engineer, Jonathan Stewart, and some other new guys, our crew chief Jonathan Leonard, we've elevated the people and performance in our program."
Though he didn't list it as a goal for 2022, one senses the 38-year-old is hoping for another chance to kick the tires at a NASCAR Cup Series event.
"It would be amazing to have another opportunity for that, and you never know what will happen. I never even thought I'd get a chance to be in the Truck Series (he's been full-time there since 2017), let alone run a Cup Series race. In racing you never know. You take it day-to-day and see what happens."