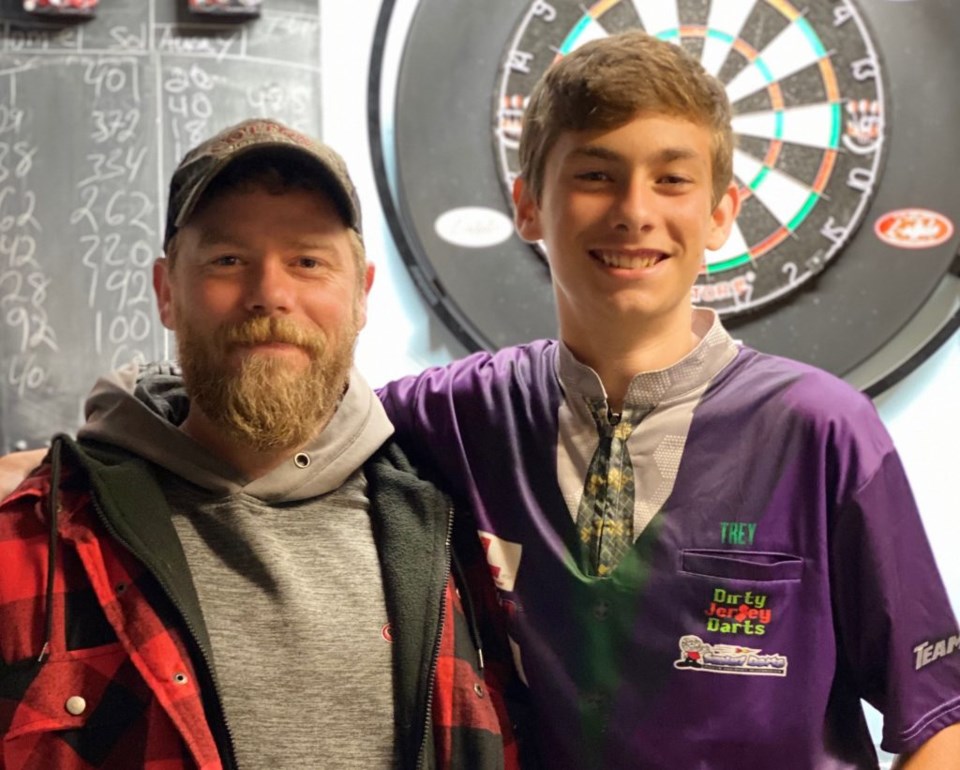 That age-old question of nature versus nurture rears its head when talking with teen Trey House about his success playing darts.
The son of Matt House, current vice president of the Niagara-on-the-Lake Darts League, has been around the game his entire life. For most of his young life, though, it was little more than a diversion.
He would often accompany his father to the basement and challenge him to hit specific targets on the family's dartboard. Soon, Trey was picking up the darts and hitting those same targets himself.
About six years ago, he was asked if he wanted to participate in the Niagara Youth Dart League. He came out a winner in one of his first matches, and he was hooked.
A bonus for the young rookie was being able to hang out with his father. Another was the fact that his best friend from Carlton Public School at the time also joined, and they would throw in doubles competitions together.
Now in Grade 9 at Governor Simcoe Secondary School, Trey, a St. Catharines resident, has recently competed in the Championship Dart Circuit (CDC). His standing there has earned him a spot on Team Canada for the upcoming Junior Darts Corporation (JDC) Junior World Cup Championship in Gibraltar, Spain. He'll be one of four Canadians to compete against teams from around the world in both group and individual matches.
Trey has had many successes already on the darts circuit. He has competed all across the province, and at only 12 years old, he was named to the youth division for Team Ontario. He was scheduled to represent the province in Nova Scotia for the 2020 Canadian championships when the pandemic put an end to those plans.
Trey's mother, Lisa House, is blown away by her son's mastery of the game.
"It's pretty amazing," she says. "He's phenomenal at it, he enjoys doing it. And it's taught him a lot about respect and sportsmanship. Trey's such a team player. I enjoy watching him play the game."
Trey attributes his good arm to his practice regimen. He heads downstairs about four or five days a week for at least two hours per session. He sets his own challenges, running through 15 minutes of hitting triple-20s and moving on to around-the-worlds.
"That's all the doubles," explains Trey. "You can't move on until you hit all the doubles. You hit double-1, double-2, double-3, if you miss double-4, you stay there until you hit it, then you hit double-5, double-6, double-7."
It's clear that the young athlete is disciplined and serious. On the phone, though, he likes to joke about his father, taking a few potshots at Matt throughout the conversation.
When asked if he and Matt spend a lot of time throwing together at home, Trey says, "he won't really play with me. He doesn't like losing to me."
On the subject of who will be travelling with him to Spain: "He's too scared to get on the plane," says Matt. "It's my mom who's going."
He laughs, and admits that since Dad isn't home during the call, it's the ideal time to make fun of him.
Lisa enjoys the dynamic between father and son.
"It's interesting," says Lisa. "They joke around, they play back and forth and they feed off of each other. Trey bought Matt some Jim Long (Canadian professional darts player) darts for his birthday, totally surprised him. The bond between the both of them for the love of the game is phenomenal."
The trip to Spain for Lisa and Trey will cost close to $10,000, with that amount funded by the Team Canada members themselves.
Trey's family and friends in the darts world have stepped up with donations. As well, his sponsor, Randy Moffat of Guelph specialty store Smurf Darts, is running an online fundraiser, selling spots in a raffle for a number of dart-related prizes. Trey's other sponsors — 180, L-Style and Dirty Jersey Darts — have also chipped in.
In addition, the family has begun a GoFundMe campaign to help offset the costs as Trey heads out to represent his country. At press time, they had raised $1,660 of their $8,000 goal.
He doesn't have a lot of time to prepare for the worlds. Trey and Lisa will be leaving for Spain next Thursday, giving them a chance to settle in before competition begins on Nov. 23.
That nature versus nurture question — it really doesn't have a definitive answer in the case of Trey House. The assumption has to be that for this young man on the rise, it's a little bit of both.
To contribute to the fundraising efforts, visit gofundme.com and search trey house jdc.