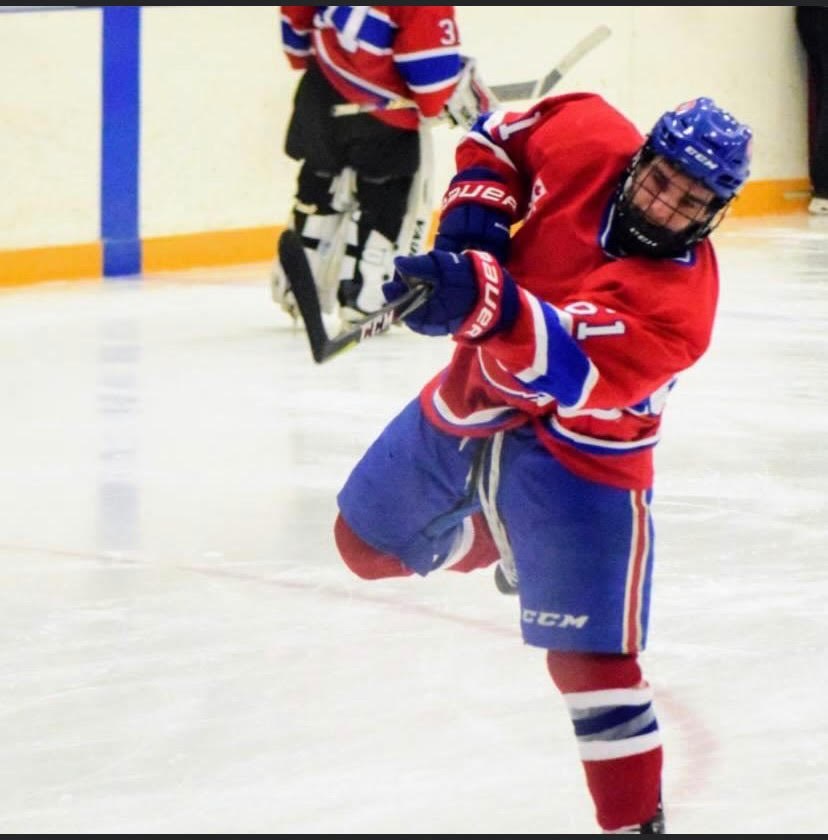 The Niagara Predators are hitting the ice this week to get ready to finalize the team for their GMHL season opener on Oct. 1.
General manager Johan Eriksson has announced that the Predators, of the Greater Metro Junior A Hockey League (GMHL), are holding a prospect camp Sept. 10 through 12 from 7 to 9 p.m. at the Meridian Credit Union Arena. He's hopeful that a number of local hockey players will vie for a spot on the tier II Junior A team.
One player from Niagara Falls is eagerly anticipating his first skate with the Predators at the main team camp, starting Sept.16.
Dante Massi, a 21-year-old St. Paul Secondary School graduate, has signed as an over-ager and will take on the assistant captain role with the team that has relocated from Toronto.
Massi brings experience from his time with Fort Erie, Thorold and Welland of the Greater Ontario Junior Hockey League (GOJHL), as well as the Niagara Riverhawks of the Provincial Junior Hockey League.
The fourth-year psychology student at Brock University says he wasn't sure what he was going to do this year hockey-wise until Riverhawks assistant coach Chris Sacco suggested he get in touch with Eriksson.
"Johan gave me a call and we had a really great talk over the phone," Massi recalls. "Things sounded really promising, sounded like things were going to be really good with this club this year. So we met, talked about the team. We have a lot of imports coming over from Europe who have played high level hockey already."
Massi admits that his junior career thus far has been a bit of a scramble.
"I didn't really put up the numbers I wanted to," he laments, "or have the success I wanted to, either personally, or team-wise. I think this is a great opportunity to get a little bit of redemption."
Bouncing around from team to team on the Junior B and C circuits made it difficult for Massi to fully assimilate to styles and systems of play.
"I definitely struggled adjusting to team systems," he says. "That definitely cost me when I was playing in Thorold. In Fort Erie, they had me playing defence, and I had trouble adjusting to that. The Riverhawks had a spot for me when things didn't work out in Thorold."
After 20 games in his second season with the Riverhawks in 2019-2020, Massi was called up to Welland.
"I enjoyed it, it was good to be back playing at that pace. I ended up being bought out by Welland after 10 games as a call-up, and finished the season off with them. The team struggled, but it was a good group of guys and Chris Lukey and the coaching staff were great there."
In September, 2020, when the GOJHL was planning to return to the ice again, Welland owner Lou Savona's request for the team to sit out the season in an attempt to halt the spread of COVID was approved by the league.
That left the players scrambling to find new homes. Massi was loaned out to the Fort Erie Meteors. They had a few exhibition games, and he was looking forward to playing with his old team again, but the pandemic forced the cancellation of the entire season.
Massi has spent a lot of time on the ice this summer, assisting former pro hockey player David Cullen with his hockey school, and he feels he is ready to begin the GMHL season.
Eriksson points out that Massi was one of his first players signed to play in Niagara this year.
"I really wanted Dante because of his very good character," Eriksson says. "He's a good leader, and he can play all three zones on the ice equally well. He will help us in both power play and penalty killing as well as lead the way and be one of the more experienced guys."
With the Predators, Massi will be skating alongside the likes of Emil Eriksson and goaltender Oscar Narine, both from Sweden. Other Predators will be making the trip to Niagara from Russia and Switzerland.
Massi believes that playing with and against the many import players in the league is a chance for him to prove he can be competitive at a higher level. He's looking at this year as the first step in a continuing career in hockey. 
"If this can lead to an opportunity in Europe, in one of the minor pro leagues, that would be great," he says. "Or even if I could play some university hockey, in Canada, U-Sports, that would be awesome."
Since the announcement of the team's move to Niagara-on-the-Lake, there has been some pushback from members of the community who are still stinging from the short-lived presence of the NOTL Nationals. That 2018-2019 GMHL expansion team folded after one season playing out of the same arena.
Eriksson points out that the Predators are hardly a fly-by-night organization, having made their GMHL debut in September, 2013. As well, owner Robert Turnbull, the longtime Hamilton Red Wings (1999–2014) general manager and team president, is well-respected in the hockey community.
There have also been accusations that the GMHL is a "pay-to-play" league, and that playing in the circuit precludes athletes from finding a spot in the OHL.
"There are so many wrong ideas about this league," Eriksson laments. "I deal with this quite a lot. You can go straight from this league to the OHL. Noah Battaglia, our number one goalie three years ago, went from the Preds to the OHL (Battaglia split the 2018-2019 hockey season between the Erie Otters of the OHL and the St. Catharines Falcons of the GOJHL)."
Of the "outlaw league" tag, Eriksson says that is not true.
"We're just not a member of Hockey Canada," he says, "because we want to use imports. They come here to pursue a spot at NCAA (American college) schools. It's very difficult to get noticed from Sweden. At least five of our Swedish players are coming here to pursue an NCAA spot. It's about development and advancing."
Eriksson expects the Swedish players to arrive on Sept. 15. The other European players will arrive a few days later, pending visa and vaccination holdups. The club is still looking for local families to billet some of the out-of-town Predators.
The team will play an exhibition game against the St. George Ravens, who were in the GMHL finals the past three years. They open their regular season at home against the expansion Streetsville Flyers on Oct 1.
Information about becoming a billet family or about the upcoming prospect camp can be found on the Niagara Predators Facebook page.