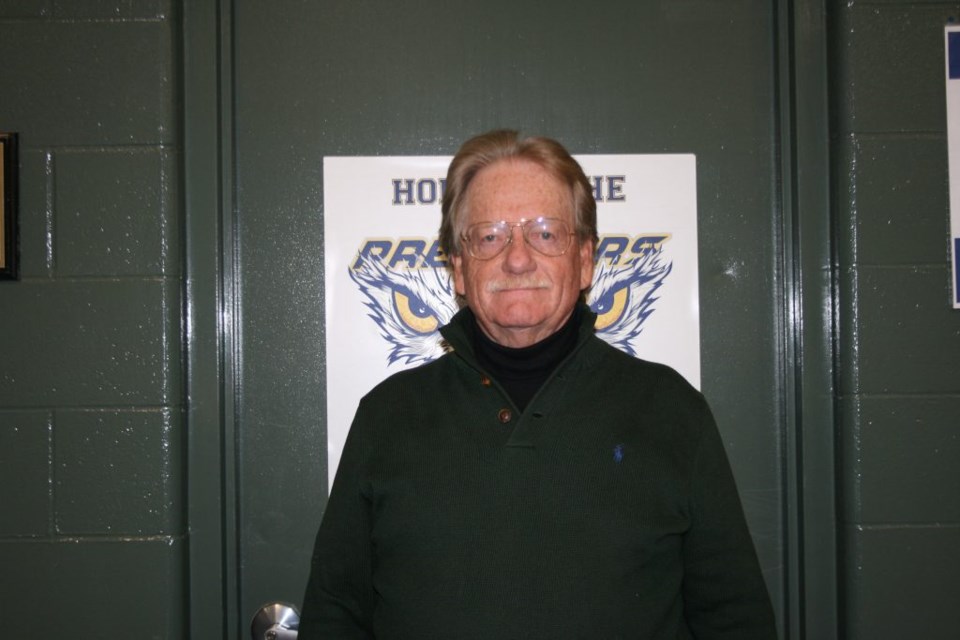 Niagara Predators owner Robert Turnbull says his team had a fabulous 2021-2022 season playing out of Virgil's Meridian Credit Union Arena. 
"The entire staff has been great," he tells The Local. "We like the rink, we like the people, we like the location."
Turnbull says the Greater Metro Junior A Hockey League team he also managed and coached this year is committed to staying in town, after having moved here from Toronto last fall.
Turnbull met with NOTL Parks and Recreation manager Kevin Turcotte and supervisor of recreation Dan Maksenuk Monday afternoon to lay out his wish list for next season. A key element on that list is improved access to ice time.
"Because of the age of our players, we have kids in university and some that work," Turnbull says. "We had 3 p.m. practices most weeks. We need a later practice time in order to get everybody there. For the Europeans and the billeted players it's no problem. But to run a really good program, to make everybody better, you need two or three 90-minute practices per week, with everybody there."
Turnbull insists that minor hockey comes first, and that he's not aiming to take any ice time away from that group. Nor does he want to bump any long-term groups who rent the ice.
"There was a lot of unused ice time," he says. "And they did a good job of telling me when that came up. But we need a minimum of two 90-minute practices a week where we finish some time around 10 p.m. That way we can have everyone there at least twice a week."
He adds that he would also like to continue to be able to run a couple of those 3 p.m. sessions that would allow the Predators living locally to get some extra ice time during the week as well. He is hoping for a minimum of five hours of practice time weekly, in addition to the regular Friday night home games, which he is committed to maintaining.
Turnbull goes on to talk of the size of the dressing rooms, which he says are suitable for a team of 20, but not necessarily for a team the size of the Predators.
"Once you put the goalies in there, it's a very small room," he explains. "In order to present the type of product that I would like to present, I need more space and better access to washroom facilities. The room that we have, we have to open up the door to the other room to get enough space."
"I can work with what we have," he continues, "providing we have access to both rooms earlier. Our guys show up an hour to 90 minutes before practices and games and can't get in there until just before our ice time. We need access at least an hour before."
According to Turnbull, the last item on his wish list is an earlier installation of the ice surface in the MCU Arena.
"We're hoping to have the ice in the last two weeks of August, and they believe they can do that," he says. "That would give us an opportunity to hold a good prospect camp and a main camp before the season begins. It will give us about three weeks of really grinding it out."
For now, the Predators have made no requests for any capital improvements, but Turnbull would like to see a workout facility on the premises in the long run, allowing players to work on fitness in the same building where they skate.
"We brought that up before, when we discussed maybe building something," he clarifies, "but I can work with what we have right now provided we have better access to it. I'm hoping to take this team to the next level, and to do that you need access to training, either on site, or next door."
Prior to the move to NOTL, the Predators played out of North York's Canlan Ice Sports, the home arena to the GMHL's Renegades, who bounced Niagara from the playoffs a week ago. That facility features six rinks and eight dressing rooms, and also provided a workout room for players.
"We had at least three practices a week there," Turnbull remembers, "and all the kids skated in the morning. And we had
the gym there. But with
so many teams playing there, it was a bit of a nightmare, with people running up and down the hallways while a game was going on."
Turnbull considers his meeting with Turcotte and Maksenuk to have gone very well. He expects to hear back from them within three to four weeks. He's hoping the town can fulfill his requests to make the upcoming 2022-2023 season go more smoothly. The Local was unable to reach Turcotte's office for comment by press time.
"We've built a good fan base here in Niagara-on-the-Lake," Turnbull says. "To hear them cheer for us and rattle and bang things around, it's been great. We want to be back here next year."