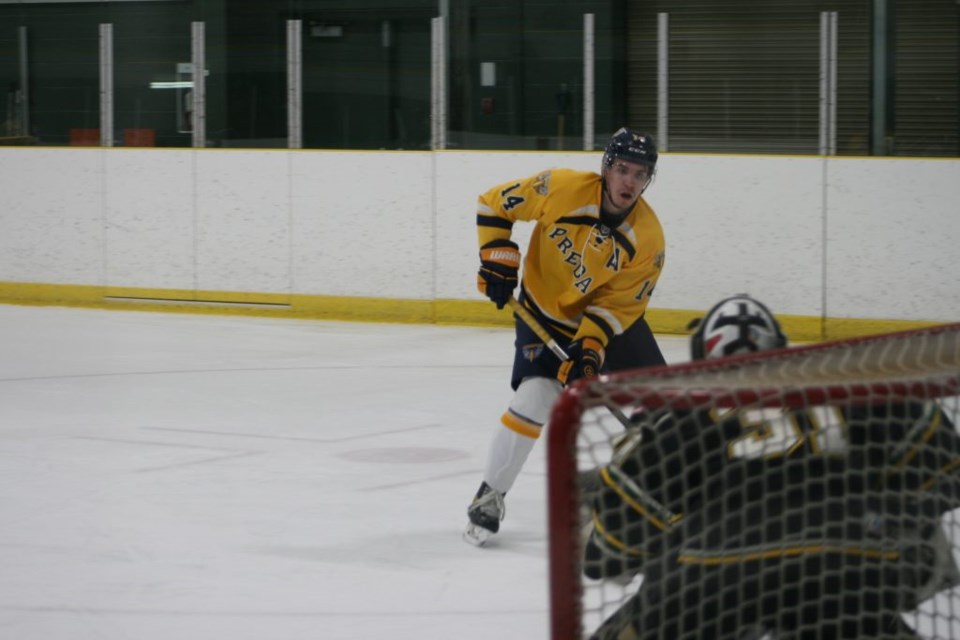 The Niagara Predators winning streak ended last Sunday at 11 games, after losing on the road to the North York Renegades, 5-3.
Their penultimate Greater Metro Junior A Hockey League (GMHL) game of the 2021 calendar year Friday saw Alexander Insulander catch fire for five goals and an assist against Windsor en route to a 12-4 shellacking of the Aces in Virgil.
Insulander's linemates Jesper Eriksson, with two goals and four assists, and Georgy Kholmovsky, with four assists, combined for 16 points, while Noah Caperchione notched two goals and two assists to help out. Singles were added by Reese Bisci, Dante Massi and Alessandro Massi, while Kory Silverio scored all four Windsor goals on Niagara's Jacob Collaco.
It was a game that saw only one penalty assessed, to Windsor's Jaxon Boucher, for a delay of game in the first period. The Aces once again played with a short bench, with two reserve goaltenders and two skaters, one of whom was injured and saw no ice time Friday. That left them with only three forwards and three defencemen to rotate in and out of the game.
Windsor head coach Joe Byrne admitted that he was frustrated with the situation the team commonly finds themselves in for road games.
"The guys we have here tonight, they're hard workers," Byrne pointed out. "They have great attitudes. We have trouble with a number of high-end players who don't take it seriously. This weekend there were some kids writing exams, and some were injured. But there are several we really believe should be here, and said they would be here, and they were no-shows."
Friday's game was much different than the Dec. 10 game between the two teams, when the Aces, with the aid of two pick-ups from the Plattsville Lakers, pushed the Predators to an 8-8 tie in the third period, before Niagara scored three times for an 11-8 win. Their stretch offence paid off in that game, and was responsible for all four of Friday's markers.
"People sometimes question our run-and-gun style," said Byrne. "Sure, it spreads our guys, but it spreads their guys too. We have some pretty high-end offensive players, and I don't like to shut them down. That's a good hockey team, the Predators, and we want to try and give them a good hockey game."
The Predators had a new skater wearing the captain's 'C' this weekend. Defenceman Pontus Madsen took over the role in place of Mario Zitella, who was asked to leave the team until he gets his COVID vaccinations in order.
"I'm pretty strict when it comes to health and safety," Turnbull said Friday. "I do my due diligence and I check everything. He needs to be vaccinated. He's a classy individual, and a tremendous player. Hopefully he decides to get his vaccinations sooner rather than later. I think the world of him, and I told him I would do anything to help him out."
Madsen was a natural choice to wear the 'C' in the meantime.
"It's the respect he gets, and the way he plays," Turnbull explained. "No defencemen had a letter, and when I coach, a defenceman always has a letter. He's been instrumental in our success. He controls the defensive side, he's the motor on the back end."
On Sunday, general manager Johan Eriksson said the Predators came out a bit flat, allowing North York to set the pace in the first period. The Renegades jumped out to a 4-0 lead by the first minute of the second period, before Kholmovsky scored the first of his two goals. Defenceman Brett Lee added a third in the losing cause.
"It was frustrating," Eriksson lamented. "We weren't on our toes. They got a few easier goals in. The second period was a bit better, and we dominated in the third. We could have turned things around had that happened a bit earlier, but it was too late."
Eriksson said the team was feeling the loss of Zitella, a natural leader who has amassed 17 goals and 25 assists over 23 games. He's holding out hope that he will return to the ranks early in the new year.
Turnbull admitted Friday that the Windsor game took the focus away from preparation to take on the first place Renegades Sunday. The road loss that day leaves them still looking for their first win against North York, and they will face second place St. George and third place Durham in four of their first five games once the GMHL schedule resumes in January.
With Niagara in fourth place with a 19-and-5 record, Eriksson relishes the upcoming opportunities for the Preds to play against the teams ahead of them in the South Division standings.
"At this point, it's not win or lose, it's win or learn," Eriksson told The Local. "The loss shows us exactly what we need to work on. We have a level we need to get up to. We need to step it up. Those four games will really show us exactly where we're at. We need to find a way to win all of them."
Eriksson is certain that new acquisitions, such as Jaleel Adams and the tough, physical forward Jason Humphries will allow them to do just that.
"Humphries is a point-a-game player, but it's his defensive side, and his physicality, that I really like. He plays the game the right way, he doesn't cheat. He goes first on the puck, he can take a hit, he can give one. We need that kind of guy for playoff-style hockey."
With nearly three weeks before their next game, some of the players will be heading back to Europe or the United States for the holidays. With the uncertain COVID landscape internationally, that creates concerns for both Turnbull and Eriksson about the availability of those players next month.
As well, the Bancroft Rockhounds, Durham Roadrunners, South Muskoka Shield and Tottenham Thunder have all had games postponed in recent weeks due to players testing positive for the virus. Though the GMHL has not yet demanded that all players be vaccinated, that may be coming soon. The spectre of the league shutting down temporarily is also a very real concern.
"There's a lot of uncertainty," Eriksson said. "We have to roll with the punches. With COVID, we can't plan much. Right now we're doing whatever we can to continue to play hockey. But that could change tomorrow."
The Predators' next game is scheduled for Friday, Jan. 7 at home against the St. George Ravens.