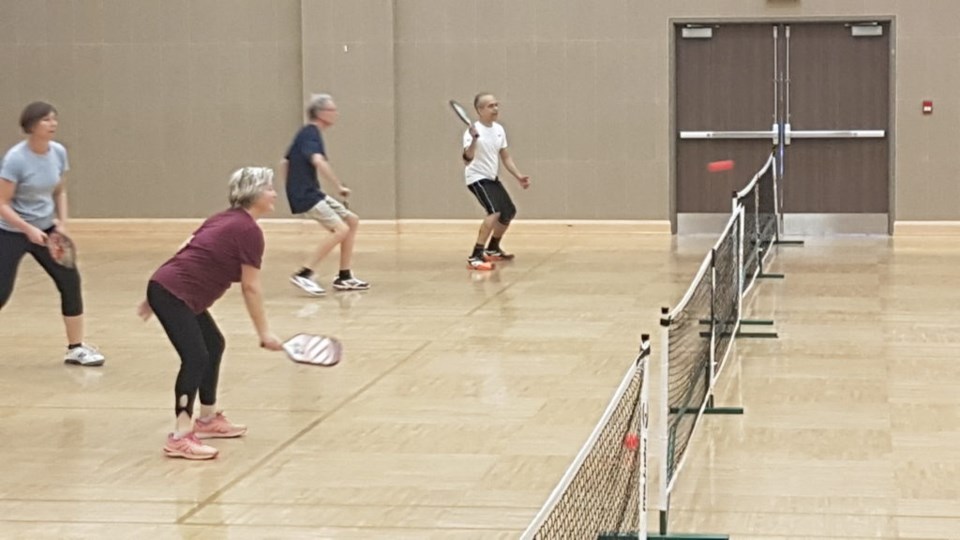 Pickleball is the fastest-growing sport in Canada, and its success is being mirrored in Niagara-on-the-Lake.
John Hindle of the NOTL Pickleball Club credits in part the Town and its facilities for the popularity of the sport locally, with "the premier facility in the region."
He is referring to the three outdoor courts opened last summer on the former tennis courts in the Virgil Sports Park.
The Town has also provided space at the community centre from the earliest days of the sport in NOTL, when in 2017, 55 players enjoyed eight hours of scheduled time, Hindle told councillors in a recent appearance at council to explain the growth of the sport.
Currently, to accommodate all levels of players in 20 sessions throughout each week, the gymnasium in the former Virgil Public School is also being used by the club, adding three more courts to the three at the community centre.
During the summer, says Hindle, while many players will enjoy the six outdoor courts, other club members will continue to play indoors, out of the sun, and without the wind that changes the game.
The club now has more than 200 members, and it's expected to continue to grow. In addition to many regulars away for the winter, the club sees beginners walking through the doors of the community centre each week, and all of them stay.
Hindle, who has played many sports, says a comment he hears often from people within their first three games, is 'I'm addicted.'" He's never heard that about any other sport, he adds.
He talks of a "Santa Claus effect" among players who come out to play for the first time. "They feel the joy, and they keep coming back. They come through the community centre doors with a smile on their face."
As the club has grown and expanded its schedule, it has evolved to offering beginner, intermediate and advanced games, with some cross-over, open and transitional sessions, as well as skills instruction, says Hindle. Beginners get about six weeks of instruction, and starting next week, the club will also be offering sessions on techniques and strategies for advanced players.
There is a "pyramid" of levels, he says, with the divisions narrowing until they get to the top, which includes members who play competitively, with regional, provincial and national tournaments for those who are interested. There are only a few members who have competed, but they've done very well, he says.
One of the beauties of the sport that has contributed enormously to its popularity, he explains, is that four people are on a court for about 10 minutes, playing to a score of 11 to win, and then rotating off to allow others to play.
"With three courts, there are 12 people actively involved in games that are only about 10 minutes long. Then they come off and the next four people go on."
Thus a scheduled session can allow many more people court time than would be seen in any other racquet sport, he adds, while also allowing for socializing between rotations. Players get to know each other and become friends on and off the court, and enjoy social events after the games, as well as those arranged regularly outside of game schedules.
"People interact between games, and then they go out on the court to play. This is a sport that brings people together with others who have something in common. The question of what they did for a living never seems to come up. They talk about family, plays they've seen, the protests — some of it's very localized, about what goes on in town. Pickleball was designed to be a social activity."
It's also designed to be a relatively gentle, "delicate" game, with rules that require the ball to bounce on both sides during a rally, and a "no volley zone" in front of the net. Although shots can be aggressive, more often points are won by being patient and waiting for one side to make a mistake, Hindle explains.
Although it's a great sport for all ages, including families, many players are seniors, with hip or knee replacements, some wearing braces to protect joints, and enjoying an activity that does not require a high level of fitness, says Hindle.
The outdoor courts in Virgil have created "quite a stir in the region," he says, allowing it to become a year-round sport locally.
It was the outdoor courts that brought him to council last week.
The club is planning on spending money on the town facility, hoping to put up a screen to protect from the wind, which impacts the game.
He also hopes to partner with a youth summer program, offering lessons at no cost.
But the club is concerned about damage that has occurred to the public courts, from people using them for other reasons.
Since they opened, the courts have been used for soccer, road hockey, skateboarding, and rollerblading, damaging the surface and the nets, he says.
He suggested the Town could provide some protection, while continuing to have the courts available to the community, through locked gates that can be opened by a four-digit code.
The club "would take ownership, and would work with council to do whatever it can to ensure continued public access," he says, hoping for a positive response from the Town.