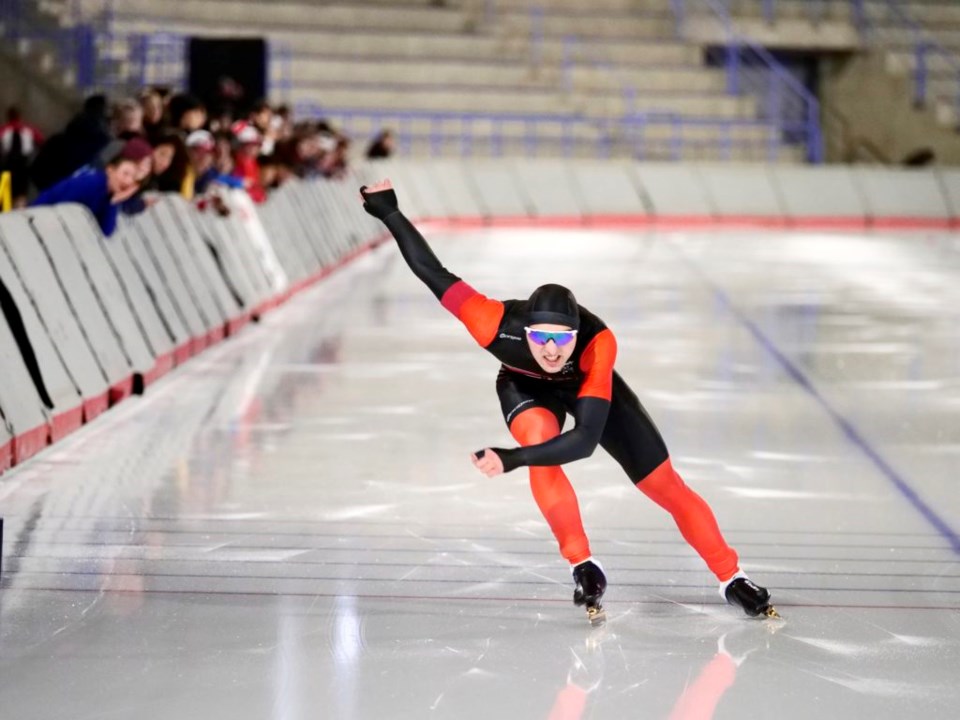 Nineteen-year-old speed skater Max Brant of Niagara-on-the-Lake feels confident heading into his first Canada Winter Games next week in Red Deer, Alta.
The second-year University of Calgary biological sciences student is in his second full season at the National Team Training Centre at the Olympic Oval. With the retirement of a number of national team members following the 2018 Winter Olympics, Brant was able to move up to the Stage 3 mens' program to train under coach Arno Hoogveld.
That move has made a world of difference in Brant's progression. In January, he set personal records in the 500, 1,000, 1,500 and 5,000 metre races, three of those coming at the Canada Cup qualifier on his home ice. He credits the coaches, the staff and the facility itself for helping him get to the next level. Brant feels if he sticks to his training regimen he will exceed those personal records in Red Deer.
This is Brant's first year as a single-sport athlete. While attending Holy Cross Catholic Secondary School he took up rowing, following in mom Wendy's footsteps (she rowed at Denis Morris). He continued juggling that sport with his speed skating, competing for three years in high school as well as last year at the University of Calgary. Last March, he captured the U23 Lightweight men's Provincial indoor title.
"There are a lot of similarities between the two sports. To do well in both you need to combine good timing with excellent technique," says Brant. Rowing, however, relies on cardio endurance, while speed skating, he says, requires more muscular endurance. There is no doubt in Brant's mind, however, that rowing helped him stay in tip top shape for his development as a speed skater.
His promotion to the Stage 3 men's program this year forced him to make the not-too-difficult decision to step out of the boat and spend more time on the oval. "At this level I wouldn't have had the time to commit to my training regimen and balance my workload at university while also rowing." And with his January results, the decision seems to be paying dividends.
Having begun playing house league hockey in NiOTL at five years old, Brant has been on the ice now for most of his life. He enjoyed hockey, but when, at the suggestion of his grandparents, he tried speed skating when he was nine, he quickly fell in love with the speed, freedom and the individualistic nature of the sport. "In speed skating, you race yourself," he says. Three years later, as he began competing provincially, he gave up hockey altogether.
Just two years after giving up hockey, he moved on from the Niagara Speed Skating Club to begin training in Cambridge. "It's a bigger club, and it gave me the opportunity to work with more competitive skaters. I felt the Cambridge Speed Skating Club would allow me to develop more as a competitive athlete."
And his development as a competitive athlete continues. Last summer he returned to NOTL for July and August. But Brant knows this summer Calgary will be his home, as he is committed to training year round, with the goal of improving his time in all of his events, especially the 500 metres. When he does get back to town, as he did this Christmas, he takes the chance to skate with the Niagara club, where the kids he used to coach look up to him.
Looking beyond these Canada Winter Games, Brant is hoping for a berth on the national team within three or four years. Then, hopefully, it's on to a World Cup and eventually, the 2026 Olympics. When that goal is achieved, it's a given that those Niagara Speed Skating Club skaters will be cheering him on.