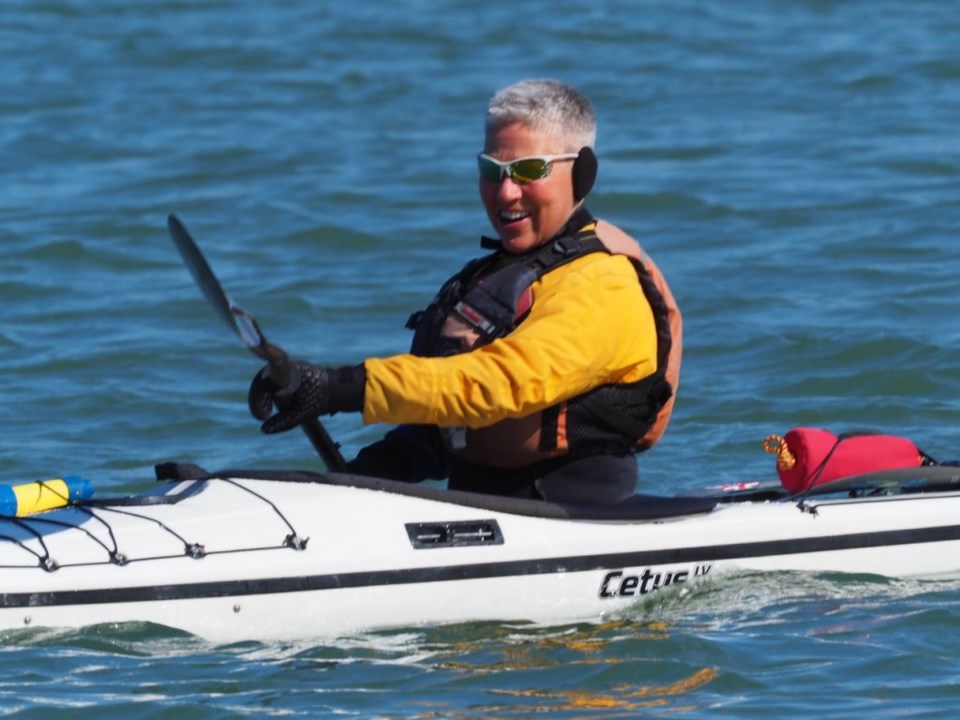 Avid kayaker Carla Rienzo doesn't let the lack of easy access to the water keep her from kayaking almost 365 days a year.
The Niagara-on-the-Lake resident took up the sport about 20 years ago. The fitness buff balances her kayaking with road cycling, running and trail hiking in the mornings, followed by hitting the water in the afternoon or early evening. And somewhere along the line she finds time for some weight-lifting.
"I'm an extreme athlete," she tells The Local while waxing her kayak. "I had Olympic aspirations when I was a kid, and the spirit never left me. I just love physical activity, health, fitness, strength and endurance. I live and breathe it, and I love the outdoors."
Rienzo has captured the attention of local residents who have spotted her in her 17-foot sea kayak in all kinds of conditions. In the dead of winter she can be seen paddling on the cold water of Lake Ontario and the Niagara River. She is most definitely not a clear-weather kayaker. "I've got all the gear and the attitude," she says. "Anything but really strong winds and I'm out there."
For winter paddling she climbs into a Gore-Tex drysuit with latex gaskets on the neck and wrists to keep water out. It has a waterproof zipper criss-crossing the front of her body, with attached booties to protect her feet. Underneath she dons a down jacket and thick polar fleece pants, and stuffs her feet, covered with three pairs of wool socks, into a pair of men's neoprene boots. She estimates she can swim for about 20 minutes before she would have to get out of the water.
She's on her third, or as she says, her last kayak. It's a British sea kayak, a fibreglass P & H Cetus LV, with a shallow V hull and four evenly distributed hatches for storage of essential items. "I'm about 120 pounds," the retired dental hygienist says. "It's a boat that fits me well. It just hugs me perfectly. Even though it's a low volume kayak it has amazing storage. I can get out for two weeks in it and store enough food without starving. It's really sea-worthy."
Many of those two-week trips are spent on Georgian Bay, Rienzo's favourite spot to take to the water. "It has to be the best," she says. "No matter where you go it's spectacular. It's dotted with islands the entire way around. We pick a spot, set up our tents, the water is turquoise and cold, you have these white cliffs all around you. It's incomparable." She's paddled all five of the Great Lakes, enjoying the peace and solitude of her endeavour  across the province. And she says paddling right here at home is an amazing experience.  "It's different every time I come out here," Rienzo marvels. "It's you, the sound of your blades cleanly slicing through the water. It's the prospect of running into wildlife - red fox, deer, racoons, waterfowl. There's even a beaver on the upper river near Brown's Point."
Rienzo says she also used to camp overnight on Navy Island in Niagara Falls. "For years you used to be able to land your boat there and spend the night," she says. "I'm a no-trace camper, I did not harm. In fact, I would clean up other people's messes. Now Parks Canada has taken over, and they put up 'no trespassing' signs all over the island. Now no one  has access. My world is getting smaller and smaller."
Rienzo recently replaced her Honda Fit with a Subaru Forester. She has outfitted the vehicle with a Thule Hullavator system, which allows her to lift her kayak to waist height and let the Hullavator do most of the work to get the vessel on the roof. The Subaru allows her to easily navigate the road down to Smuggler's Cove where she usually launches her boat.
Navy Hall is another frequent launch location, but she says access there is not easy, with the dock sitting too high off the water. And a few months ago a pile of boulders were dumped near the dock, making access even more difficult.
With the recent announcement that the town does not have enough money left in the budget to add an accessible dock near Balls Beach, she continues to be frustrated by what she sees as the town's lack of support for water enthusiasts like herself. There had been much talk in recent years that plans were coming together for such an installation, but the aftermath of the 2019 flooding in the dock area meant funds had to be funnelled to the clean-up and efforts to ensure more effective drainage in the future.
Rienzo feels the town is missing an opportunity to attract a certain kind of tourist. With an average kayak coming in at around $2,000, and additional money spent on roof racks, life jackets, spray skirts and bilge pumps for the boat, kayakers usually have money to spend at NOTL hotels, bars and restaurants. There is some hope, though, as Lord Mayor Betty Disero told The Local recently, that there is an area along Balls Beach, closer to a parking area on Turntable Way, where a simple launch for kayaks could be made at little cost. Disero said she and Town CAO Marnie Cluckie will be monitoring that location for kayakers to see if any improvements need to be made. Disero added that there will be parking meters connected to Honk Mobile at Turntable Way. That would allow Rienzo and others to pay for extended parking using the app on their phone, and to top up their time remotely, even from the river. 
"I refuse to pay to put my boat in the water," an angry Rienzo says. "It's absurd. We as a species should not be limited to where we can access water, period. Lakes, rivers, oceans - it shouldn't matter. We don't have a shortage of tax dollars, we have a problem with politicians who don't know how to spend it responsibly. We need politicians who are athletes, someone like me, who wants to access our parks and our waterfronts."
"We've got water here, but we're landlocked for kayaks," Rienzo says. "That is a big problem here and it isn't fair. Niagara-on-the-Lake is not kayak-, canoe- or small motor boat-friendly. And there is not a single beach that is wheelchair- or senior citizen-friendly."
She plans to add her voice to that of Tim Balasiuk, owner of Paddle Niagara, and others who have been pushing for some kind of easier access for kayaks and paddle boards for a number of years.
As she finishes waxing her vessel, she plans to head out later the same day, hoping to run into that beaver near Brown's Point. 
"I haven't given him a name yet," she laughs. "I figure every time I go out, there's about a 60 per cent chance I'm going to see him."