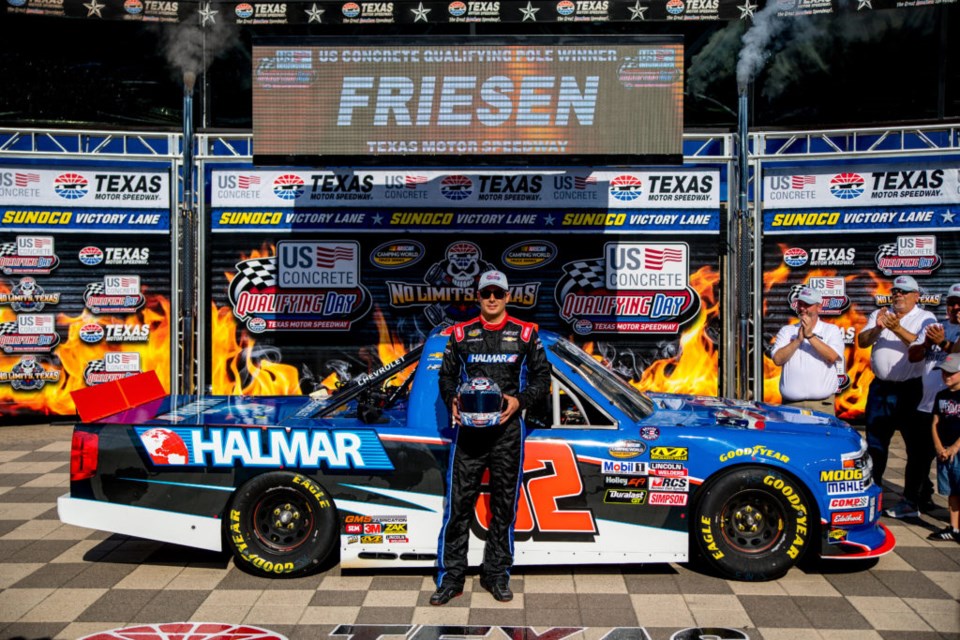 A first-place finish in Friday night's Lucas Oil 150 has earned Niagara-on-the-Lake native Stewart Friesen a berth in the NASCAR Gander Outdoor Truck Series Championship 4 next weekend in Miami.
His second Series victory of the season, and his career, didn't come easily, though.
Friesen was hit with a penalty at the start of the race.
"I let (pole-sitter Austin Hill) fire first, and then he spun his tires or something," says Friesen. "I lifted to not beat him to the line, but then got hit from behind. I had no choice but to go back to the gas to avoid wrecking the whole field."
It was a controversial call, one that Friesen and his team didn't agree with.
Thanks to great teamwork between Friesen, crew chief Tripp Bruce and spotter Ric Carelli, he caught the caution after being shown the black flag. That pushed him to the back of the field to start the race, forcing him to overcome all drivers to claim the checkered flag,
Friesen methodically climbed to the front position, and ended up leading the field for the final 44 laps.
"The biggest key," he says, "was not overheating my tires and being able to work the track in turns 1 and 2."
With the win at ISM Raceway in Phoenix, Friesen and his Halmar Chevrolet team have now won on both dirt (Aug. 1 at Eldora) and pavement.
Reached while on his way to Florida for the championship race, Friesen said the win on the hard track is "very important, very validating for our team."
Having grown up on Niagara's dirt tracks, many have speculated that he needed to prove himself on pavement, and the Phoenix victory does that.
The championship race is the Ford Eco Boost 200, running at Homestead-Miami Speedway this Friday. It's a 1.5 mile loop that Friesen knows well, having finished fourth there last year.
"It's a highly abrasive track," he says. "Tire conservation and a good balance will be key."
He will be trying to capture the title against last year's champion, Brett Moffitt, Ross Chastain and two-time Series champion Matt Crafton.
"It's anyone's race. Hopefully we can capitalize and carry our momentum from Phoenix as a team."
The race starts at 8 p.m. and can be seen on Fox Sports 1.