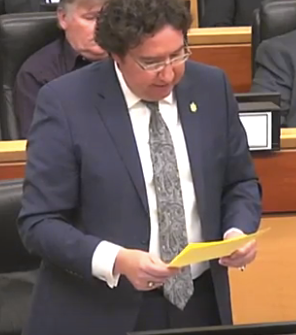 Gary Zalepa Jr. has been appointed to the new board of the Niagara Peninsula Conservation Authority, but the position comes with a three-month time limit.
At Thursday afternoon's regional council meeting, the 12 Niagara representatives on the NPCA board of directors were replaced with newly elected regional councillors to serve as an interim board.
They will provide leadership to the conservation agency while deciding on a process for each municipality to recruit citizens with certain skill sets to serve as NPCA representatives instead of politicians, as recommended by a recent auditor general's report, said Zalepa.
What has in the past been a routine appointment process at the start of a regional council term became instead a controversial debate "with a few moving parts," said Zalepa.
The term of council has traditionally coincided with the term of the NPCA board members, who have been elected regional councillors. The former chair, Sandy Annunziata from Fort Erie, lost his seat at regional council in the October election following a critical auditor general's report on NPCA governance. But based on a directive from the province of 24 years ago — one that had never been implemented — he had planned to continue as chair long enough to oversee appointments of the new board members.
"There were some attempts to clarify that, and the result was that the chair's information was no longer valid," said Zalepa.
But in the meantime, some municipalities saw a need to move quickly, and had already advertised, interviewed and chosen NPCA board representatives to be appointed with approval from regional council. That would likely occur after the three-month period of the interim board, said Zalepa.
"We'll go to the NPCA and work to set up a skills-set composition for the board, to establish going forward for each municipality. Our job is to create a matrix for those skills, and a policy to invite members of each municipality to apply. Councils will then make a selection to recommend representatives to the NPSA board," said Zalepa.
"But because of the timing issue, some municipalities wanted to go in that direction, and began the process sooner rather than later," although that hasn't been established yet in NOTL, he added.
In three month's time, each municipality will be expected to have chosen a board member "to swap out" the politicians, said Zalepa.
The NPCA also announced last week that its CAO Mark Brickell, who had led the organization since June, 2017, has been replaced by Lisa McManus as an interim head until the board finds a permanent chief administrative officer. There was no reason given for his departure.
In addition to representing NOTL at the NPCA board, Zalepa is hoping to join the region's public works and planning and economic development committees, which will be determined at this Thursday's regional council meeting. He chose those committees, he said, to give him a chance to discuss issues that are important to NOTL as well as the region — infrastructure investments, public transit integration, moving GO service forward and promoting Niagara as a place to invest.