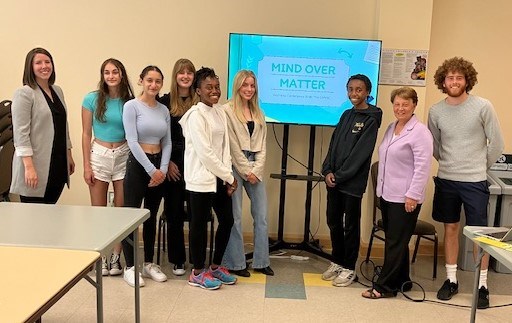 The teen members of the Lord Mayor's Youth Advisory Committee have had some help learning how to deal with stress and look after their mental wellness.
Now they're ready to start sharing what they've learned with others.
The Mind Over Matter wellness conference, hosted by the LMYAC and Learn & Live, a series of wellness sessions, was held at the community centre Friday. Pathstone Mental Health councillor Kristen Schroeder was on hand to lead a two-hour discussion about teen issues and mental health. There were also activities about mental health and wellness, as well as pizza and snacks on offer for the teens.
Terry Mactaggart, one of the organizers of the Learn & Live sessions, usually held at the NOTL Public Library, says it was "a wonderful two hours," and although it was directed at teens, "even I learned a thing or two." The LMYAC worked hard to make it a success, she says, and Learn & Live wouldn't hesitate to partner with the youth council again next year.
LMYAC chair Michaiah Ivri, a Grade 10 A.N. Meyer Secondary School student in Niagara Falls, says they plan to host it again, and have learned the importance of advertising — the event was well-organized but not well-attended, other than by their own committee members and some friends. Those who were there, however, felt they came away with very helpful and important information.
This was their first in-person initiative since COVID, Ivri says — all their meetings have been virtual, except for one project to clean up garbage along York Road, which the teen council members did in conjunction with the St. Davids Lions Club.
They also did a live Black history project on Instagram, and tried to get a skating party organized, which fell victim to a warm spell when the ice melted.
The group, which has a town staff member as an advisor, had posters printed to advertise the mental wellness conference, but not in enough time to get them posted in schools. "We weren't able to get the word out," Ivri says, but will instead try to get the message across to their friends, and hope they will help spread it.
"Often in society we talk about self-care, but it's usually after something has happened," says Ivri, a St. Davids Public School graduate who joined the LMYAC this year.
Schroeder gave them a list of about 100 easy ways they can make changes in their lives, and spoke to them about the importance of building their resilience before something bad happens by making small, incremental changes in their routines. That can make a big difference in how they handle stress, and prepare them to deal with it when it happens. She asked them to build 30 minutes into their routines to try some of those measures.
Her many suggestions were all designed to turn the teens' focus to something positive, such as watching or playing a sport, getting off their phone or avoiding Instagram, spending time with a friend, making new friends, or reading before going to sleep.
She also spoke of accumulating positive experiences, building mastery of something by focusing on a new skill, avoiding mood-altering drugs, including caffeine, balancing activity with sleep, and getting enough exercise.
"They were all things we can incorporate into our routine, but it doesn't have to be the same thing all the time," says Ivri.
She believes Schroeder's tips are already working for her. The feeling of having to make a big change in routine, and doing it daily, can be overwhelming, "and if you fail just one day, you may give up," she says. But if she decides, as she has, to read before going to sleep, even three nights a week, it makes it easy for her to incorporate that into her routine. "Hearing that changed my mindset, and made it less overwhelming."
She says she has had similar discussions with friends, and while it doesn't help to have someone say you have to do something, a suggestion to start by doing something small is easier.
"We talk a lot about mental health," she says of her conversations with friends. "If someone is going through a rough time, we'll all chip in to help. When I see my friends this week, I feel we can have this discussion, and it will make a difference. This is a good learning experience. When you go to a therapist, it seems like you have to change your routine completely. But doing things incrementally, changing just a small thing, helps you on your path to mental well-being."
Although Ivri says she and her friends have conversations often about mental health, "there is still a stigma. Talking about it is not fun. But this is actually a topic that can be fun, not draining or heavy. I can tell my friends, when we do it next year, 'you should come as well.'"
She feels the conference last week was a good format, and they will do something similar next year, but will ask those interested in attending to register — they had people say they would come, but then didn't show up, she says.
She has high hopes for a great year for the LMYAC next year. They had 10 members this year, but meetings were virtual, and some members had never met other than through Zoom. Returning members will be able to meet in person, and have time to rebuild as a council, she says.
A wrap-up meeting was planned for this week, "and we'll talk about what we've done, and focus on what we can do next year to improve."