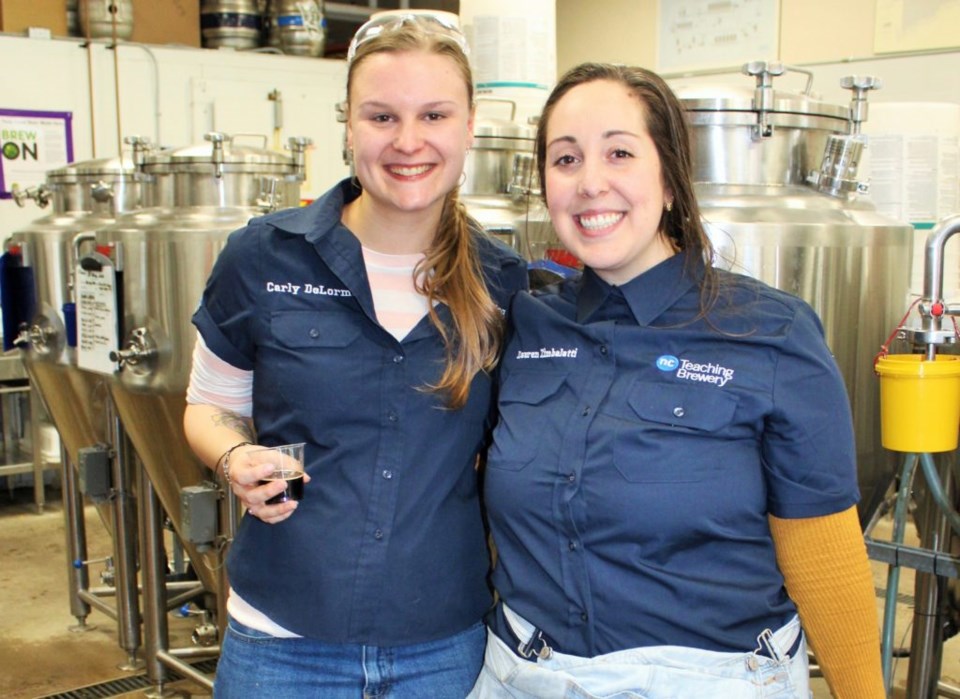 Students, staff and local brewers teamed up at Niagara College Sunday for a Pink Boots Collaborative Brew, celebrating International Women's Day.
The United Nations 2020 slogan for the day, recognized around the world March 8, was "I am Generation Equality: Realizing Women's Rights." This year's theme was about empowerment, equal rights and equality, including striving for gender equality in society, politics, economics, technology and industry. One such industry where there remains a recognized gender disparity is in the brewing industry. Women in the Niagara College brewmaster and brewery operations management program have teamed up with the Pink Boots Society to support women in the beer industry through education and training, by participating in the Pink Boots Collaboration Brew Day on Sunday.
According to former student and current faculty member Lauren Zimbalatti, this year's brew is a brut IPA, or India Pale Ale. This type of beer is expected to be dry and balanced, with no sweetness, and well-carbonated, like champagne. Zimbalatti says it is on trend right now. International supplier Yakama Chief Hops provided the Pink Boots hop blend and made it available to all participants, with a portion of the sales going to Pink Boots scholarships.
Zimbalatti says she has experienced firsthand the challenges of being a woman in a male dominated industry. There is a gender bias toward men in the industry, she says, and women are unfortunately viewed with a certain level of suspicion for wanting to join the program. She says female students are faced with more questions than their male counterparts. For instance, why does a woman want to be a brewmaster? Or are you here looking for a husband? While these questions may be laughable to some or shocking to others, women remain far outnumbered in the program.
Zimbalatti quotes some startling statistics. While female enrolment varies from year to year, in the 10 years since the program started, there have been 321 grads: 276 men and 44 women. So Zimbalatti, along with students Nicola Davey and MacKenzie Vivani, inspired by the Pink Boots Society, started their own scholarship. They named it the Rosé Wellies Ninkasi Experiential Scholarship, to support female brewers from the Niagara College program, helping them attend educational talks and conferences. The name, Rosé Wellies Ninkasi Experiential Scholarship, harkens back to the spirit of the goddess, Ninkasi from Mesopotamia, who was the goddess of beer. The founding members of the scholarship wanted to highlight the historical connection between women and brewing, and to share this history.
One of the founding members of the Rosé Wellies is Davey, a second semester student, who first discovered the Pink Society in October, 2019. As a former chemical engineer, Davey said she was looking for an organization akin to the type of professional organization she was used to for support, education and networking opportunities. She discovered the Pink Boots Society, which is a global organization of women brewers whose mandate is to bring brewers together in everything beer, from sales, marketing, designing, promoting and brewing. There are three chapters of the Pink Boots Society in Canada, with Niagara College Brewmasters under the Toronto chapter. She joined the Pink Boots Society as a networking opportunity, and for career development, especially since she was in the midst of a career change.
She decided to attend the Brewmasters program at Niagara College, she says, because she noticed in her previous career, which involved international travel, after a day of business meetings everyone would go out for a beer and relax. Everything became more casual and comfortable, and she enjoyed that. She also felt this program brought her back to the roots of her education. It's a challenge to go back to school at any age, she says, but she loves the idea of making something, especially something people enjoy. She brings to the classroom her previous work experience and a "different set of eyes than a 19 year old," enjoying sharing her knowledge with her fellow students.
As Kelly Byer, lab manager at the Canadian Food & Wine Institute Innovation Centre, notes that the Brewmasters program is "a marriage of art and science." Byer who works with beer analysis and the sensory aspects of beer, knows the "science side" of beer but enjoys watching the process of brewing in action. Her experience in the lab and on the brew floor highlights the fact that there are many aspects to the industry besides brewing, from sales and marketing to accounting.
Zimbalatti says to be strong in the industry you have to be strong as a brewer — owners look to you for help in all aspects. The Pink Boots Society and their own Rosé Wellies Ninkasi Experiential Scholarship help remove barriers and create opportunity for career development and continuing education.
Zimbalatti stresses this initiative is not about segregating men from women as brewmasters, but about promoting diversity. "We want men here," she says. It's about supporting women while working together, she adds. "That makes the conversation better."
Many breweries may not be accommodating to women, she says. Brewing is a physically demanding job, and there may be barriers, but she feels it is a corporate responsibility to care for women in the industry. It is not about saying 'no men allowed,' but to see men and women brewing alongside one another. "Nice to see the majority are women today with the support of our male colleagues," Zimbalatti adds.
As a scholarship endeavour, their goal is to ensure that women are competitive in the industry. Graduates from the brewmasters program are successful at gaining employment, but being a brewer is a demanding job and a person needs to know as much as they can about the other aspects of the industry.
To this end, the goal is to raise $5,000 toward helping women in the program get the support they need. The new brew will be available by the end of April and will be sold at local breweries and restaurants, including Niagara College's Benchmark restaurant.
Restaurants can buy a keg and proceeds go to the scholarship fund, or they can raise funds by donating a portion of their sales. Zimbalatti, Davey and Vivani hope the scholarship will be their legacy to the program after they graduate, and to the Niagara Region. "By supporting this scholarship, you will not only be supporting up-and-coming female brewmasters, but a more knowledgeable beer industry for Niagara," they state.
To donate, visit donate.niagaracollege.ca/ways-to-give/.