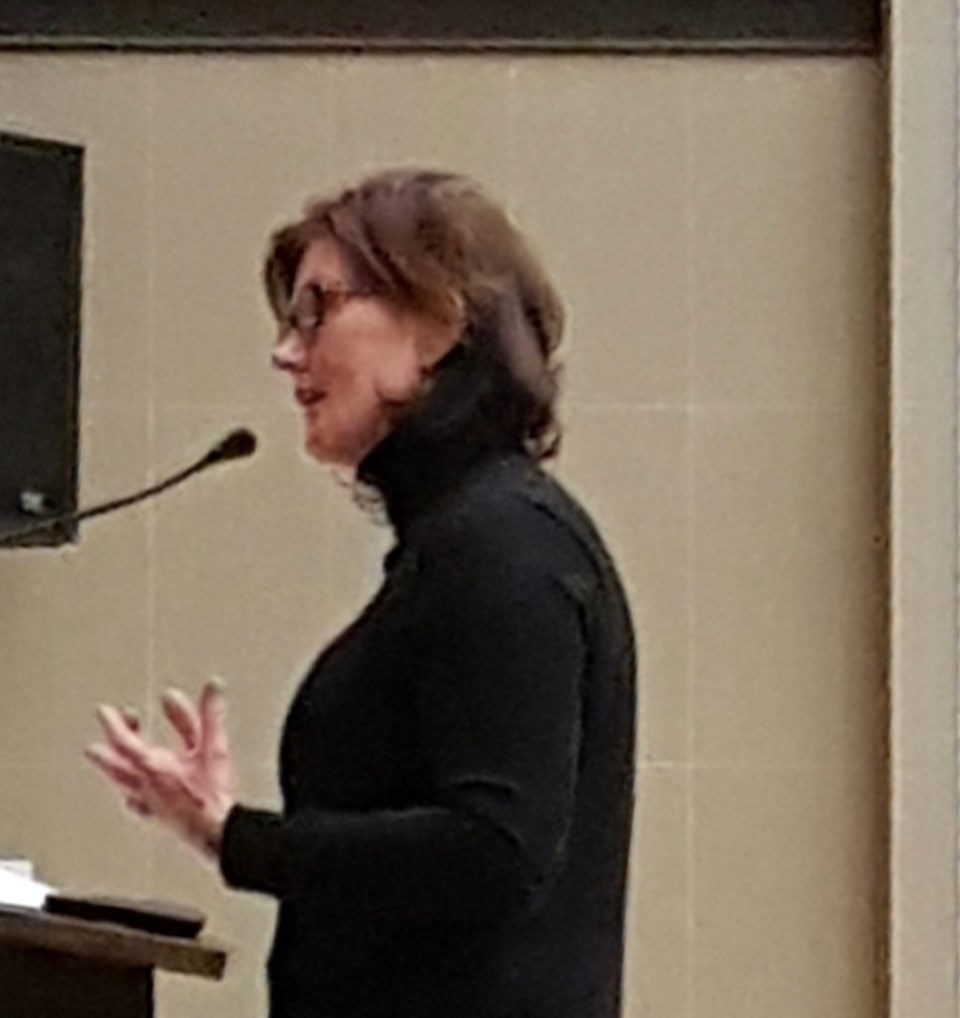 In a plea to councillors to strengthen support for the wine industry in the Town's official plan, a startling statistic was repeated several times by experts at a meeting in the community centre last week: only 50 per cent of local wineries are profitable.
The occasion was an opportunity for public input, and after several presentations about the wine industry, representatives planned to meet again this week with the Town's agricultural committee to see what can be done to address their concerns.
Debbie Zimmerman, CEO of the Grape Growers of Ontario, spoke to Town councillors of the importance of the industry to NOTL, the largest grape-growing region of Canada's $9 billion grape and wine industry, with 184 growers and a processing grape crop valued at $53 million.
Grape growers are committed to preserving and enhancing the environmental conditions of the land, she said, but without the land base protected by good land use policy "there are no farms, and no grape growers."
She spoke of managing natural heritage features, of concern to growers, to prevent such features from harming agriculture by becoming reservoirs for noxious weeds and invasive pests that might negatively impact on the surrounding properties, and asked that they be protected without impacting the ability to farm.
Zimmerman also requested stronger protection for grape growers by clearly defining and supporting the use of grapes grown in Ontario.
"Locally grown needs to be clearly defined as Ontario grown" in the document, she said, suggesting NOTL take a look at the Town of Lincoln's land use policies, with its goal of establishing Lincoln as a "centre of excellence for agriculture" and identifying the preservation of farm land as its highest priority.
Lincoln's official plan supports land uses that enable farming to become more competitive and sustainable, allow farmers to adapt to new and changing markets, take advantage of new agricultural opportunities and support activity that adds value to farming.
Local grower John Kirkby spoke of his concerns over protection of natural heritage features and its impact on growers. When Greenbelt legislation was passed, farmers understood its purpose was protection of farmland for crop production, he said. "We didn't know it was to increase unmanaged vegetation that will impact the crops we're trying to produce."
Andrea Kaiser, marketing manager of Reif Estate Winery, also asked for further protection for the wine industry. With only 50 per cent of Niagara wineries making a profit, she impressed upon councillors the importance of regulations that support value-added policies, including events, agricultural markets and farm stands.
Kaiser joined other speakers in supporting regulations in the official plan that require estate wineries to be located on a minimum of 20 acres, and farm wineries on 10 acres, with 75 per cent of the land planted to grapes.
When the Greenbelt legislation was passed, she reminded councillors, the council of the day — of which she was a member — was promised by the Province that in exchange for the land freeze on specialty crop areas, farmers would be given tools to provide for sustainability of farmland.
The Region responded by developing value-added policies to allow for agri-tourism on farms to assist with profitability, she said.
She was concerned the new draft plan omits events from permitted ancillary uses, although in a section below it references them in the context of 'special events' as outlined in current Town policies.
Kaiser also suggested distilleries and breweries in the agricultural sector should have similar standards for farming as wineries, including minimum acreages.
After the meeting, Kaiser pointed out John Henricks, former Town planner, and now principal planner with Niagara Planning Group, mentioned what she felt was an interesting point in relation to agricultural protections: that the Ontario Ministry of Agriculture currently has policies that could be useful in managing the scale of value-added uses, which is a concern to growers and wineries for fear limiting such activities will impact their sustainability. Too many NOTL wineries are struggling financially, looking for help from their banks, or selling to foreign owners.
She was running out of time during the presentation and didn't mention a personal note she wanted to add. "I grew up in NOTL when the only employment opportunities were largely low-paying hospitality-related jobs, and it was assumed by myself and my siblings that we would all need to leave NOTL to find employment and long-term careers," said Kaiser. "I am happy to share that as a result of the growth of wineries and agri-tourism all three of us are now gainfully employed, with two of us living in NOTL and the other in a neighbouring Niagara community. My sister now travels the world promoting Ontario wines as director of public relations for the Wine Marketing Association of Ontario, and my brother owns his own full-service marketing agency that specializes in wineries and microbreweries, largely in Niagara, but has recently expanded his services across Canada. And as you know, I am employed at Reif Estate Winery as director of marketing and enjoy an amazing career. I look forward to my children enjoying the same opportunity to live and work in the town they call home."
Lord Mayor Betty Disero said following the meeting winery and agricultural representatives would have a chance to further address the official plan as it relates to those issue through the Town's agricultural committee.
"We've been asked to boost the importance of the agricultural industry in NOTL, and we have no problem with that. We can do that, because it is important," said Disero.
And the grape growers association is right, she said — "we should be helping the growers who are making a VQA product of Ontario grapes. They should be our priority."
The minimum acreage for wineries, breweries and distilleries should also be considered, she said.
"The different associations, agricultural and winery representatives will come together in the room with agricultural committee members and make some final decisions about the official plan."