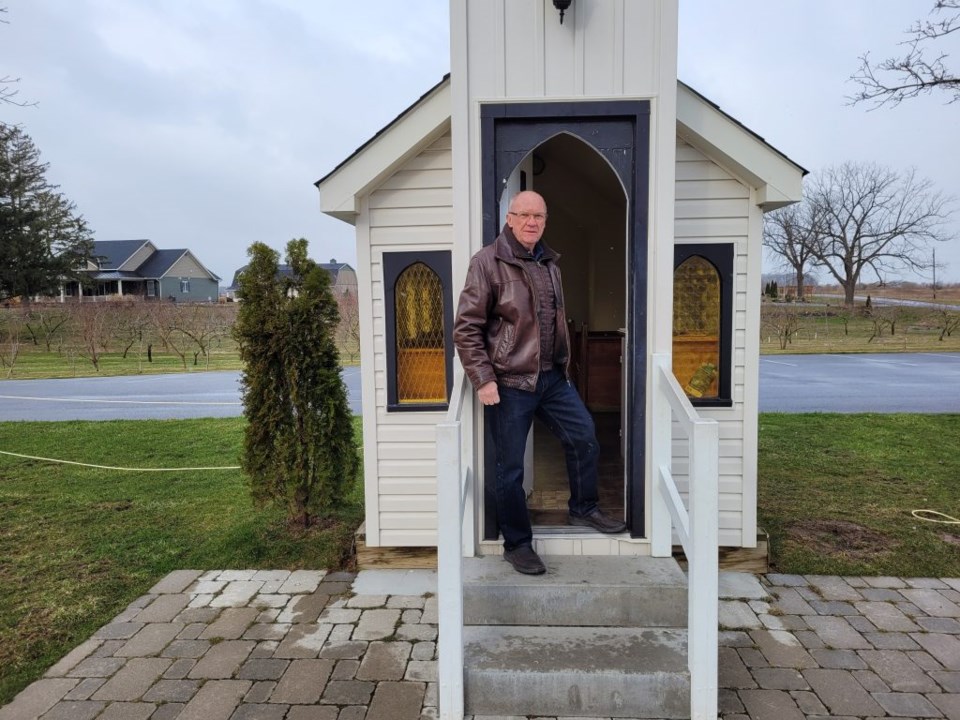 Although the Living Water Wayside Chapel was still roped off last weekend, the guest book inside shows about 20 visitors have stopped in during the last couple of weeks, some of them travellers who have come a long distance.
Comments are written by people visiting from far away places — one in Arabic, others from Spain, the U.K., Antigua, Columbia, and Canadians from coast to coast.
That's not unusual, and is evidence the tiny white chapel on the Niagara River Parkway is providing its intended service.
Rick Meloen, a member of the Faith Fellowship Christian Reform Church in Niagara Falls, is one of the locals occasionally called upon to do maintenance work on the chapel, which was built in 1965.
Although he is too young to have been part of the discussions around its conception, he says, the chapel was intended as an outreach project for the church, as "a place where people could stop for a moment of quiet mediation, here on the parkway, with nature close by, before continuing on their way."
The location is on an appealing corridor well-travelled by visitors to the area, especially during the summer, giving them an opportunity for a bit of a break from their busy days, at a small, but inspiring stopover for a few minutes of respite. Or as Meloen says, "a place for a passive sort of witness, not in-your-face, but a quiet spot to stop and say a prayer while travelling.
Most years, says Meloen, the guest books indicate they have more than 10,000 visitors stop by.
"I remember one day when a few of us were working, a couple asked if they could sit inside for a moment. He was a minister, his wife said, "and he has always wanted to preach to a full church."
It was kept open during the last two years of the pandemic, with the hope that visitors would respect COVID restrictions. A jug of hand sanitizer beside the guest book is a sign of the times.
Fortunately, there has been very little vandalism over the years, he adds — most maintenance is routine, carried out by a small group of church volunteers.
About 50 years ago, a decision was made to hold an Easter morning sunrise service at the chapel, outdoors, of course — the inside pews would accommodate about eight people, and the annual event typically draws about 50 participants.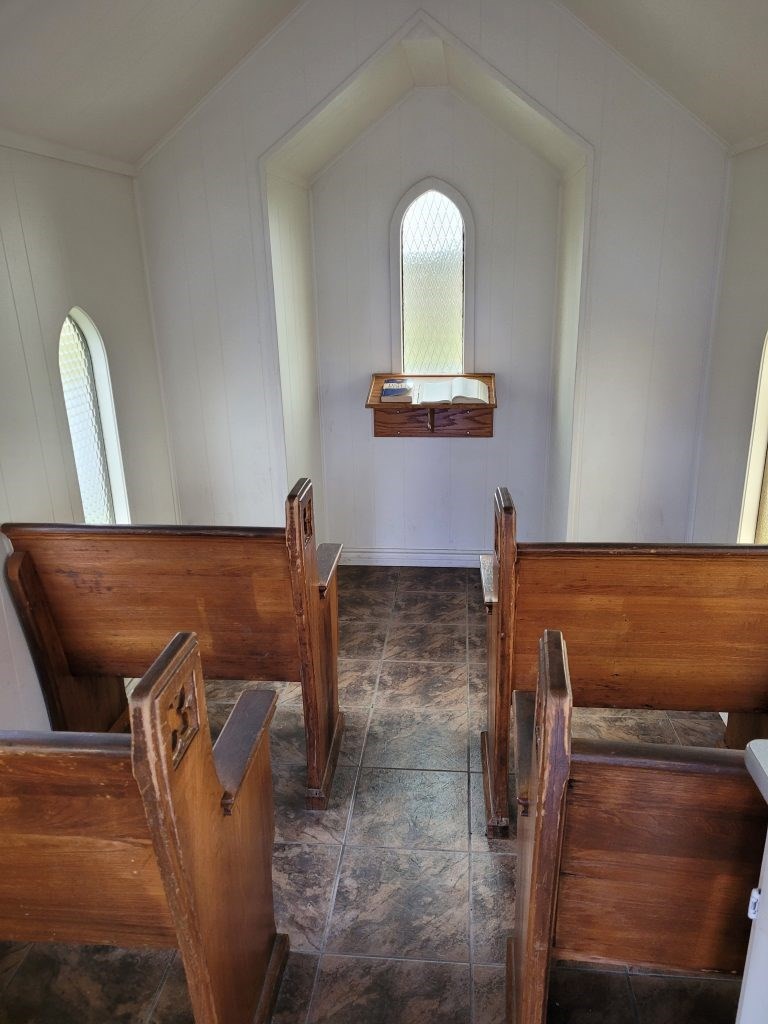 Occasionally visitors passing by will stop, but most participants are local, some coming back year after year.
The chapel closes for the winter, and is opened to signal the Easter season. This year's service is Sunday, April 17, at 7 a.m.
Meloen usually plays a role in a brief Easter morning play, and then minister Dr. Brian Ross offers a short service, followed by traditional Easter hymns.
From beginning to end, it is held to about 20 minutes, for the comfort of those who are gathered, standing the entire time, on what can be a very chilly morning.
"We've done it surrounded by snow, in wind and rain," says Meloen. "The most memorable services are when we get here, the sun starts to rise in the east, the birds are singing, the weather is good, and we can watch the sun come up. Those are the perfect mornings, the ones you want to remember."
Many will remember the chapel at a different spot, on the parkway but further south, beside what became a private home. That was actually its second home, says Meloen — it was originally on the property where it is now, closer to Line 2, on the site of what is now Walker's Country Market. When the move from Line 6 was necessary, about 10 years ago, Meloen says, Jim Walker generously offered the site, and has been a helpful steward, ensuring the area around it is kept tidy. "It's very good of him to allow the chapel to
be here."