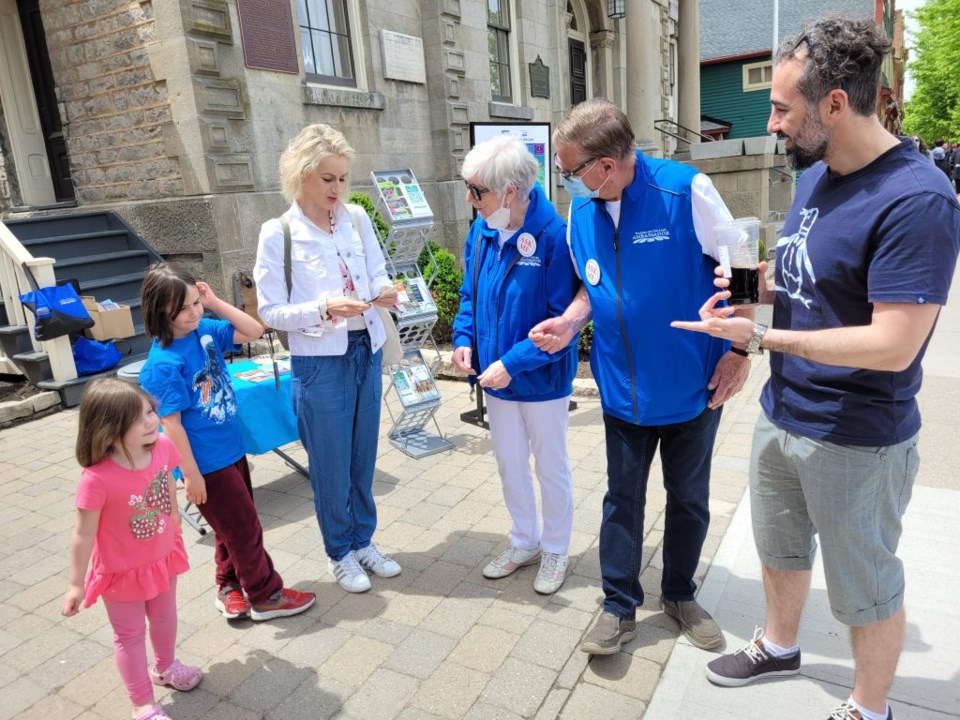 The Niagara-on-the-Lake Ambassadors program began this long weekend on Queen Street, offering a friendly welcome to visitors as well as recommendations about what to see and do while in town.
The program has changed significantly since it was created in 2020 to share pandemic protocols, such as mask-wearing and physical distancing, with visitors, through a partnership between the town and Shaw Guild volunteers.
Guild members remain involved, with about half of the volunteers this year returning, and half newcomers. The project has been redesigned based on some of the feedback from volunteer ambassadors over the last two summers. It now focuses more on sharing information about the town, with no need for instructions on pandemic protocols.
Those who were past ambassadors learned tourists don't always arrive having done a lot of advance
planning, or wth information about what to do while they're here. 
Ambassador Mike Berlis, on Queen Street Sunday afternoon, a cold, rainy day, joked that what he was asked a couple of times by visitors was if they could buy his rain poncho.
Even though it was a miserable day, there were quite a few people out on the street. Ambassadors are expected to keep track of any interactions with visitors, and he had spoken to 20 people in about an hour and a half.
Becoming an ambassador seemed like a natural choice, he says.
"It's a great program that started because of COVID issues. Now it's just about being friendly and welcoming. I'm used to seeing people in town looking unsure of something, maybe trying to figure out directions or where to eat, and I'll aways ask if I can help."
If visitors ask what there is to do in town, he says, the training program prepares ambassadors to ask how long they are staying, and answer accordingly.
They may just be looking for a restaurant for lunch, before heading to a Shaw play. Or if they're staying a few days, they may want to know about wineries, or what else to do — and it becomes an opportunity to tell them there is more to the town than Queen Street, such as wineries, breweries, distilleries, Fort George, the Voices of Freedom Park, the NOTL Museum, the waterfront, art galleries and music venues.
"We can encourage them to explore a little more. And we talk about the history of the town — that's a big part of what we do."
If they are in NOTL for a few days, "they want to do more, and that gives us the opportunity to talk about things they might be interested in. The key is to listen to what they're saying and help them find what they're looking for, not to lead them but to help guide them."
Berlis says he's lived in NOTL a number of years, "and there is still always something new to learn about the town."
Training and orientation for the ambassadors, involving several tourism partners, such as the wineries, the Niagara Pumphouse Arts Centre and the NOTL Museum, will help ambassadors do a better job of providing that information.
And although it wasn't available Sunday, on good days there will be a kiosk outside the NOTL Chamber of Commerce office with brochures about the various points of interest to visit in town.
Berlis says despite the rain, he had fun on his first shift as an ambassador. "I enjoyed the opportunity to walk, smile and make people feel welcome, even on a miserable day. It's a great program. I give a lot of credit to all those who created the program and I'm glad to be part of it."
Monday was a perfect day weather-wise, and the busiest day on Queen Street. Ambassador program lead Laurie Harley was by the Court House steps with the kiosk all set up and flyers advertising local activities, along with Mike Carruthers, who was doing his first shift, having joined the program this season.
When they greeted a couple from Stoney Creek, visiting with their two children, the couple, who come to town often, said they love NOTL, and really appreciated the friendly welcome from the ambassadors. Although they are frequent visitors, and just out enjoying the afternoon, they could see the program would be very helpful for people from further away who might not know all the town has to offer, and ended up by asking where the horse and carriage rides are stationed this year — that's where they were headed.
The two ambassadors were having a busy day stationed by the kiosk greeting passers-by, while two other volunteers also dressed in their blue garb, with buttons saying "Ask Me," strolled along Old Town streets.
The four of them connected with 131 people on their shift from 12 until 2 p.m., Harley says, until a second team took over and worked the next two hours.
"There were a wide range of questions," she noted. "The most popular, after asking the location of the washrooms, was to request a map of the town. Visitors wanted to find their way to the park for a picnic or to Fort George. Today we also had people interested in architecture, and wanted to see historic buildings; others asked what was on at the Shaw, and lots of interest in cycling and where to get bikes."
Harley says it's a lot of fun, and very rewarding being an ambassador. "We get to share our love of NOTL with others, meet fascinating people, and learn something new on every shift. A visitor asked me on Saturday if I knew who had been the mayor of NOTL for 26 years. She was involved in a virtual scavenger hunt, and that was one of the questions. I had no idea but together we found a plaque at the Court House - the answer was Henry Paffard."
Harley says the ambassador team is always interested in hearing from people who'd like to join. "All they need to do is visit our website (notl-ambassadors.ca) and send us a note."
The program launched this weekend and continues on Fridays, Saturdays, Sundays and holiday Mondays through to Labour Day.