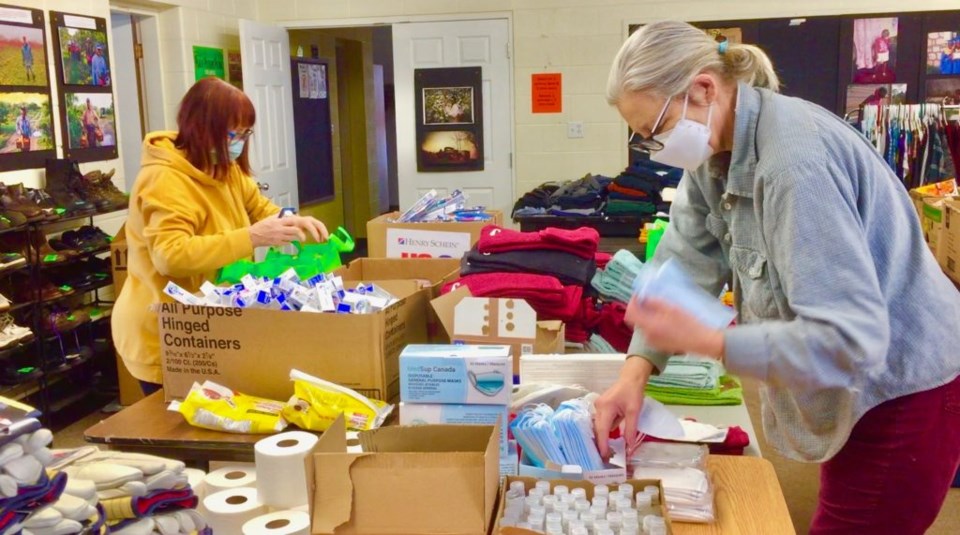 For many of us 2022 will be remembered as a time when a caring community shone brightly, despite the second year of COVID-related challenges. That is clearly reflected as volunteers begin to put together welcome kits for farm workers as they arrive in town for the coming season.
Last spring the delivery of more than 500 welcome kits to farm workers was a success because of the growing support of the people of this town. It has been a joy to meet so many locals who provided welcome kits for the men and women who braved a pandemic to come here and work, helping our farmers avert a financial disaster and loss of crops.
The idea of welcome kits started from a simple observation in 2008, when my friend Jodie Godwin and I travelled to Jamaica. It was my second trip, and Jodie's first. We stayed with farm workers and their families, travelling from Montego Bay to Kingston, visiting churches and schools along the way. Our memorable visits with their families led to a greater understanding of the many challenges farm workers face while here on the Seasonal Agricultural Worker Program.
Every year farm workers arrive often very late at night, after an exhausting day or more of travel. They have to wait until the following day to go to the bank, get groceries and finally start cooking their first meal by the afternoon. When we realized how long friends on neighbouring farms had to wait to get a proper meal, we began to provide soup and sandwiches on their arrival to see them through the first night.
The idea of a simple welcome kit containing essentials has grown exponentially in the 10 years that followed.
In 2018 Niagara Workers Welcome began partnering with Socks for Change, a charitable organization from Niagara run by Sam Baio. We purchase heavy-duty, made-in-Canada work socks for about $2 a pair. Socks for Change also provides us with surplus balaclavas and neck buffs at no charge, items which are greatly appreciated by men working in frigid temperatures.
The kits are easy and inexpensive to pack, as well as a fun and practical way for individuals, families, and community groups to express appreciation. A thank you note or child's drawing adds a personal touch that many bring home to share with their families. Some of the welcome posters made by children are still there to brighten walls in their bunk houses years later.
Welcome bags are distributed to the first 500 Caribbean workers as the men and women arrive. Father Antonio Illas and his wife Cela organize the Migrant Workers Outreach Project for the Spanish-speaking farm workers, an initiative begun by the Anglican diocese over 15 years ago. Their welcome kit program is very similar to that of Niagara Workers Welcome and we cooperate closely to share resources and ideas.
Safety protocols are strictly maintained, with kits dropped off in advance through arrangements made with employers who wish to be part of the project.
The cheerful green welcome bags have proven to be a practical way to connect with migrant farm workers in our community, helping to create a sense of belonging. These connections have been vital as we support each other in a caring community. In addition to the many local donors we were grateful to receive funding through a grant from Kairos Canada, an ecumenical, faith based movement for ecological justice and human rights.
A list of contents for kits can be found on the Niagara Workers Welcome website. Bags to be filled can be picked up at the NOTL Public Library, Sweets & Swirls Cafe and Applewood Hollow Bed and Breakfast. Completed welcome kits can be dropped off at all three locations. The Farmworkers Hub will also open its doors for drop-offs on Thursday, March 3 and Tuesday March 8 from 2 to 5p.m. Location for the Hub is 1570 Niagara Stone Rd., rear side door of Cornerstone Church.
For others who would like to support this successful local endeavour, a donation of $25 will provide the contents of a welcome kit for one farm worker. For more information visit our website at www.workerswelcomeniagara.com.
For Spanish-speaking farm workers contact Father Antonio Illas - https://www.migrantfarmworkers.ca
UPDATE: This story has been updated to recognize funding support through a grant by Kairos Canada.