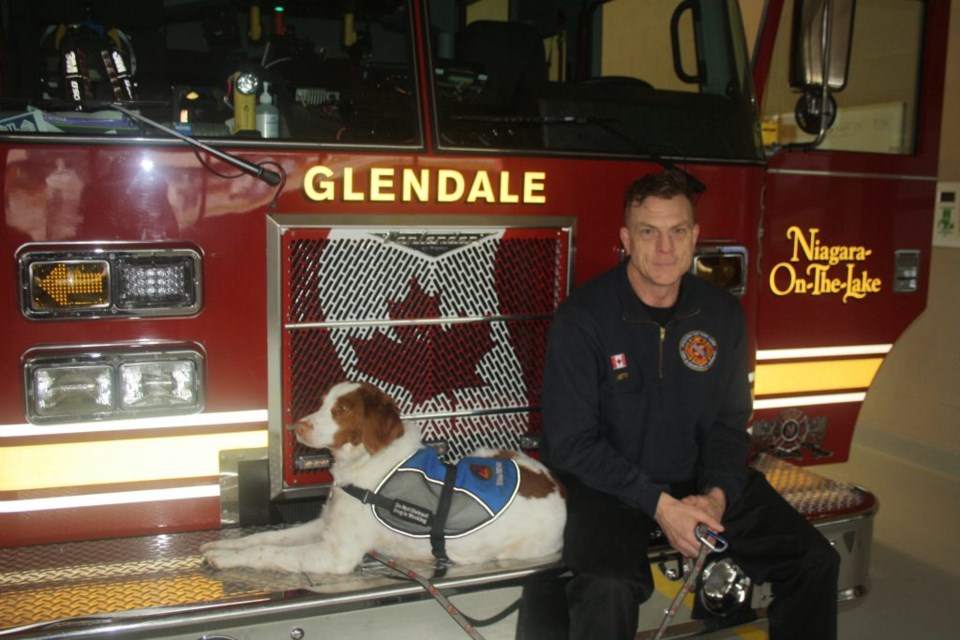 Virgil resident Graham Bettes doesn't go out much, and when he does, he usually has his service dog and best friend Maverick by his side.
The Niagara-on-the-Lake volunteer firefighter, a member of the Glendale station, suffers from PTSD, caused by stressful experiences accumulated over years as a first responder.
But he still finds responding to fire calls a good way to get out of the house, to tackle a job he is trained to do, and to feel he is doing something useful.
"I'm selective about the calls I go to, and I'm not often the first one there. But when my pager goes off, it gets me out, gives me a sense of worth, and I'm in the on-duty mode, in my zone, in the state of high-performance that comes with the job."
But that's the current leg of a journey that began for him long ago, first as a member of the Lincoln Welland Regiment serving on a United Nations peace-keeping mission in Cyprus, and then during a 30-plus year career with a Toronto area police force, which eventually led to the diagnosis of PTSD.
He says at first, stress, and the symptoms of what he came to know as PTSD, seemed natural results of the job.
Stress from the difficult calls began early in his career, his first on just his third shift as a police officer. "You don't realize how damaging those calls can be, until you look back at them in retrospect."
He describes the fight-or-flight responses to those calls, which allow officers to become hyper-focused while they carry out their duties, as necessary, but don't work so well off-duty when there is no danger, and eventually have to be understood and treated for what they are.
Skip to the present, and Bettes, now 51, draws on his experiences to play a lead role on the Niagara-on-the-Lake Emergency Services peer support team, formed to assist local firefighters with critical incident stress management.
That stress can come from one particularly horrific call (Bettes uses a different word we don't print, but is totally appropriate in this situation), or from accumulated stress built up over years of responding to those situations.
He mentions the recent traumatic call to St. Michael Catholic School, which went out as a motor vehicle collision. A 10-year-old boy had been getting his backpack out of his mother's car, when he was hit by another car from behind. As members of a small tightly-knit community, local firefighters responding would have realized there was a chance they might know the young student and his family. They might even have had thoughts of whether it was one of their own children at the school, says Bettes. "Everyone in the community can identify with those kinds of calls, let alone firefighters and other first responders. There is a very good chance at St. Michael that firefighters might have known those involved."
Afterward, the firefighters who responded would take part in a debriefing, and the distress of that call would be reason for Bettes to continue calling responders over the coming weeks, to chat with them and find out if they're okay.
Signs of stress would be completely normal following such an incident, he says, but if those signs, tears or shaking when talking about it, persist over the next month or two, "then we could be moving into PTSD territory."
He speaks of two particularly disturbing calls he experienced while a police officer, both also involving children.
One was a lightning strike that hit several youngsters. Unfortunately, the child on whom Bettes performed CPR did not survive.
After that, he said, "I knew I had to get off the road."
That led him to the criminal investigation bureau, ironically, because it is the division that responds to the worst cases, and during that time he went out to another medical emergency involving a child. "It was a very bad call, a case of parental neglect," says Bettes. "The child had died of starvation."
He knew he couldn't subject himself to any more calls like that. He had already been diagnosed with PTSD, an accumulation of stress from experiences that began with his time in the military, and continued while working as a police officer. But he kept that diagnosis to himself, and did not report it to his workplace until 2018.
In the intervening years, he began providing peer support — people would come to him with their problems, he says, and because of the knowledge gained through his own experiences, he was able to help. That led to first a part-time assignment, and eventually a full-time position with the force's organizational wellness bureau, matching officers in need of help with the programs that could help them.
But he continued to find himself suffering regularly from panic attacks and other PTSD symptoms, which can include depression, insomnia or inability to focus, and can also lead to suicidal thoughts, although that wasn't part of his experience. "I don't have a problem with suicidality, but many others do."
He began taking courses in trauma support, received counselling credentials from Yorkville University, and started on another path to help others. With other first responders who also suffer from PTSD as partners, he has founded The Valhallla Project Niagara, which acts as an umbrella organization to provide mental health treatment, education, and advocacy for people with PTSD. The program leaders work mostly with others in similar fields — firefighters and police, paramedics and health-care workers, military and corrections personnel — those most likely to suffer emotional trauma from work experiences.
That stage of his life was being mapped out in the months leading up to March, 2020, when he expected to launch the first residential program of The Valhalla Project, to be held at Cave Springs Camp. The pandemic quashed any hope of that, and instead, an intense 30-hour virtual program was devised to provide a management plan for those who could become suicidal. "An hour of therapy a week is just not going to cut it," he says.
Instead, eight aspects of PTSD are covered, including basic information about the disease, coping skills, and medications, both pharmaceuticals and cannabis.
It also teaches participants to recognize signs of distress, and not to try to get through those periods alone. "We encourage people to reach out, sometimes several times a day if necessary, to other people who are also going through PTSD and can help. Eventually their friends and family members can be taught how to help," says Bettes. "We take the stigma out of PTSD, and we take the stigma out of talking about suicide, because in our world, where suicide is prevalent, we have to have those conversations regularly."
The residential program was eventually offered to small groups, beginning in the fall of 2020, says Bettes, and continues, with six more scheduled for small cohorts.
There are other components to The Valhalla Project, including therapeutic activities such as trips to the Benchview Equestrian Centre, which focus on positive energy, participating in Fox Den goat yoga or just hanging out with the goats, and to B-Y Honey Farm — the animals and their environment, along with the humming from bee hives, are calming, the activities get people who are sometimes house hermits out of the house, and for some, can lead to volunteering opportunities.
"Just being on the farm, in the fresh air, hanging out with animals or helping out with the hives, can be soothing," he says.
The project also offers a martial arts training initiative known as Veterans Jiu Jitsu.
Bettes encourages anyone who could use the help The Valhalla Project offers, or knows someone who does, to check out the website at www.valhallaprojectniagara.org.
The Valhalla Service Dog program also now underway is intended to eliminate the fostering aspect of training dogs, making the process faster, reducing costs, and allowing the participant in need of a service dog to be part of the training from the beginning. The dogs are graded as they go through their training, and graduate when they're ready.
Bettes understands the value of a dog through Maverick, who has been with him for about five years. The Brittany spaniel, like other service dogs, provides a reason to get him out of the house, and gives him someone to feed, love and care for, all which help with depression. It makes him more comfortable when he does go out to restaurants or stores, and he's particularly useful at night, when the nightmares come one after another.
Bettes could be seen at the recent Remembrance Day service, lined up with other firefighters on Queen Street, Maverick at his side, in his jacket that proclaims him a PTSD service dog.
While Bettes is determined to take the stigma out of PTSD, he says, for himself and others, and around town many would recognize Maverick even without his coat, it is still a very personal subject some may not wish to discuss. Having a service dog often brings attention, and questions. "I'm very upfront about it," he says.
But when someone is out and about in a busy place such as Costco, questions about the reason for having a service dog is the same as asking about mental health issues, and not always welcome.
"We get that all the time," he says, as well as people patting a service dog when their coat clearly indicates that is not appropriate. "I slough it off, but not everyone can do that. People automatically assume I'm training him. The level of misinformation out there is unbelievable."
On the other hand, when Maverick is given permission to approach someone who wants to give him a bit of attention, he makes the most of it.
"He gives the best hugs," says Bettes, and it only takes getting down on his level for Maverick to show just how good those hugs are, even at the fire station.
He adds, "I feel like I've won the canine lottery. He's my service dog/best friend."
The counselling work Bettes does now with the NOTL Emergency Services came about when the department was creating a critical incident stress management team.
He's been with the department since 2015, and with his extensive experience and training, and work in critical incident stress management, helped organize and train a peer support team, which consists of about 25 team members, a cross-section of firefighters, from some of the youngest volunteers to the most long-serving, men and women, and most of the district chiefs.
He credits Fire Chief Nick Ruller and operations and training Deputy Fire Chief Darren Trostenko for being very supportive of the program, which includes posting lists of members of the teams at each station for firefighters to call if they need to talk to someone.
They may choose someone from their station, or may prefer to talk to someone they don't know. It could be about work, money, spouse or kids, "whatever life throws at them that is causing stress, and they need somebody they can vent to and who will listen in a non-judgemental way, or who can give them a couple of coping skills to help them through it."
If they need more than that, they are encouraged to reach out to a professional therapist, he adds.
He also takes his own advice. "If I go out to a bad call, I'll make sure the proper steps are taken for everyone on the call, and I'm going to do what needs to be done as well. If I'm not on the call, I can strongly recommend a group debriefing."
He is also involved in preparing new recruits and their families for the challenges they are likely to face in their new roles.
During training of new volunteers, there is always one session family members and loved ones are invited to, and Bettes offers a presentation on the mental health aspects of the job.
He talks about some of the symptoms to look for, and the reality of PTSD as a result of the job. Every firefighter thinks they're tough, that they're going to be immune to those problems, he says, "and then I show up with Maverick, a PTSD service dog. That means I have PTSD, and I give them a reality check. I give them the information they need to handle the job, and how to get the help they need."
It is also about telling family members what to look for, and the changes they may see, so they can be aware of what to expect after their loved one has responded to a tough call, in an effort "to normalize job stress, and give it the respect it deserves."
Those sessions were not able to include family members during COVID restrictions, he says, but that part of the training should be up and running again soon.
He acknowledges that while every first responder faces tough calls that can cause distress, "every call we get is in our own community that we have a personal connection with, the people, the places, every call will have an added stress with that measure of personalization."
He refers again to the call to St. Michael School, and says, "these are difficult stresses that are part of being a volunteer fire department."
And for each of those situations, he adds, "there is help available for those who need it."