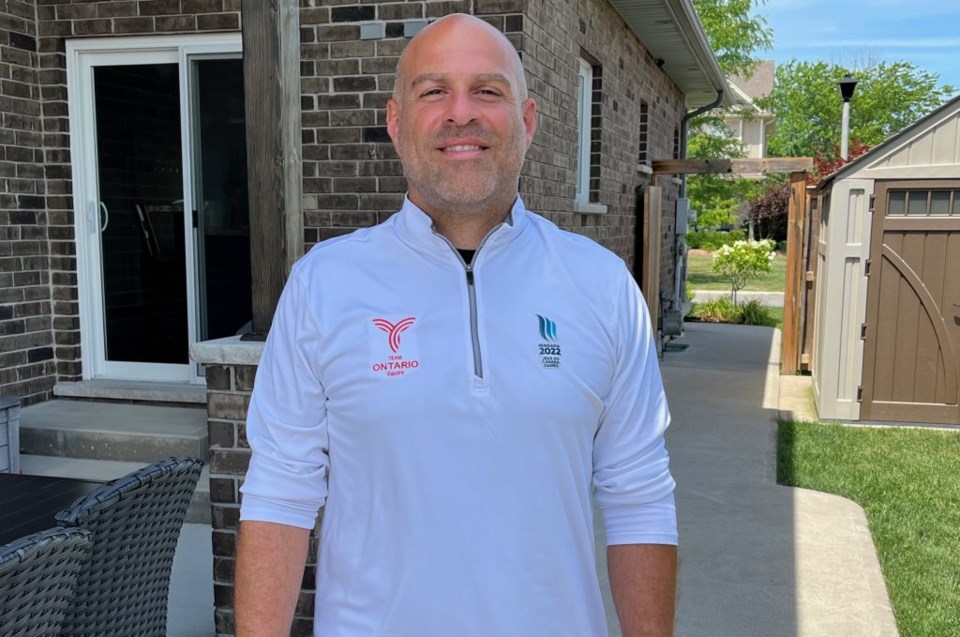 Virgil resident Joe Pagnotta won't see much of his family from Aug. 5 until Aug. 21.
That's the duration of the Niagara 2022 Canada Summer Games. During that time, Pagnotta, as part of the Team Ontario Mission staff for both the men's and women's soccer teams, will be living out of a hotel in St. Catharines.
"The Chef de Mission is the lead, and he has two assistant chefs," Pagnotta tells The Local. "There are 23 mission staff below that. I fall under the sports tech area. The athletes will stay at the athletes village at Brock. We're down the road at the Holiday Inn."
Brock University graduate Steve Sevor is the Chef de Mission. He reached out to Pagnotta to enlist him for the summer games to work with the men's soccer team. In the interim, the social sciences teacher was given the added responsibility to oversee the women's team as well, and has also signed up to volunteer for both men's and women's hockey at the Canada Winter Games to be held in February, 2023 in PEI.
For the father of three boys (Nello, 10, Dean, eight, Landon, six) who has been heavily involved in both coaching and administration for the NOTL soccer and hockey clubs, it's a chance to make some connections and learn a bit more about the higher amateur levels of both sports.
"It's pretty cool," Pagnotta enthuses. "It's a national tournament, and multi-sport as well. It's basically like an Olympics but downscaled, and only on a national level. But it's the best athletes from all the provinces at that level."
He's been busy in the lead-up to the Aug. 6 official opening of the games at St. Catharines' Meridian Centre. Pagnotta describes his role thus far as one of passing along information.
"These last few days have been deadline after deadline," the Niagara Catholic District School Board teacher says. "There are 2,500 athletes coming for each week. I've been told the day when week one's athletes move out and week two's arrive, it will be the second busiest travel day in all of Canada."
Team Ontario is bringing its best Under-18 players to the tournament. The men's team will arrive Friday, Aug. 5, and hit the practice field the following day. The soccer games are scheduled at Young's Sportsplex in Welland for Sunday, Aug. 7 through Tuesday, Aug. 9, with the final two rounds going that Thursday and Friday. Then the women's team arrives for their games which wrap up on the final day of the tournament.
He'll be the go-to Mission official for travel during the games. He says the Mission staff are basically the "guardians of the games." Pagnotta will be at every event for Team Ontario soccer, making sure every detail is taken care of.
"Coaches coach, managers manage, players play," he says. "I'm basically a helper for the managers. If anything is needed, they come to me. I'm pretty much a middleman. Their requests come to me, then go up to our management team."
He'll travel with both teams to and from the practices and games, and ensure schedules are adhered to. If there are any medical issues, Pagnotta is the first stop. When it comes to special requests for food, they go to Pagnotta.
The Niagara District Secondary School graduate says he has always been a very organized person. That trait led to him offering to create a spreadsheet system for the Mission team to help with their pre-games planning.
As a girls soccer coach at Blessed Trinity Catholic Secondary School, he plans to leverage some of his learning and connections in the upcoming school year.
"We're hosting OFSAA girl's soccer next year, and I'm organizing a sports conference day for Niagara Catholic students next spring," he explains. "I've been able to pick (Brock professor) Julie Stevens' brain, and I'll bring back some of the games stuff at that event next year."
Outside of his extra-curriculars at work, like many parents, he began coaching in the community when his own children started playing sports. This summer he is coaching all three boys in soccer, and will most likely do the same this winter in hockey.
He's doing it all, including his work with Team Ontario, on a volunteer basis.
"Obviously," says the former Club Italia soccer player, "I love doing what I do. It's all about giving back to the community."