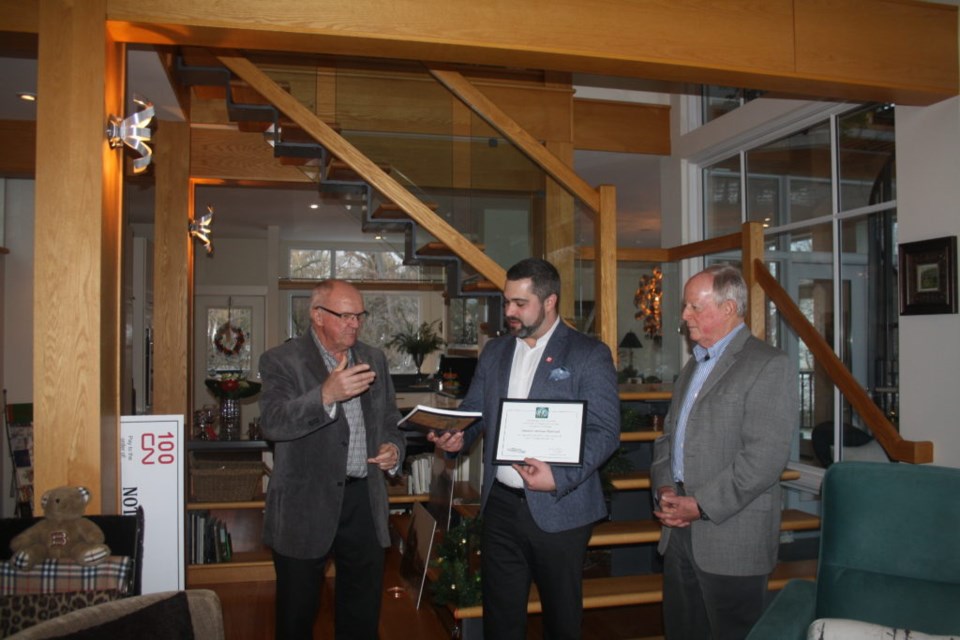 A committee tasked with revitalizing the Upper Canada Heritage Trail has had a significant boost in financing, thanks to the CN railway service.
It will allow work on the first phase of the trail, between John and Charlotte Streets, to proceed.
When finished from John Street through to York Road, the trail and the preservation of its history, along with some other features of the railroad such as the turntable in the Dock area, will be a great benefit to the town, says committee chair Rick Meloen.
The trail, used by a local equestrian club, hikers and cyclists, has not been well-maintained, says Meloen.
Repairing it to make it once again attractive as a recreational trail was taken on as a legacy project during Canada 150 celebrations, he says.
CN's Dan Salvatore was at an afternoon event last Wednesday at the home of Allan Bisback, to celebrate donations from supportive individuals and present a $10,000 cheque.
CN does a lot in communities with railway lines, he says, and although there isn't one running in NOTL, CN has an appreciation of the history of the railway. "We have happy neighbours here today."
The donation from CN brings the total raised to date to about $55,000, and Walker Industries has agreed to donate the gravel needed for the trail, says committee member Tony Chisholm.
The work between John and Charlotte Streets should be finished this year, he says, and the next phase, between Charlotte and East and West Line, will be started.
"I'm really pleased to announce we're moving ahead with this."
The railroad in NOTL was established in 1854, linking NOTL with Niagara Falls, when roads "were abysmal and travel was subject to weather conditions," says Meloen.
Trains brought prosperity to the town of Newark, he says. Hotels were built, industry was growing and farmers used the railway to transport their products to distant markets.
The era of the trains ended in 1959, and the tracks removed a decade later.