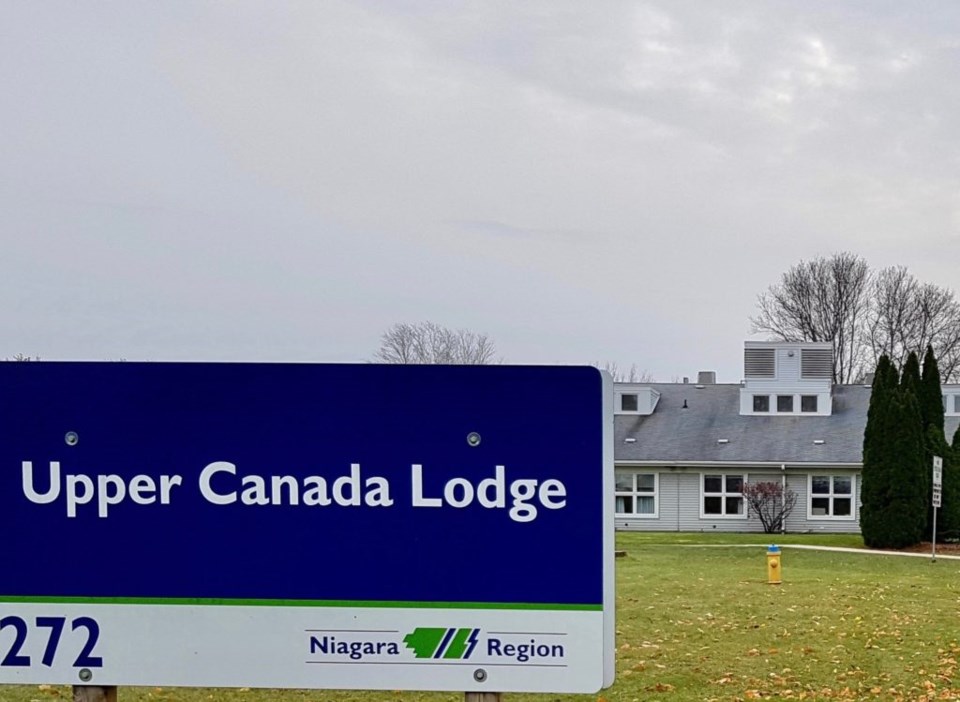 Please note: The headline in this week's NOTL Local newspaper (July 11) gave an incorrect date of 2020. The correct date is 2022. The Local apologizes for the error and any inconvenience it may have caused.
As details were rolled out last week for the expansion of two regional long-term care homes, so too was the process and timeline for the closure of Upper Canada Lodge.
It's been public knowledge for some time that the Region did not intend to renovate its only long-term care residence in Niagara-on-the-Lake, but little information has been available about a timeline for closure. With just 80 beds in the lodge, which sits on property owned by Parks Canada, a redevelopment to bring it up to provincial standards isn't feasible, said Henri Koning, director of senior services, before last Thursday's regional committee of the whole meeting to discuss long-term care.
Upper Canada Lodge is expected to close by 2022, but Pleasant Manor in Virgil is also expected to have a new facility in operation by then, with space for 160 people requiring long-term care.
Although no approvals were expected, plans were laid out Thursday that will allow designs to move forward for a new and expanded Gilmore Lodge in Fort Erie. It is expected to accommodate 160 seniors instead of 80 the current facility has space for now. The Region has purchased a former mall property on Garrison Road, and will build a three-storey residence, with room for a mix of housing on a portion of the site that could be sold to a developer or leased.
Linhaven in St. Catharines will have a new six-storey building, on property where it is now situated but in a different location, expanding its number of beds to 261 from 248. A portion of that property is expected to be sold to developers for a mix of residential units, said Koning.
While less than half the residents at Upper Canada Lodge are from NOTL, almost 100 per cent of those at Gilmore Lodge are from Fort Erie, with a waiting list of residents who would like to be there. On paper, Fort Erie is getting the beds NOTL is losing, but that space is not expected to accommodate NOTL residents — it will be required for Fort Erie seniors.
The Region is able to make that decision knowing Pleasant Manor in Virgil, owned by Radiant Care, has provincial approval for a facility that will accommodate 160 people. This new build has an anticipated opening date of 2022, which is expected to align with the completion of the two Regional facilities and the closure of Upper Canada Lodge.
The new homes will be designed as campus-style developments, now considered to be not only more economical and efficient to operate but also able to provide better care for seniors in a community-hub setting.
"We are excited about what we will be able to offer seniors as a place to live, sooner rather than later," said Koning. The three existing buildings, Upper Canada Lodge, the current Gilmore Lodge and Linhaven, are expected to operate until the new facilities are completed and ready to be occupied, she said.
The budget for the two regional redevelopments has been pegged at $175 million. With $15 million approved by the Region and $66 million to come from the Province, the remainder is expected — although not approved — to be included in future regional budgets, said Koning.
The Region will continue to provide resources in NOTL for seniors and will offer adult day programs, at a location yet to be determined, once Upper Canada Lodge closes, she said.
The fee structure of the two long-term care homes remaining in NOTL, Chartwell Niagara (the former Chateau Gardens) and Pleasant Manor, is determined by the Ministry of Health and Long Term Care, and is no different from Regional homes, said Koning.
Placement of clients on a waiting list for all not-for-profit long-term care homes in Niagara, whether they are owned by the Region or privately, is handled by Home and Community Care, and is determined by need, not by ability to pay or other affiliations, said Koning. Efforts being made to accommodate a client's preference for location when possible, including looking at first, second and third choices.
Long before Upper Canada closes, she said, "Home and Community Care will begin working with residents and families and looking at where they would prefer to be located."