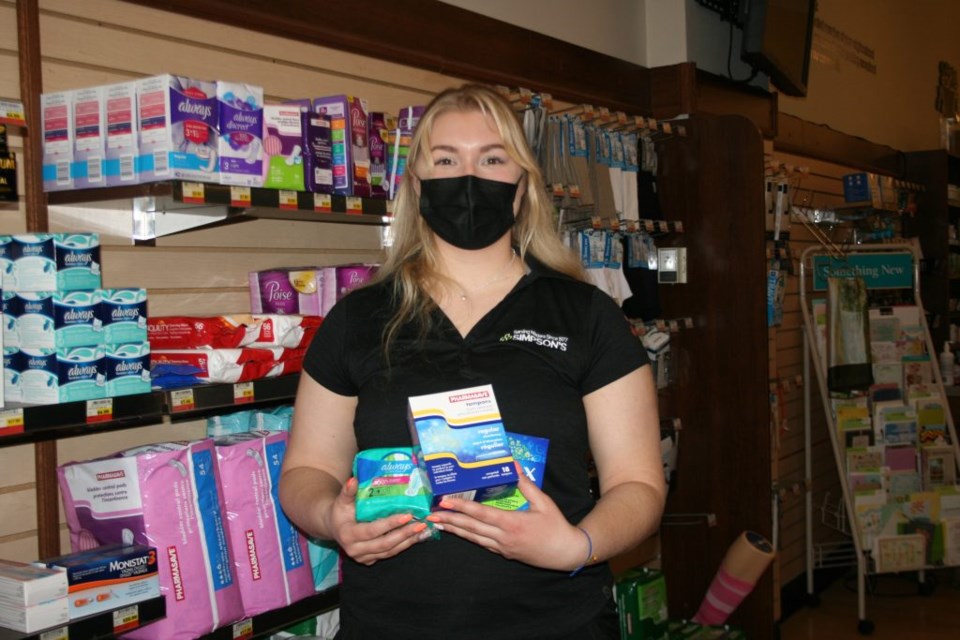 Since 2018, United Way Niagara has been chipping away at the period poverty problem in the region, and from now until May 27, is asking for our help. 
The organization kicked off its Period Promise campaign last week, with the goal of collecting 400,000 feminine hygiene products over 30 days to distribute to women and girls in need.
United Way Niagara CEO Frances Hallworth says she wasn't fully aware of the need for period products until 2018, when she noticed that other United Way chapters had begun to hold collections.
"We then talked to some of the agencies that we fund," she tells The Local, "and we found that absolutely, there is a huge need. One in seven people in Niagara is living in poverty. Think about how difficult it must be to make decisions on the basic necessities."
According to the Borgen Project, a not-for profit organization addressing poverty and hunger, period poverty refers to the struggle many low-income women and girls face while trying to afford menstrual products, and encompasses the increased economic vulnerability females face because of the high prices of those supplies.
Today the Niagara chapter is one of many across the country attempting to effect change on this front.
Hallworth says a quarter of Niagara's females struggle to purchase period products. And with the current highest inflation rate this country has seen in three decades, the problem has become even worse.
According to a United Way press release, lack of access to menstrual products often translates to isolation, mental duress, sick days and missed opportunities. The document quotes a girl named Casey, who was forced to stay home from school when she would get her period. That resulted in lower marks on tests due to her high number of absences, making her feel isolated and negatively affecting her mental health.
The problem seems to inordinately affect younger women. According to the United Way, one in three people under 25 who menstruate struggle to afford appropriate menstrual products. The isolation felt by girls like Casey can also lead to health risks and further barriers.
"Nobody should have to decide between putting food on the table or purchasing menstrual products," Hallworth says. "But when people are forced to choose between basic necessities, the effects can be detrimental for them and their dependents."
To that end, the organization also conducts policy work in an effort to ensure that menstrual products are available in an equitable way for everyone. For the past four years they have been urging companies to sign on to promise to make products available for free at their workplaces. The City of St. Catharines was one of the first to make that promise, and 18 Niagara businesses have as well.
Some other inroads have also been made in recent years. In 2015, the federal government announced that there would no longer be GST charged on them. In October, 2021, Stephen Lecce, Ontario's Minister of Education, revealed a three-year deal with Shoppers Drug Mart that would see six million sanitary pads distributed to school boards across the province annually.
Just last week, the Niagara Catholic District School Board outlined plans to install 70 dispensers (57 machines for sanitary pads and tampons, and 13 sanitary napkin dispensers) to address period poverty in their schools. One will be installed in each Catholic elementary school, alternative school, and continuing education school, while there will be two in each high school. Their press release states that only 13 of the dispensers are being provided by the provincial government, while the board will pay for the remaining 57.
"I think the schools coming on board is a great start," Hallworth says. "I think people signing up across Canada on the Period Promise policy is another great step. When you see really large employers signing up, like General Motors, it becomes more of a norm, and the expectation will start to be there that these products need to be supplied."
Another aspect of the campaign, says Hallworth, is education. 
"We want people to learn more about period poverty," Hallworth stresses, "as well as health and gender equity. Periods are a fact of life. Period products are a right, not a luxury."
In 2021, United Way Niagara distributed over 380,000 individual period products through 18 community partners. Hallworth feels this year's goal of 400,000 can be reached through financial contributions as well as physical donations of the products themselves.
In Niagara-on-the-Lake, Simpson's Pharmacy and Apothecary and the Body Shop store at the Outlet Collection at Niagara are acting as 'shop and drop' locations. Shoppers at those stores can add a few period products to their purchase and leave them behind as a donation to the campaign.
Current United Way Niagara board member and former campaign chair Sean Simpson has supported the cause since 2018, with the launch that year of Tampon Tuesdays.
"We know there are a number of women who are having difficulties making ends meet these days," Simpson says. "It's great that these necessary, every-day items can be made available for them, and that other people can support them by purchasing a package and leaving it with us."
Hallworth also encourages people to host their own collection event with friends, family, work colleagues and neighbours. And financial donations can be made via the campaign website. A donation of $120 will supply period products for one person for a full year.
Once the collection is completed at the end of this month, the United Way distributes the products through the various partner agencies whom they fund. 
"They know who to give them to," she explains. "They have the clients coming onto their premises. And they don't necessarily have to be agencies we fund. Other agencies can just let us know they have clients in need."
The campaign wraps up on May 27 with a Community Drive-thru Collection from noon to 7 p.m. in the parking lot of the Seaway Mall in Welland. Financial donations can be made and information can be found at periodpromiseniagara.ca.