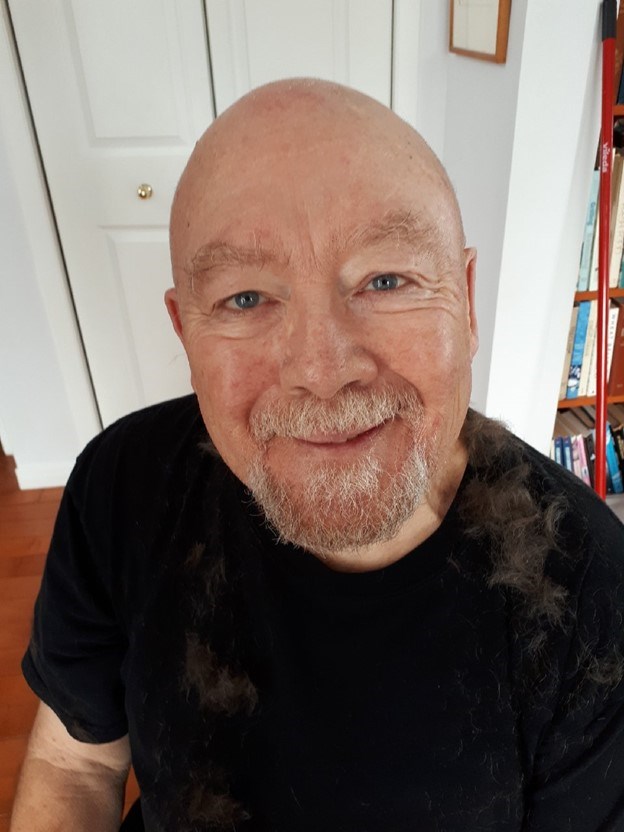 Bill Auchterlonie used to be proud of his artistic hand-writing, a skill that did not come easily to him.
Born left-handed, it was a struggle for him in school, but he worked at it, learning to lift his hand so it didn't drag across the paper, smudging as he wrote.
He spent his Grade 3 year learning to write with his right hand, and succeeded, but missed the joy he had found in writing, and was permitted to go back to using his left hand, he says.
But as an adult, he began to experience some shakiness in both hands, noticeable enough that colleagues would comment on it, and his signature began to lose its attractiveness, courtesy of the tremor, he says.
Auchterlonie, now retired, has had an eclectic career, including a long-time stint as a local radio host, with a voice that would be familiar to listeners.
He also has a love of art, and has worked in the curatorial department of The Art Gallery of Ontario, where his job took him to Britain and Europe visiting art galleries, and more recently, was the owner of a Victoria Street gallery of Inuit and Six Nations art.
His hand-writing, which he worked on and developed until it could be considered calligraphy, was one way of realizing his artistic expression.
"It was really more like drawing than writing," he says.
Until it wasn't, with the act of writing at all made difficult by the tremors in his hands.
In 2008, Auchterlonie says his physician referred him to a neurologist, who started him on a treatment of medication used for treating mild cases of Parkinson's disease, but it wasn't very effective, and the tremors in both hands continued.
Last year, he read an article in The Globe and Mail about a program at Sunnybrook Hospital, and a team of neurosurgeons who use focused ultrasound to destroy lesions in the brain that cause tremors.
The treatment allows doctors to do brain surgery using imaging and sound waves, instead of scalpels and surgical saws, and can be helpful for a range of conditions, from hand tremors like Auchterlonie, to treatment-resistant depression or brain cancer, including glioblastoma, the cancer that took the life of Tragically Hip singer Gord Downie.
But the most common use of focused ultrasound in the Sunnybrook program is to destroy the bit of brain tissue that causes hands to shake, for people like Auchterlonie.
His physician sent his files to the hospital, and after two consultations, last month, he had the two-hour procedure done as an outpatient.
Before having the treatment, he spent two and a half hours in a magnetic resonance imaging (MRI) machine, which produced a detailed "road map" of his brain that the surgeon would follow during the procedure.
Then, during the procedure, he describes lying motionless, for another two hours in the MRI machine, while the sound waves from the ultrasound destroyed the lesion in his brain that was causing the tremors. There was no pain from the ultrasound, just the discomfort of being unable to move, but a whole lot better than surgery that would have required cutting or drilling into his skull, he says.
"The doctor doing it is a brain surgeon, but there is no surgery involved. Instead there are two very sophisticated technologies going on, being used simultaneously," he says.
He was discharged from the hospital when the procedure was done, but couldn't drive home. He got a taxi to a hotel, stayed overnight, was checked out the next morning at the hospital before he drove home, he says.
It's been a little more than a month, "and I'm still not 100 per cent comfortable with this hand I didn't have for a few years. But I like it a lot."

The biggest advantage? "Well, I can sign my name. And one of the most common problems before was pouring a cup of coffee in the kitchen and walking with it to sit down, spilling it all over the floor because my hand was shaking. It was embarrassing, and a pain in the neck having to clean up the mess. That isn't going to happen any more."
Having one hand tremor-free is a "significant improvement" in his life, he says. His hand-writing is improving, and he's looking forward to the next procedure to rid his right hand of the tremors, hopefully later this year, but more likely next.
And all because he happened to come across an article in The Globe and Mail that opened his mind to the possibility.
Auchterlonie has long been interested in astrology, and now, in his retirement, spends a great deal of time researching what is going on in the skies, writing a weekly column for The Local, and using his radio voice to produce a podcast on the subject. He also does birth charts for people who are interested, including a forecast for the year ahead. His studies of astrology lead him to question coincidence, which he accepts exists, but feels there is something behind them that is a little more than just what we consider coincidence.
"Coincidence is an amazing, subtle and powerful force in nature, and we're all part of nature," he says.
Which leaves him to believe there was a reason he picked up the newspaper article when he did, and that, thankfully, led him to where he is today, with one hand far more useful than it was a few short months ago, and another that will get there at some point.