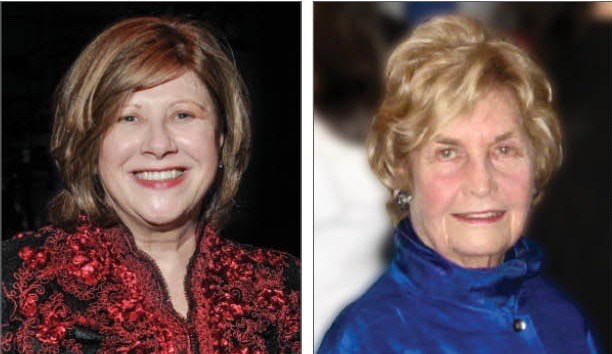 Lifetimes of philanthropic efforts have resulted in two women with ties to the Shaw Festival Board being appointed Members of the Order of Canada.
Nona Macdonald Heaslip and Janice O'Born were among 135 citizens named to the Order of Canada in an announcement by Governor General Mary Simon on Dec. 29, 2021. Macdonald Heaslip is a current member of Shaw's board of governors, while O'Born is an alumnus of the board.
They join Shaw board alumnus Harriet Stairs and her fellow Niagara-on-the-Lake resident Duff Roman as members, both of whom were featured in The NOTL Local last week.
Nona Macdonald Heaslip graduated from St. Michael's College at the University of Toronto and worked in media and broadcasting at CBC Radio and Television, and later with Time Inc. in New York City. She returned to Canada to become her alma mater's first manager of public relations.
Through the William and Nona Heaslip Foundation, created with her late husband, who was also a Member of the Order of Canada, Nona has earned the honour for her ongoing support of various arts, culture and educational initiatives over the years.
"I felt thrilled," Nona said about receiving the news. "I look at some of these people (the 135 new appointees) who have spent their lives doing noble work, and I had to look back on all my activities. When I saw the umpteen files I had on different charities, I thought 'maybe I am in the right place'."
Macdonald Heaslip pointed to her time helping both Shaw and Stratford Festivals make inroads through outreach activities geared toward American audiences in the 1990s as a gratifying time in her life.
When theatre representatives travelled to Florida on special event trips, Macdonald Heaslip recalls, "I entertained them and introduced them to many Americans."
Toronto educational institutions have benefitted greatly from her largesse. At the University of Toronto, both the Nona Macdonald Visitors Centre and the Macdonald Heaslip Walkway at Hart House Theatre carry her name. Ryerson University has the Heaslip House for Continuing Education, while Sheridan College's theatre program performs out of the 225-seat Macdonald Heaslip Theatre in Oakville. She is also responsible for numerous academic scholarships at various universities and colleges across the country.
The foundation has also bestowed significant gifts to Shaw, Soulpepper Theatre, Toronto Symphony, the Canadian Opera Company, the Art Gallery of Ontario and the Banff Centre for the Arts.
When asked about her commitment to philanthropy, Macdonald Heaslip says, "It probably made me feel useful. I enjoyed every minute of working with every charity and organization. They were like my family, as I didn't have children or relatives here."
For Janice O'Born, giving back was something she learned at the hand of her grandmother Kate.
"She would cross the road to put money into the Salvation Army kettle," O'Born remembers. "She had such a positive influence on my life. There's nothing that can beat kindness. If you can be kind, it comes back to you ten-fold."
In her efforts to live by her grandmother's example, O'Born estimates that she has raised as much as $70 million for charities by hosting events, with all of that money going into the community to help others. Much of it has come from larger corporations.
"I've pleaded and begged and borrowed from the large corporations, and guilted them into helping, because we've wanted to help those who are less fortunate."
It was Elaine Triggs who invited Janice to get involved with the Shaw Festival.
"She said to me one day 'you should be on this board', and I loved it immediately," says O'Born. "I loved it so much that I would bring groups of friends down for the weekend, put them up in rooms, treat them to a show and dinner, because I wanted to spread the word. And it often resulted in a donation to the Shaw Festival."
O'Born came to Canada in 1979, marrying Earle O'Born, the chairman and founder of The Printing House (TPH). She began the TPH Charitable Office in 1985 in an effort to create opportunities for employees to participate in meaningful causes, promoting volunteerism and good citizenship in the communities where the company operates.
The proud Canadian says she is overwhelmed to be named a Member of the Order of Canada.
"It's a humbling experience to think that I've been given this award," an incredulous O'Born admits. "It's baffling, mind-boggling that I have been rewarded for something that has already given me so much, and that's the satisfaction of helping others."
Over the years The Hospital for Sick Kids, The Canadian Centre for Diversity, CanFAR, True Patriot Love and The Duke of Edinburgh have been just a few of the organizations to which she has contributed.
O'Born, who calls Ottawa home these days, is currently the chair of the National Arts Centre Foundation and sits on the board of the Sinai Health Foundation.
"The satisfaction and gratification that charitable work has given me," says O'Born, "is beyond words. I realize that there are still people hungry all over the world. But I realized I can help one person at a time, and I've done that many times over the years."