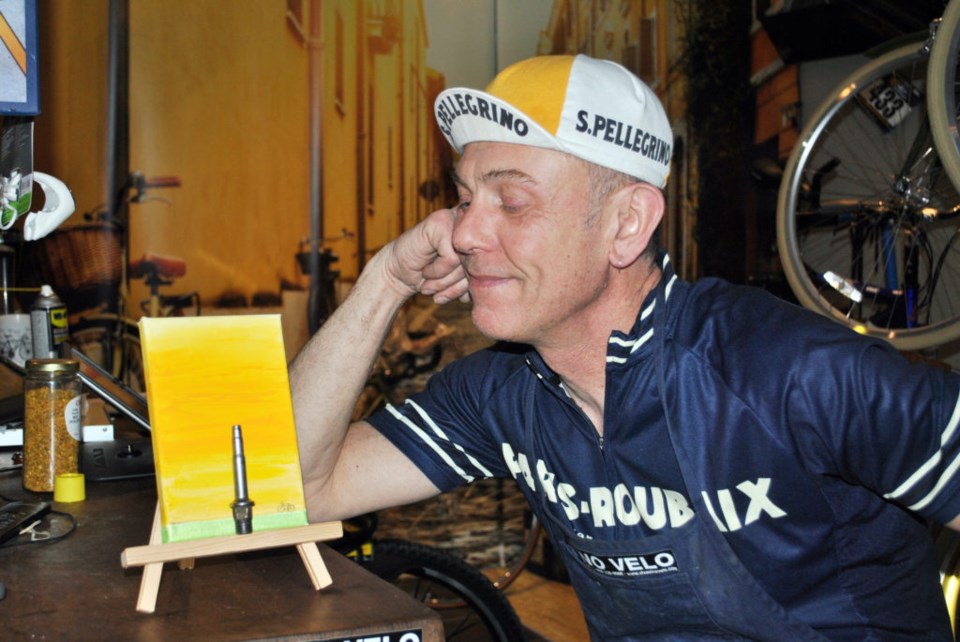 Steve Irwin's newest endeavour might have been inspired by a chance encounter.
The owner of Vino Velo bike sales, rentals and repairs noticed a pair of Hispanic farm labourers slowing down as they rode by his Virgil shop, repeatedly. Finally, one day they stopped. They huddled into the store, one pushing the other, saying something that seemed like, "Ask him. Ask him."
Irwin managed to get the story: One of the women had been riding a bike with only one pedal. On the other side, she had just the metal spindle on which to rest her foot. The women wanted to know how much a repair would cost.
Irwin promptly replaced the spindle with a proper pedal, and sent the ladies on their way without charging a cent. He keeps the spindle as a reminder: "There are people who need help more than you think. I can help keep them rolling," he says.
"I was sitting here thinking about spring sales and marketing," says the former marketing analyst. "I asked myself what are the obstacles for people buying or renting a bicycle. Often it's because they already have four or five bikes in the house — like this old Sekine," he says, pointing to a vintage racing bike.
And then the idea struck him: He decided to encourage people to donate their old bikes to Bikes for Farmworkers, in exchange for a $50 rebate toward a new bike from his shop.
"If a bike is sitting in your house you should ride it, but if you don't then you should know it's going to a good place."
"I talked with Terry Weiner at Bikes for Farmworkers," says Irwin, a scuba teacher. "It turns out that he is a master scuba diver, and he got a real kick out of the compression tank I use to fill my tires. They were all for the marketing program. They saw the good in it."
"I thought that was pretty slick," says Weiner. "It's a pretty good arrangement. It works well for all of us."
"I did this because people ask me to come to their house and look at their bikes," says Irwin. "Usually people are thrilled to get their old bikes out of the house. I actually helped someone do something good. I'm starting to deliver more bikes than we're taking money for — people are just making straight donations. Most of the time people have more bikes than they know what to do with."
Weiner is thrilled by the prospect of receiving more bicycles he and his team can fix up and offer to migrant workers at the flat rate of $20.
"We worked all winter long, and now we have 100 bikes ready to go," says the former NASA engineer. "Last Thursday we had our first 'sales' night of the year. Thursday is the night the farmworkers do their shopping at the supermarket and variety store in Virgil, just around the corner from our location. So we stay open until 8 p.m. Thursdays."
"The workers can choose any bike on the floor," Weiner explains. This season's opening night was a success: "We had about 10 to 15 Jamaican workers, and another 10 Hispanic workers. The wife of one of our volunteers speaks Spanish, so she came out and translated for us, which made a huge difference."
Weiner says he and his team visited a number of farms and bunkhouses throughout the winter, looking for bikes that needed repairs. They trailered them back to the BFF shop, fixed them up, and returned them to the farms road-ready.
The issue they have yet to solve completely is lights and reflectors, for the safety of the cyclists who are often on the road after dark. Irwin has an idea. "I would like to do a reflector drive," he says. "I'm thinking about going around and asking suppliers to print their logo onto reflective bands; I'm thinking about going to wineries and to community organizations."
Weiner also has a solution. "Kurt Gwisdek, the owner of Liberty! Bicycles, lets us order at cost," he says.
"We placed an order for 100 front and rear LED light sets. These ones are rechargeable, which is very important. The battery-powered ones have always been a problem," says Weiner, explaining battery replacement is complicated and expensive for the workers. "We're getting those in May. They retail for $40 per set; we're getting them for $20, and we're thinking about selling them to the farmworkers for $10. We'll cover the other $10 per set."
"Our philosophy is that if we have any money left over at the end of the year, then we haven't given it where it was needed," says Weiner.
Both Vino Velo and Bikes for Farmworkers provide free bike repairs for migrant workers, and both teams make a point of connecting with the visitors on a very human level. "I make eye contact and smile at them, which tends to surprise them," says Irwin, who also donates used tires to the cause. "If you're not going to use them and there's any life left in them I'll give them to BFF or directly to farm workers. I love to help. Big heart," says the former racer. "I saw a Jamaican gent in Valu-mart with a young man tagging along. I realized this was his 15-year-old son who had come to work with him in Canada. It's so important."
The Vino Velo program will be running through April, and may go longer depending on demand.
Weiner says BFF is entering its fourth year. "We keep the workers happy, on the road, and safe," he says. "And this keeps us out of trouble."