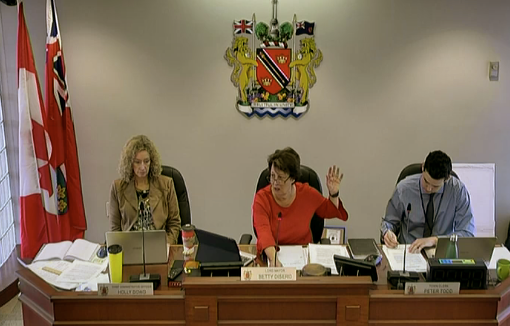 After almost four years of discussion and debate, Niagara-on-the-Lake has an urban tree protection bylaw,
It also has an interim control bylaw to limit new development in the Old town for the next year.
They were passed Wednesday morning, Dec. 5, at a special council meeting — 36 hours after this term of councillors took their oath Monday night.
Tuesday morning Lord Mayor Betty Disero called the special council meeting for Wednesday at 8:30 a.m., and after a brief discussion with new councillors, the bylaws were approved.
In a press release issued Friday afternoon, Disero said she felt it was important to enact the private tree protection bylaw as quickly as possible, and since a budget workshop had already been scheduled for Wednesday morning, she felt that was an appropriate time for the special council meeting to be called.
"There has already been a lot of community input regarding a private tree bylaw during the last term of council," she said, "There is always fear about the unknown and the only way to see if the bylaw will be workable, affordable and practical is to put it in place and monitor the impact. Now that the bylaw is passed, council can move forward and focus on the municipal budget."
Further public consultation will take place in the coming months, and council agreed to ask for an update from staff to be prepared for the Sept. 9, 2019 meeting.
There will be a public workshop scheduled, said Disero, to allow residents to talk about the impact of the bylaw, and staff will look at any issues with administration of the new legislation which is aimed at protecting trees from "destruction or injuries" on private property through a permit system within the Old Town, St. Davids, Queenston, Virgil and Glendale urban boundaries.
The bylaw will be checked by the Town's solicitors to ensure "it has teeth," said CAO Holly Dowd. In the meantime, she gave councillors a few days to consider changes they might wish to see, with staff reporting back on their suggestions.
There was a discussion about amendments that would have limited the bylaw to the Old Town, or all communities except Glendale where development is being encouraged, but motions to that effect were defeated.
There is a long list of exceptions to requiring a permit in the bylaw, including removal of a dead or diseased tree. To cut down a tree that doesn't meet any of the exemptions, the owner must submit a permit application to an inspector, for a fee. The species, condition and location of the tree will be considered, in addition to the reason for removing it. The permit must then be posted on the property where the tree is located, five days before its removal.
There will be an appeal committee to decide on a refused application if the owner objects.
There was also an amendment requested by Coun. Gary Burroughs, which passed, to remove the black locust and black walnut from the list of trees exempted from requiring a permit.
Enforcement and penalties, including fines from $500 up to $100,000 or more for repeated convictions, are also discussed in the bylaw, which came into effect immediately upon approval by council Wednesday.
The removal permit can impose conditions which could require planting a replacement tree, a cash payment of $500 in lieu of planting, and having the tree removal process supervised by an arborist.
With a lack of dedicated staff to supervise, planning director Craig Larmour told councillors the Town will have to look at using a tree service company.
The tree protection bylaw does not set out the cost of a permit, a a detail that is expected to be considered in the 2019 budget.
The interim control bylaw was approved to provide a year of protection from development in the urban area of the Old Town, while giving staff time to complete the Official Plan updates.
It would prohibit new plans of subdivisions or condominium and applications for zoning and OP amendments or minor variances that would support a subdivision or condominium, but would not affect single family homes on single lots in most cases.
It's intended as a "pause while we go through the Official Plan" to determine what needs to be protected, said Disero,and will allow staff "to not always have to react to applications but to be able to look forward."
Coun. Wendy Cheropita asked that Queenston, which she said has similarities to the Old Town, be included, and Burroughs, in favour of the Old Town protection, suggested that it should apply to all communities. "This makes them (the Old Town) different from the rest of our communities which are under similar pressures," he said. "We eventually need to protect all of our town while we get the Official Plan up to speed. The Official Plan is in fact based on the whole community."
"We're all most interested in seeing an effective Official Plan for all of the town," said Coun. Clare Cameron, adding the Old Town is in a unique situation and it makes sense to impose development limits now.
At the same time, she said, "We should keep our sights on the larger goal of having effective policies that suit our entire town but also acknowledge the unique character of the communities within our town, and that this will be seen simply as an interim solution."
Once the bylaw was passed, Disero said she would make a motion at the next council meeting to have staff review other heritage areas to determine whether limits to development should be expanded to include other communities.