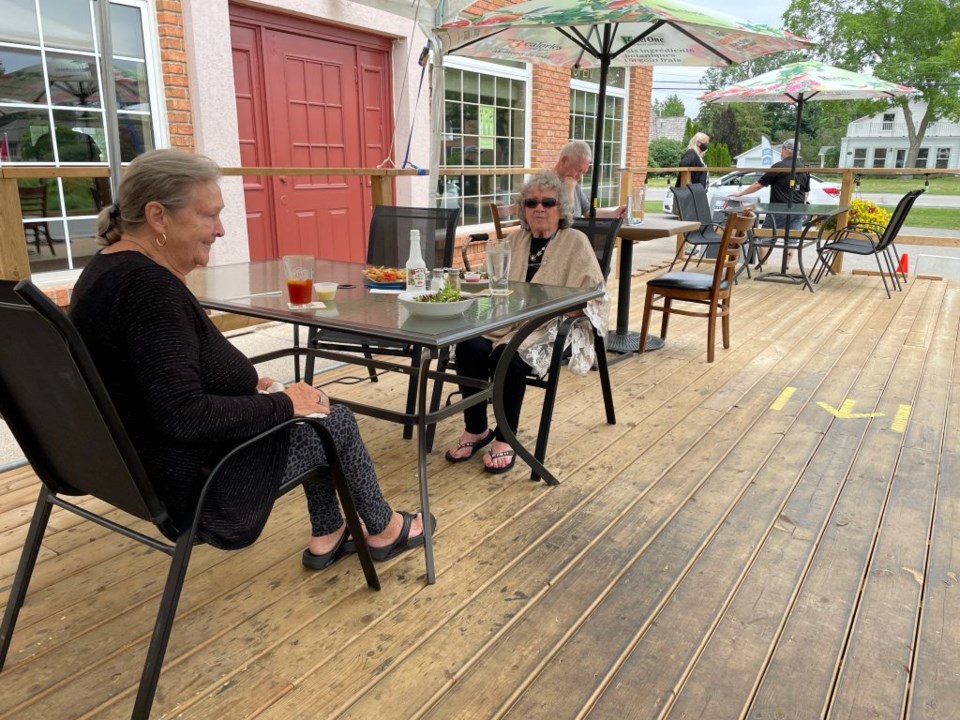 Patience, patience, patience. That is the plea from Lord Mayor Betty Disero to those who are asked to show proof of vaccinations to enter certain businesses and venues.
Today, Sept. 22, is the day business owners begin dealing with the provincially-mandated vaccine certification system, and customers entering restaurants, gyms, and some other non-essential businesses — retail outlets are not included — will be asked to show proof they are fully vaccinated, which means they have received their second dose of vaccine two weeks ago or more.
Town staff have put together an information package to send out to businesses and the public to help smooth the process, says Disero, with a goal of "educating and facilitating where we can." It was available Tuesday. She is also planning another of her videos, and her message will be for residents to remember to be patient, maybe allow more time, and arrive earlier.
"These are new rules from the province, and it will take extra time to get people checked in and ensure everyone understands the new regulations," says Disero.
"I hope everyone will be patient. Staff at the town hall and businesses will have to take more time with people, and patience will be very important during this next stage."
So far, people have worked together to cope with provincial pandemic regulations "in a kind and co-operative way," added Disero, and she hopes that will continue.
It's unfortunate that restaurants, the businesses that have been among the hardest hit throughout this pandemic, will also be the most impacted by this new regulation, says Disero, along with the Shaw Festival.
Tim Jennings, CEO of the Shaw Festival, agrees with the timing.
"I think we are prepared and ready," he says, "although I am sure there will be some bumps, as with anything new."
For those attending a performance at the theatre, he says, "we are opening up about 30 minutes earlier (now an hour before performance, instead of half an hour) to help improve ease of arrival."
Visiting the town hall, using the gym at the community centre, attending programs offered there, and sitting down with food from the cafe will all require proof of vaccination, but just picking up something from the cafe to take out will not, Disero said.
The same applies to those visiting the arena, with exemptions, which includes Individuals who are medically exempt from the vaccine. Those individuals will be permitted entry with a physician's note.
Children who are under 12 years of age, and those under 18 at the arena for participating in sports and recreation activities, are also exempt.
Visitors to the Niagara-on-the-Lake Public Library, based on current provincial regulations, do not need proof of vaccination.
In all cases where proof of vaccination is required, some identification, such a driver's licence or health card, will also be required.
That's until Oct. 22, when an upgraded proof of vaccination that includes a QR code should be available from the province. It will have an app that consumers and businesses can use by then, or a printed PDF as an option, and the process should get easier and faster, says Disero.
For specific questions about town facilities, contact Dan Maksenuk, recreation supervisor, at [email protected].
Residents can also call the town at 905-246-5878, says Disero, and their question will be directed to the appropriate department.
Paul Dietsch, co-owner of Sandtrap Pub & Grill, admitted to being a little nervous about adding an extra process for people entering the restaurant.
He'd received little information about how it was to be handled, but was going over what he knew about the regulations with staff.
He says he hasn't had issues with overly aggressive customers objecting to wearing masks as they enter the restaurant, and he isn't expecting problems with the proof of vaccination regulation.
His main concern is that the public be educated so they understand the rules and what is required.
"I don't want to have a group of four women arrive for lunch, and find that one of them has forgotten her proof of vaccination. We have to do what we're told. I can't take a chance on inspectors coming in here and finding we're not following regulations."
He believes the rule is a "step in the right direction," to keep customers and staff safe, but was hoping for more support, such as the provision of signs, to be prepared for the implementation.
"I'm not anticipating any problems. I just hope people are prepared, and have their documents and ID, to make it easy."
According to provincial regulations regarding proof of vaccination, those under 12 or people with medical exceptions and a doctor's note for proof are exempt.
Places where vaccination proof is required include restaurants and bars, although not outdoor patios or to pick up take-out food; nightclubs, including the outdoor areas; meeting and event places; sports and fitness facilities (but not including those attending for youth recreation); and sporting events.
Casinos and bingo halls will require vaccination proof, as will theatres, concerts and music festivals.
If you need a copy of your vaccination receipt, go to the provincial vaccine booking portal or the vaccine booking hotline at 1-833-943-3900.