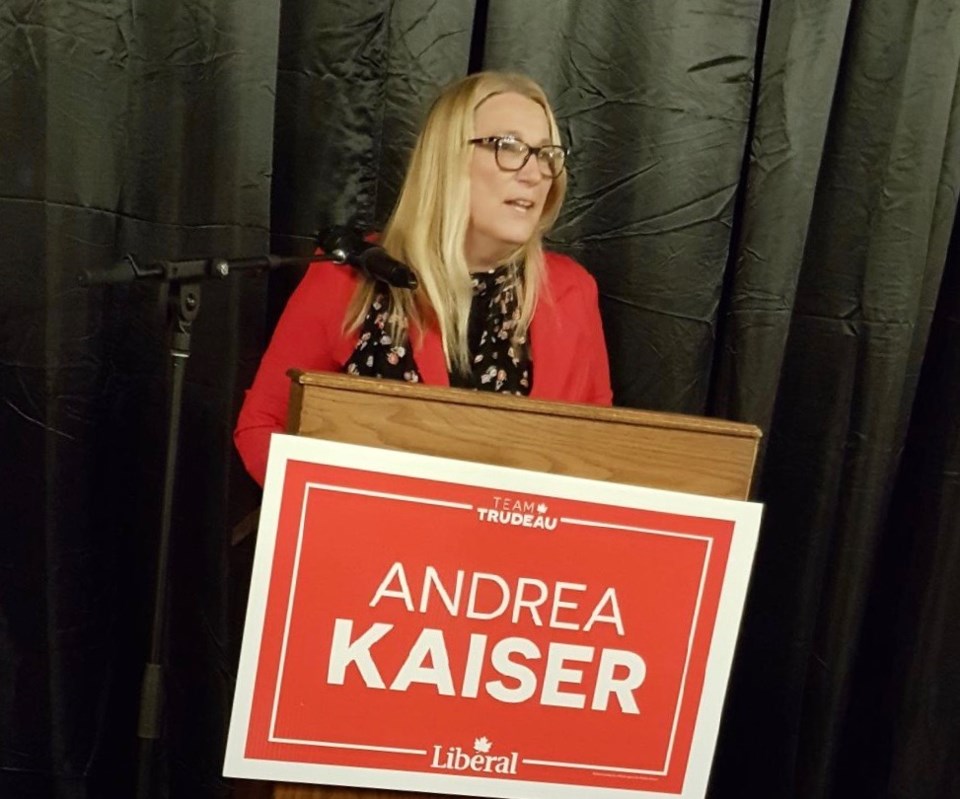 While other candidates are questioning the timing of the federal election, called Sunday to be held Sept. 20, Liberal can- didate Andrea Kaiser believes there are valid reasons for having it now.
When the election was announced, Prime Minister Justin Trudeau spoke of this time in the pandemic as a "pivotal" moment, when significant decisions about the future, including recovery plans, need to be made.
"We see the diversion of people's ideas of how to end this pandemic," Kaiser says, including the issue most often discussed and dividing Canadians at this stage of recovery — vaccination passports and mandating vaccines. There are differences in the way people view those issues, including whether they infringe on fun- damental rights, she says.
"We hear it in the community, and we see it on social media."
These fundamental differences pose difficult questions, with no clear answers, that are best resolved through the democratic process. The way to accomplish that is to go to the people in an election. "This is the right time to exercise the democratic vote," she says.
Pre-pandemic, she adds,
"who could have dreamed we'd be having this discussion about human rights?"
With no simple answer to a question that is dividing Ca- nadians, she says, it's clearly the right time for voters to have their say.
Kaiser also speaks of a year of seeing the results of climate change, with the devastating wild fires and floods experi- enced across the country.
She ran on the need for ac- tion for future generations in 2019, and that remains one of her priorities. She's proud of the Liberal climate change action plan, one that has been made even stronger since then.
It provides protection for the Great Lakes, the Niaga- ra River, and Niagara's "sa- cred green spaces," defending specialty crop areas and the Greenbelt.
She is also proud of the $10 a day child care plan, and recalls how helpful it would have been for her as a some- times-struggling single mother.
The Liberal program will cre- ate day care spaces and provide support for mothers and families who are struggling, much more effectively than a tax credit, she says. She points to Quebec, as Trudeau has, as a province which by expanding day care and mak- ing it affordable invests in fami- lies and children.
Kaiser says after representing the Niagara Falls riding and com-
ing in second in the 2019 elec- tion, when she decided she would let her name stand, she continued her involvement with the party and the community, staying in touch with her constituency and keeping them engaged.
She and her team have continued to do community outreach and remained active, reaching out to people during the pandemic, offering help if needed, "and people are just so grateful. It's been a really good experience."
"I never really stopped," she continues. "Once I'd made the decision to go down this path, I also decided to do the work I needed to do to be ready."
Donations and volunteers have continued to help, "and there is still a lot of momen- tum."
She refers to the election call as "the worst-kept secret," saying she heard the news last week, along with all Canadians, and learned it was official Sunday.
"I've worked hard to pursue this path, and I'm as ready as I can be."
To those who criticize the safety of an election campaign during a pandemic, she points to the advice of Dr. Theresa Tam, Canada's chief public health officer, who has said that it can be held safely, even in a fourth wave, if protocols are followed.
Kaiser says elections have been held in several provinces,
with no major outbreaks, and can be just as safe in a federal election.
She is going door-to-door wearing a mask, standing back two metres, asking voters if they're comfortable talking or taking a pamphlet.
During a press conference Monday, Dr. Mustafa Hirji, Ni- agara's acting medical officer of health, said he believes, with proper protocols, an election can be held safely, Most cam- paigning, including going door- to-door, is done outdoors, he said, and with masks and physi- cal distancing, can be safe.
He advised against gath- erings with a large number of people, saying campaign events can rely on media coverage rather than large crowds to be effective.
He also encouraged voters
to take advantage of mail-in ballots and advance polls, as well as attending polling sta-
tions during the times of day when they are not as likely to be busy.