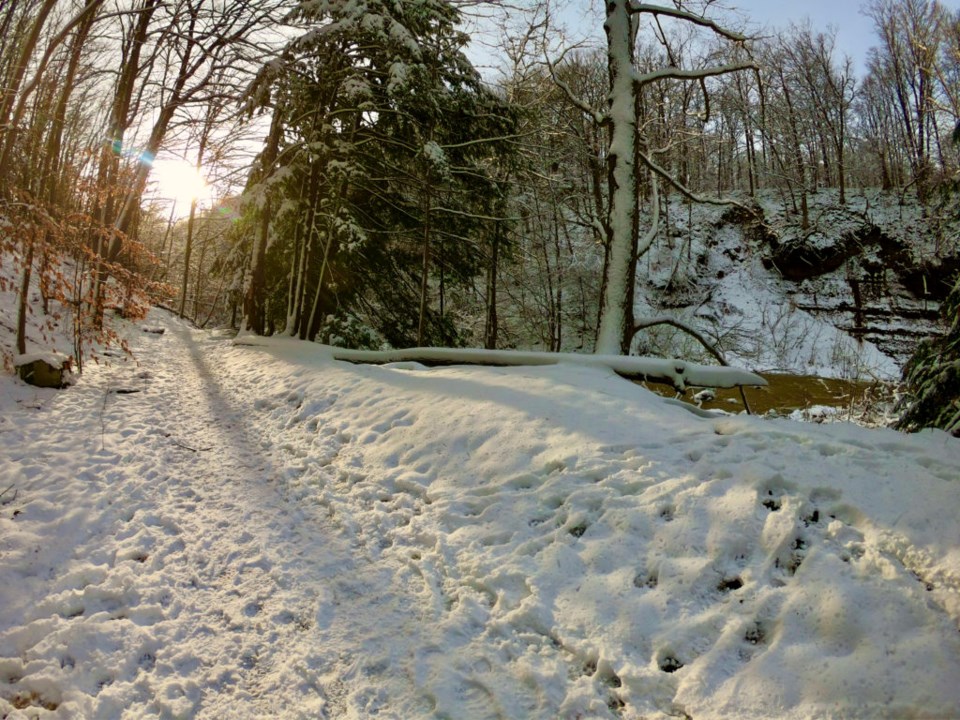 It changed our attitudes, knowledge and appreciation towards the green world. Niagara has been an exemplary microcosm of how the pandemic has shifted our relationship with the outdoors, and how it may never be the same.
We start this time warp in Wainfleet Bog, where the notification went off. My partner and I were standing deep in the 568 acres of wetland and forest. We were about to eat a delightful little meal over a stove on a balmy, incredibly pleasant spring day, while enjoying the sounds of spring peepers and western chorus frogs. I was then alerted that even the conservation areas were officially closed because of COVID.
Perplexed, in a "what a time to be alive" sense, little did we know what Niagara's woods were about to endure over the next several months.
A week later, I remember hiking near Fireman's Park in Niagara Falls, where I found myself ducking back into the woods at the sight of a bylaw officer patrolling the vacated park. It was such a foreign concept. A couple of months down the road, even beaches were temporarily closed.
The waves of news were lapping our screens. The waves of Lake Ontario lapped at the eroding shoreline. As all of these events just keep happening, while we've been learning lots about our human behaviour, as a species, and as a part of nature.
Deep appreciation and connection with the outdoors came to the forefront during the first wave. The spring weather naturally enticed Canadians out of their homes to come out and play. Considering many services and activities were shut down, many took their first step onto one of Niagara's numerous trails. Quickly, the trails were fuller than they've arguably ever been. 
It was wonderful to witness so many people, especially families with kids, immersing themselves into our rich and scenic forests. These are timeless experiences for youngsters, as much as they are for adults who simply go there for the first time. Nature is a classroom, while our current classrooms have arrows and rules and boundaries.
Noting the volume of people on the trails, I can confidently say there are now that many more people in our communities who appreciate and respect nature that much more.
The people of southern Ontario moved like sand in a changing river. For summer and fall, restrictions in Toronto helped shine a light on the liberties in Niagara. Niagara's trail networks and incredible natural experiences were being discovered by droves of people from the Golden Horseshoe.
Then there's Bill 229, the Province's new COVID Recovery bill which sneakily included drastic changes to our Conservation Authorities. The governing boards, which normally contain a diversity of experts and local elected representatives, are set to become entirely composed with municipal councillors. By the same token, developers and other applicants can get an easier reconsideration from The Ministry of the Environment or the Local Planning Appeal Tribunal, should they not like the scientific evaluations given by the local conservation authority.
You do the math as to what this could mean for our remaining natural spaces, which are already heavily encroached upon, right here in the most biodiverse region of Canada.
I sit at the desk and ponder what this all means for 2021 and beyond. Socially and spiritually, I'd say that our modern Ontario world has reconnected to nature in a big way. How effective will a more environmentally-educated population be against the impairing Bill 229 and ongoing pandemic, though?
Ontario has officially entered its four week lockdown. I haven't read any updated restrictions on tobogganing, so I took to the Niagara Escarpment's forested slopes and moulded a sled track from top to bottom. I slid like an otter down the escarpment slant, weaving through the old growth oaks and maples. A bleak, sleepy winter landscape blankets NOTL down below. We have entered some sort of double hibernation, I thought, as I dodged the trees at high velocity. It's the first of its kind in a century. In contrast, the trees and rocks of this slope, coated in snow, were comfortably the same as they've always felt.
This wild winter activity served as an opportunity to write about how nature is always there to provide for us. The same escarpment slope filters water for our smaller NOTL communities, while providing irreplaceable habitat for owls, which may have passed over me unknowingly while I sled through the forest. And, if you're looking for something healthy and fun to do during lockdown, never forget the Bruce Trail and various sledding hills across NOTL.
And now, for the year-end adventure that sums it all up. I've really wracked up my 2020 escarpment hours as the year comes to a close. I find myself standing in the depths of the Decew Falls' gorge, icy cathedrals hanging like wizard beards off of their rocky chins. A haunting wintery chasm. What I discovered down there was a perfectly symbolic way to wrap up the year in natural Niagara.
A stark and profound reminder of 2020's madness stands more than seven feet tall at the top of Decew Falls. The fence is enormous, and stretched across the entirety of the parking lot and surrounding bushes. Pylons of the past still remain in the present, discouraging those summer crowds in the dead of winter from congregating at the iconic Decew Falls.
Blankets. Tim Hortons cups. McDonald's containers. Beer bottles, and masks. Decew is no stranger to pockets of litter, but this was an unending eyesore. It was the desperate, last-minute forest party that nobody wanted to clean up. This happened in many of Niagara's popular nature spots this year. Rescues, paid parking, and presence of trash are all variables in which we saw a sharp increase during the pandemic.
With litter everywhere, and the defiantly beautiful canyon to myself, there was something eerie going on. The misty fog rolling in only made the feeling more magical. It wasn't just the litter, but the residual human energy that clung to the walls in here. 
It was 2020's chaos, unruliness, and summer of uncertainty still buzzing in this rocky, muddy landscape. You could just picture all the friends and families scampering down the steep banks to get to the beautiful water on a hot day. I saw it before the fence days, and it was incredibly busy. In contrast, here I was standing in the Decew Falls gorge, with the whole place to myself.
This hike was an ode to a powerful and transitional year, regarding all things in nature.
It seems like those early summer days are well over a year behind us, considering the changes which took place since the pandemic began.
Having said that, we need to hike positively into the future as a new year approaches. We need to remain vigilant for what's coming to our natural areas, and we need to act as locally as possible to make those little differences add up to a big one.
We all know 2021 is going to be a big one. So, let's make the most of it. Thank you all for your readership, thoughtful comments, and feedback this year.
Cheers, and Happy New Year!