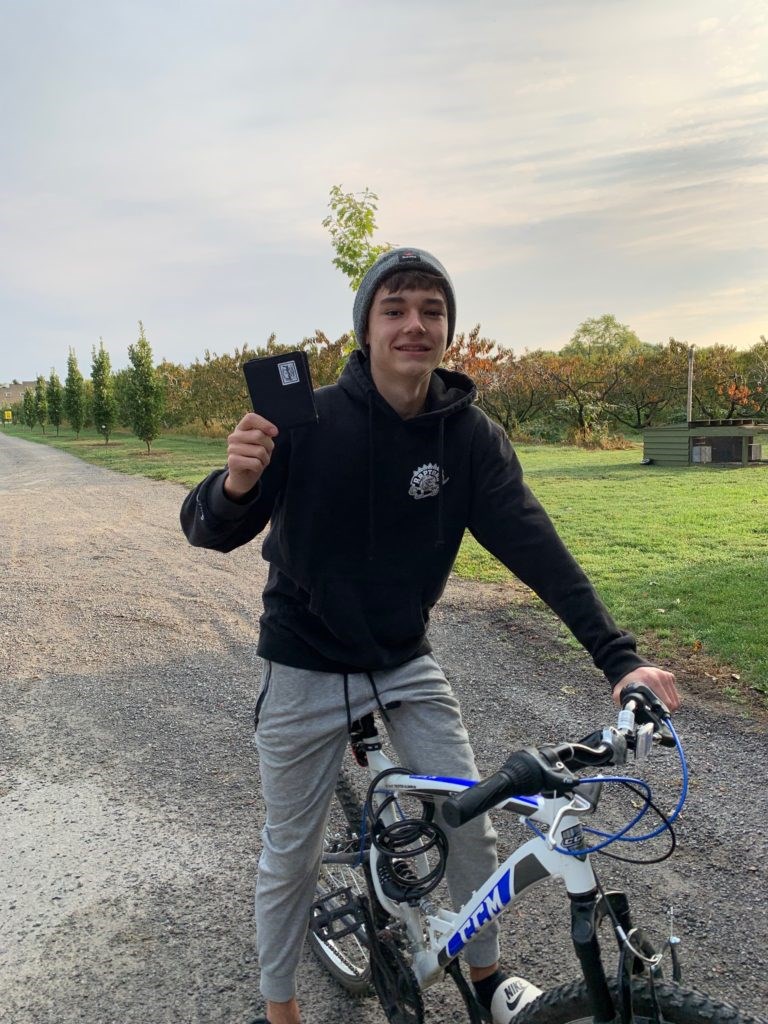 Isaac Andres would like to say thank you to the man who found his wallet, but he doesn't know who that person is.
It came to him through a circuitous route — the wallet was first picked up by the side of the road by a visitor to town, says Andres.
The 15-year-old had been riding his bicycle from Tim Hortons, along Niven Road, on his way home.
His family used to live on Niven Road, and coincidentally, the man who found the wallet turned it over to Darcy Anderson, a former neighbour of the Andres family, who now lives on Four Mile Creek Road.
Isaac, a Laura Secord Secondary School student, was carrying a new wallet, without any identification in it and loaded with $700 cash he had earned while working for his father, Randy Andres of Green Scenes Groundskeeping, this summer.
"I was carrying way too much money in it," Isaac admits, and had thoughts of stopping at the bank on his way home to deposit it, but before he had a chance, his wallet, which had no identification in it, fell out of his pocket.
When he realized he had lost it, he says, he assumed the money was gone.
He did put it out on social media, and when he got no response, his mother convinced him to place a small classified ad in The Local.
Meanwhile, unbeknown to the Andres family, Anderson had put a sign on his front lawn to try to find the owner of the wallet.
He later told the Andres a good samaritan had knocked on his door, and asked if the wallet was his, as it was found on the road near his house. Anderson said it wasn't, but he would look for the owner. Then, while Anderson was out of town, Sharon Irvine, the wife of a friend of his, saw the ad in The Local.
She got in touch with Anderson, who called the Andres, and Isaac got his wallet back, along with the $700.
Jessica Andres, Isaac's mother, says she was impressed that "there were three people who did the right and honest thing" to ensure Isaac got his money back. "It has brightened my outlook on humanity, and we are very grateful to them," she says.
She was also pleased that Isaac, who had been so sure he would never see his money again, learned the very positive lesson that there are good and honest people in the world who indeed wanted to see the wallet and cash returned to its rightful owner.
"I wish I knew who had found it," says Isaac. "If I could, I'd say thank you to him. I didn't think I would get it back, I thought it was lost for good. I thought for sure someone would just find it and take it. I'm happy that I got my wallet back and that there are people who are like this," says Isaac.
"I honestly didn't think this would happen, but it did."