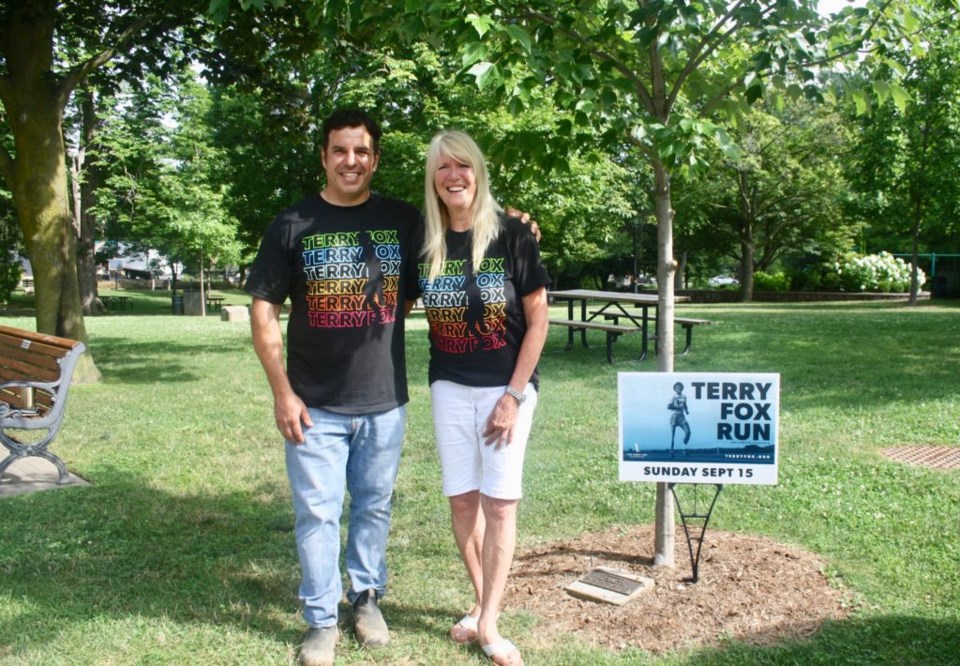 Joe Pillitteri is best-known for his one-liners and comedy routines — but as funny as he can be, even when asking for money, he's all business when it comes to the Terry Fox Foundation.
He and Joan King, organizer of the local Terry Fox Run, typically meet around this time of year to discuss their plans for the upcoming fundraising event.
King took on that role more than a decade ago, and has built up a number of activities to add to a successful run total from a relatively small community. Pillitteri, with a huge heart and a passion for the cause, is a considerable part of that.
As an added bonus, says King, she looks forward to every opportunity to meet with the comic. He can take the most innocuous comment and run with it, turning it into a full-fledged routine. There is no doubt, working with Pillitteri puts the fun in fundraising,
she says.
He uses his skills as a stand-up comic to benefit the community in many ways, but his devotion to the Terry Fox Foundation tops his list.
On a day last week on Queen Street, where he and King met to discuss this year's run, he stopped visitors to town to explain the importance of Canada's national hero, telling them about the Marathon of Hope.
He becomes emotional when he says Fox ran 3,339 miles on one leg, a marathon a day, from St. John's, N.L., but had to stop in Thunder Bay. He had discovered his cancer had returned, and died a short time later. It's a story everyone should know, Canadian or not, he says.
"This event, this run, has been such a huge part of my life, and that's been mutually beneficial. This is some of the most satisfying work I've ever done," he says of his fundraising efforts for the Terry Fox Foundation.
"I know how busy everyone is and how much time it takes to get involved, but there is a real opportunity to feel a sense of accomplishment at being tied to such a good cause."
Pillitteri has always had support from his family and his business contacts at Lakeview Vineyard Equipment, and in recent years, has challenged his cousin Mike Pillitteri, general manager of Riverview Cellars, to work with him as Team Pillsy. Together they raised $50,000 in 2017, surpassed their goal of $60,000 last year to raise $84,000, and this year, hope to hit a target of $90,000.
The big fundraiser, now a popular annual local event, is a comedy night at the Jackson-Triggs Niagara Estate Winery, Thursday, Sept. 5. Pillitteri will do what he does best — make people laugh while raising money for a cause about which he is passionate.
Tickets are expected to sell out, but there are some still available at jacksontriggsniagaraamphitheatre.
As Team Pillsy did last year, there will be the second annual car wash, bake sale and touch-a-truck event at the Cornerstone Church building on Niagara Stone Road Aug 17.
The women of the congregation are planning to make about 250 peach pies to support the fundraiser.
It's a family event, says Pillitteri, joking that since he and his cousin Mike were made to work on family farms when they were kids, they carry on the tradition with their kids.
"It's like our childhood. If we had to work, so must our children. They're helping with the car wash," and learning about giving back to their community at a young age, he adds.
New this year is an offer from Grape Escape Wine Tours, whose owner Rich Mell has offered to donate $25 from every team that uses their escape room until Sept 5.
"We will throw in a case of VQA wine to the team who participates with
the lowest time during the donation period," adds Pillitteri.
"Terry asked for a dollar from every Canadian," said King, "and his run has raised in the billions around the world. Joe helps to make the annual Niagara-on-the-Lake run more of a success every year."
Team Pillsy can use some help, says Pillitteri, asking for individuals, families or businesses to reach out and help make it happen.
"We can use any help we can get," he says.
King has her own plans to boost the NOTL amount raised, beginning with selling Terry Fox Run T-shirts for the 2019 run, which will be held Sept. 15 at Simcoe Park. The shirts are $20, and she will be at the Outlet Collection at Niagara, Sunday, July 28 from noon to 5 p.m. It would have been Terry Fox's 61st birthday. He died at the age of 22.
When Pillitteri speaks of the courage of a young man he so admires, he often has a quote to pass on, one that seems appropriate for how he is feeling about life at the time.
The quote that is speaking to him at this stage in his life, he says, are these words from Fox: "I guess that one of the most important things I've learned is that nothing is ever completely bad. Even cancer. It has made me a better person. It has given me courage and a sense of purpose I never had before. But you don't have to do like I did...wait until you lose a leg or get some awful disease, before you take the time to find out what kind of stuff you're really made of. You can start now. Anybody can."