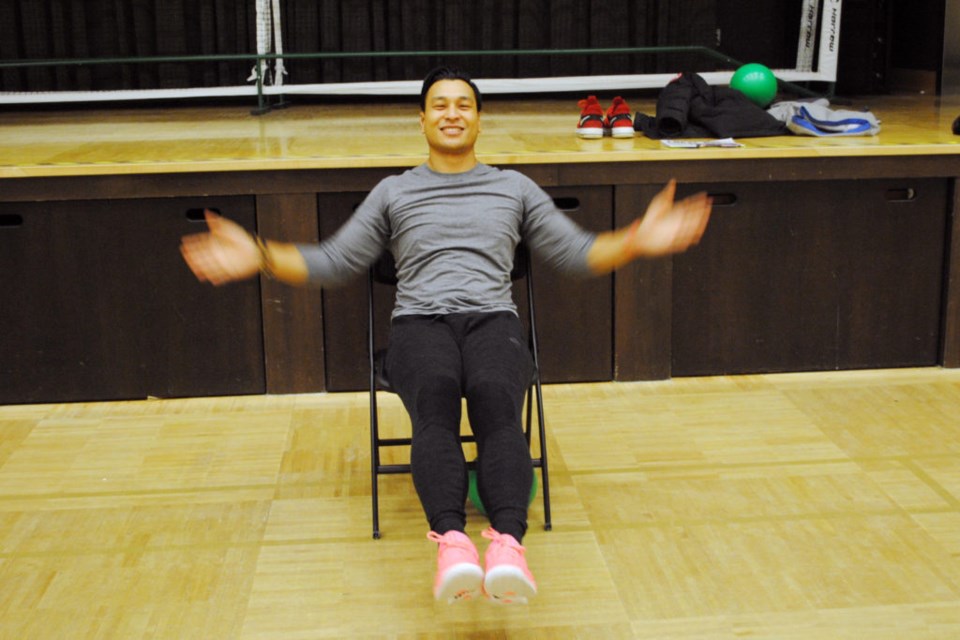 Exercise doesn't have to mean thumping beats, jumping around, and rivulets of sweat. At the Niagara-on-the-Lake community centre there are classes on offer designed for people who might have limited mobility, but still seek strength and flexibility.
Three classes in particular are done seated, yet still challenge and strengthen the body. Chair Fitness, Chair Yoga, and Laugh Yourself Healthier are all viable options for anyone who prefers their fitness from a seated standpoint. Whether you're in a wheelchair, using walking aids, have had recent surgery, or perhaps have limiting arthritis or other joint pain, these classes can accommodate your needs and still get your heart rate up and your muscles working.
Sam Dith is a certified personal trainer. The bulk of his business is home visits, offering training sessions of all levels. But he found a demographic in NOTL that required some tailored workouts without impact, preferably done seated. So he created the Chair Fitness classes. "A lot of people just can't do a traditional workout," says Dith. "In these classes, you sit in a chair. We work your core, and give you a full body workout at different functional levels," to suit the individual needs of the participants.
He cites the benefits of seated classes: "You get your blood moving, improve your strength and muscle tone, and even improve your cognitive function," says Dith. "We do lots of exercises to get the brain working, using your co-ordination." He calls the classes "functional training for everyday life."
Chair Fitness takes place on Monday and Wednesday afternoons from 1:30 to 2:30 p.m. Drop-in sessions are $15 per; 16 sessions are $200 and eight sessions are $115. If there is enough interest, a new session will be starting in a few weeks. For more information, Dith can be reached at 289-479-5634; his website also has information about chair fitness: https://homevitalfitness.ca/.
If slow and steady is more your speed, Chair Yoga is also available, on Tuesday afternoons from 1 to 2 p.m. Sophie Campbell has been offering this class for four years now, and has a dedicated following. "We work on strength, flexibility and balance," says the certified yoga instructor. "But we also have guided relaxation and breathing exercises, and we finish with one minute of meditation. This is inclusive: we take care of your physical and mental health."
Most of the class is done seated, with about 10 minutes of standing for balance work. Campbell says modifications can easily be made as needed for people unable to stand, but emphasizes the need for balance improvement in an aging population, to minimize falls.
But, "this isn't just for seniors," says Campbell. "Anyone who sits in an office — if they took one minute to do a sequence, they would feel so much better."
She says the class is slow, with an emphasis on deep breathing, and features very few repetitions, to minimize stress on joints and muscles. But lest it sound too serious, she also points out, "We laugh, we have fun. People know each other, and new people feel welcomed."
Chair Yoga classes are $10 per drop-in, or $8 per if you sign up for an eight-week session. More information can be found on Campbell's website, at http://trueheartniagara.ca/, or by calling her at 289-690-0949.
And now for something completely different: Carolyn Shannon's Laugh Yourself Healthier classes are a unique and effective form of seated exercise, centred around laughter.
These whimsical hour-long sessions, on Fridays from 2 to 3 p.m., offer a number of benefits, according to Shannon. "You breathe better, move more — you don't realize how much you're moving while you're having fun. It's kind of magical in that way," says the certified instructor. "And you're allowed to be imperfect in this class. It's about doing the best you can."
The deep breathing after every move oxygenates your body and blood, says Shannon, and "gets out of your head — which is a wonderful place to be." She describes the class as an "active vocal meditation," and says, "The best part is the endorphins, which some experts say last for 10 to 14 days."
Shannon says benefits are broad and include the heart, lungs, mobility, and range of motion. "One client does it even while she's receiving chemotherapy treatments."
Loyal participant Lyn Melanson says, "We make a joyful noise."
Classes are $10 for drop-ins, or $20 for five. More information can be found on http://www.laughyourselfhealthier.com, or by calling Shannon at 905-371-3818. Comfortable clothing and bottled water are recommended for all of these classes.