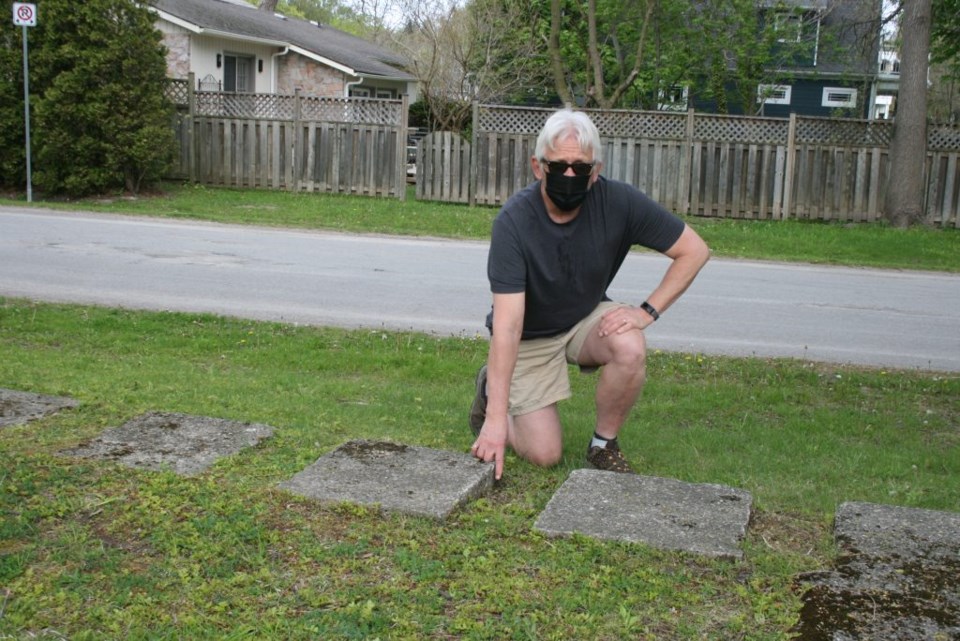 Councillors are supporting a proposal for the Dock Area that would restore the footprint of a historic engine house service pit, just south of Turntable Way.
Volunteers have designed and ordered two interpretive bronze plaques, one for the railway turntable in the Dock Area, and the other to mark the site of the old engine house nearby.
In addition, Dock Area resident Ron Simkus is leading an initiative to restore the top of the rectangular outline of the repair bay on the engine house site, where access was provided to a pit for mechanics to work on the underside of engines from below.
The project received council support Monday, but with a caveat.
Simkus was worried councillors might ask for public consultation during an October review of the Dock Area Master Plan, which would cause substantial delay, but they were convinced that the 98 emails received in support of the project were sufficient to show the public approves of his plans.
However, CAO Marnie Cluckie told council stage one and stage two archeological studies of the area where surface digging will occur is required under provincial legislation. She said work can begin as soon as a consultant can be engaged to do it.
Simkus had been forewarned that Cluckie was following provincial legislation to the letter, calling for the archeological sifting and report on the seven inches of soil that will be removed.
The digging should take only a few hours, and the sifting, he hopes, done concurrently, not too much longer.
He is expecting he whole project, including the installation of the plaques, to be completed this summer.
The project, Simkus told councillors and heritage committee members, will be entirely carried out by volunteers, at no cost to the town. The repair pit itself won't be excavated — volunteers want to restore the rails on the surface, using railroad ties, cut in 24-inch lengths, to fill in the recesses in the pit walls.The end result would be two rails on top of the engine house repair pit, with the plaque explaining the work that was carried out there.
The volunteers will simply be reinstalling the surface features as they were in 1856, without disturbing any of the archaeologically significant material on the site, Simkus said.
PGM Rail Services in Niagara Falls, which specializes in restoring old rail stations, is donating the material needed, and the labour, which means professionals are doing the work, Simkus said.
He was concerned any delay of the project could put off PGM, which is ready to proceed, but was relieved to obtain permission from Cluckie to at least have materials delivered to the site, without waiting for the archeological study to be completed.