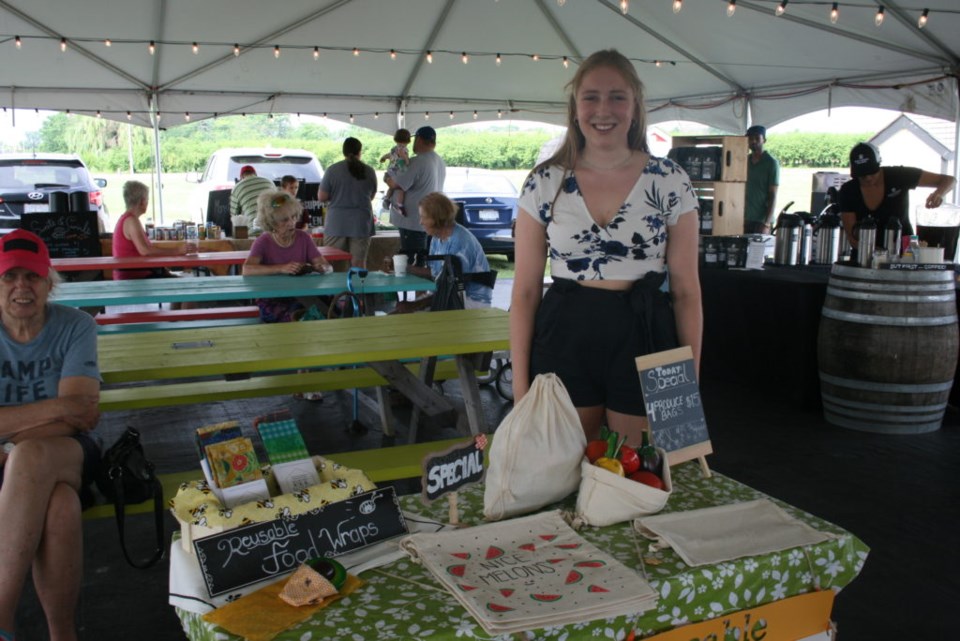 Youth, passion, energy, a willingness to take a risk, and a desire to pursue business studies in post-secondary education. These are some of the many things 18-year-old Claudia Gadinger and Ben Janzen, 15, have in common.
Another is that both are running their own businesses this summer, with the support of the Government of Ontario's Summer Company Program.
Through this program, successful student applicants are presented with $1,500 at the start of the season to get their businesses off the ground. During the summer, they have to meet certain checkpoints, and attend sessions with local mentors from the business community. If all goes as planned, each student is awarded another $1,500 at the end of the summer.
Janzen and Gadinger both rave about the value of those mentorship sessions. Gadinger says the mentors are amazing. "They are giving me lots of leads, and they gave me the idea to run a special, which has really taken off. They are such a huge support system."
Gadinger, a Ridley College grad, is doing her part to eradicate the use of plastic bags at the Niagara-on-the-Lake and Niagara Falls farmers' markets this summer. She says she "always wondered why we keep putting our fruits and vegetables in plastic bags, because the plastic touches our fruit, and then we eat it." Inspired by a recent trip to Germany, where shoppers were using smaller reusable bags for their produce, she decided to bring the idea to Niagara.
She used the original $1,500 from the program mostly on her inventory of cotton draw-string bags, which she purchases from a supplier out of London, Ont. She also purchased some personalized stamps and ink, to mark each bag with her business name, Viridi. It means "green" in Latin.
At first, she was hoping to sell her bags at grocery stores. However, a conversation with Adriann Knight, a business information officer with the St. Catharines Enterprise Centre, who administers the program, gave her the idea to approach the two markets.
She alternates her Saturdays between the two. In Niagara-on-the-Lake, her booth costs her about $25 per visit, while the fee in Niagara Falls has been waived this summer by funding from the city's Green Initiative, into which her business idea perfectly fits.
Meeting her at the market, it's hard not to be drawn in by her youthful enthusiasm. While making a sale to a couple, who purchased the special (four bags for $15), she happily offers cleaning advice and converses with them about the benefits of her product to the environment.
Janzen is also enthusiastic and passionate about his business, Bright Idea Films.
The 15-year-old St. Davids Public School grad had worked on a couple of films with his Eden High classmate, Sara Simionescu, also of NOTL. One of their films, on the topic of domestic violence, won top prize in the Niagara Regional Police Film Festival last year.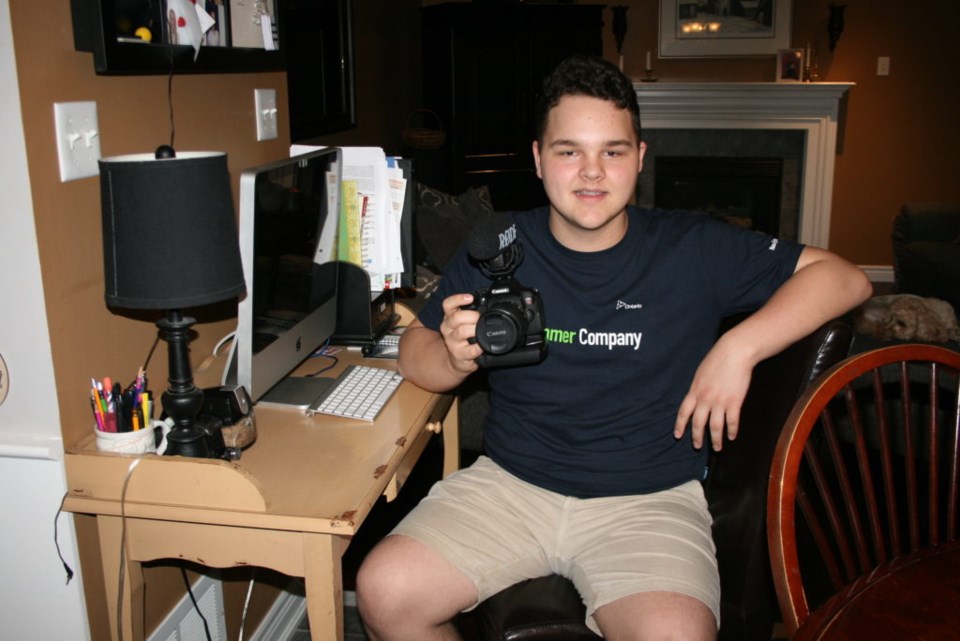 Janzen says he has been making videos since he was about 10 years old. A visit by Adriann Knight to his Grade 10 Introduction to Business class at Eden High School inspired him to apply for the program this summer. 
Upon receiving the start-up funds, he quickly invested most of the cash into new audio equipment, having realized that his current set-up left room for improvement on that aspect of his production. He also spent some of the money on creating a new website and for social media ads.
Going into the program, he had no idea how to price his services. He says the mentors with whom he has worked were valuable in providing direction on this matter. "They gave me confidence in our pricing and exactly what the prices should be," says Janzen. "Every step of the way, the mentors have been there to help us all succeed. Without them, I wouldn't know how to do this."
Janzen's goal this summer is to have eight to 10 contracts for video productions, amounting to about $1,600 in sales. He and Simionescu are currently working on three productions. One is for Maggie's Pet Boutique in Beamsville. He also has a contract to shoot video at a retirement party, and to edit together footage from another client's collection of home videos.
His daily routine involves posting on social media, following up with current and potential clients, and improving the Bright Idea Films website. As the projects come in, more of his time will be spent shooting and editing videos.
Previously, Janzen had a part time job at Avondale Dairy Bar. Today, he says "working for myself, and being able to do something I love doing, and something I am passionate about, has been the most rewarding thing." And even on a hot, humid summer day, it beats scooping ice cream.
Though he is only entering Grade 11, Janzen knows he is interested in studying business in the future, and would like to continue expanding his company through bigger contracts and better equipment.
He will be taking two more business classes in Grade 11 at Eden this year: accounting and entrepreneurship. And Gadinger will be attending university in Ottawa, majoring in business.
Applications for the 2020 Summer Company Program will open in January, and close in May. For more information, visit ontario.ca/summercompany.