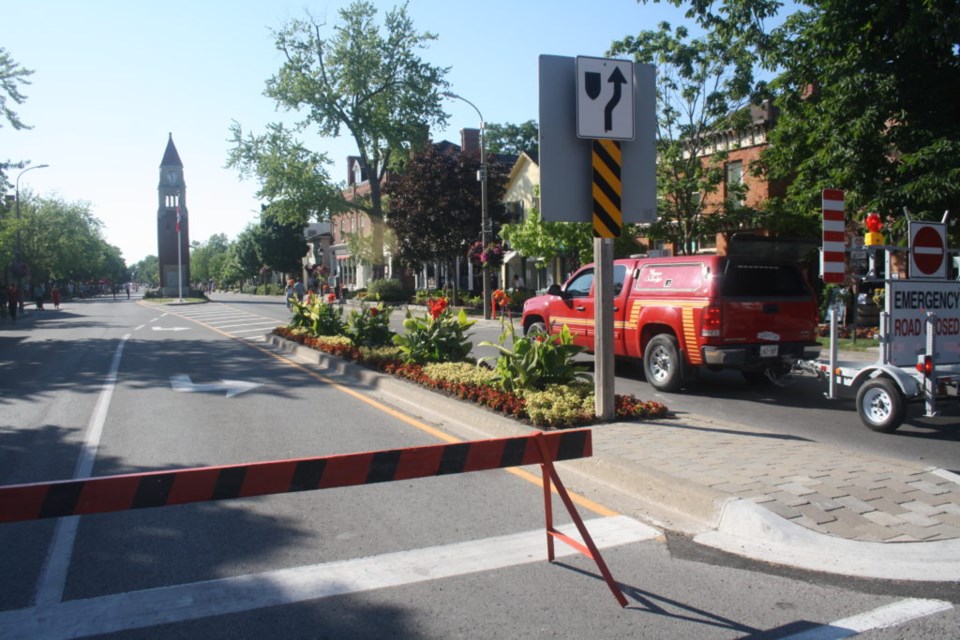 Queen Street is closed to traffic for at least one more weekend, although some merchants would like to see the pilot project dropped now.
That was the hope of the owners of at least one store, and they say they are not alone.
Shauna Dickson of Irish Design, one of the oldest stores on the main street, says this Saturday was the worst ever for the store.
Adds her father, Paul Dickson, who has been on Queen Street for more than 30 years, "we might have had a Saturday in February years ago that was worse, but this was the first Saturday in July."
He says he agreed to a weekend pilot project, thinking it might help some of the merchants, but it was proven to be a disaster.
Sunday was slightly better, but not by much.
He admits he and his wife Maureen were feeling "pretty down about this" Saturday evening.
"We don't need this added stress. Trying to run a business at this time is stressful enough without making it any worse."
As far as he's concerned, it's clear the trial is a failure, is not helping merchants, and this should be the end of it.
"I'm a democrat. If you want to have a debate about the pedestrianization of Queen Street two or three years from now, then let's debate it, but not now. We do not need this now."
He says most of the merchants he's spoken to, particularly those with stores similar to his, selling high-end clothing, were equally discouraged.
On Saturday, Shauna says, she and other retailers were not busy. "We've never seen anything like this. We had four weekends under our belt before this, and they were better than this weekend. We were not expecting to see crowds, but we weren't expecting this. It definitely hit us hard."
Yes, it was hot, but it's been hot other weekends, she says. "I don't know if that is something to judge by. If it's going to be part of the discussion, it reinforces our point. Older people don't want to park far away and walk in the heat. That's what we're hearing from our customers."
She says some people told her they drove to town, saw the street closed, and almost didn't stop.
"It's only been two days, but it's devastating," she says. "Weekends are what keep us going. We had three staff members in Saturday, and we would have been better off closed.
"We adore our locals, and they do help get us through the winters in a normal year."
But nothing about this year is normal, and locals, especially seniors, are afraid to come out, she says.
Even the long-standing businesses on Queen Street "are not immune to closure. No one is immune to shutting down."
While she agrees that people need to feel safe, she says that wasn't a problem this weekend.
The trial closure was an opportunity to see what would happen, and she is open to change if it helps, but this has not, she says.
If nothing else changes, the signage must, she adds.
A sign at the entrance to Queen Street, by the blockades, declared an 'emergency road closure,' when instead, a smiley face and a sign welcoming visitors would have been much more helpful.
"It was so discouraging to see that. We started the day in good spirits, but that changed everything."
Kim Gauld of the Sunset Grill is one of the restaurant owners who took advantage of the ability to set up a patio on Queen Street, paying for the two parking spots where the patio is located.
She has now gone through two weekends with the patio, one with Queen Street open, and the other when it was closed. There was very little difference in sales between the two weekends, she says.
As a representative of the new merchants' group, she has heard "mixed reviews" on the street closure, and has handed some surveys over to the Town, without tabulating the results.
She feels the street closure works for physical distancing. "Even though it wasn't necessary this weekend, some thought it was helpful," she says. She also questions that there was no signage directing people to park in the Market Square, which was not full, and that Johnson and Prideaux Streets had signs posted that said no exit, with no further information.
"People who were on the fence about this will say, 'well, we've tried it,' but really it was poor execution, that was the problem. It was not a good trial."
She says she hopes the Town and chamber will look through all the surveys before making a decision, and, "if none of the merchants support it, then don't support it."
Eduardo Lafforgue, president and CEO of the NOTL Chamber of Commerce, says the intention for street closure was always to allow for social distancing, "and this was achieved."
People were walking on the side of the street, rather than down the middle, looking for shade in the very hot weather.
"We can't do anything about that."
He says there is a different demographic coming to town these days, with more young people visiting, stopping for ice cream or enjoying the patios, but they're not in town to shop.
"Some merchants thought it would bring an instant increase in sales, and this is not what happened," he said. "Not everyone is in the mood to shop."
The message he is hearing from a lot of people, he says, is that they would like to see some music, some entertainment on the street.
But closing the street "was not intended to create an event. It was to create physical distancing." Entertainment is not feasible at this time, he adds.
Merchants were encouraging visitors to wear masks, and the majority were, he says.
For something that was tried "for the first time ever," closing the street without a festival to draw people, "it was not that bad," says Lafforgue.
He agrees the signs were a problem.
"The message should have been 'welcome back.' I think if we change the signs for next weekend, it will be better.
"Right now there is no magical solution. We are all trying new things, and we need to be flexible. If we fail, we all fail, and if we thrive, we all thrive. We're all in this together."
In her pandemic update to councillors Monday, Lord Mayor Betty Disero was clear she'd like to look at other options, including opening the road to traffic but closing off some parking spaces to allow pedestrians to spread out, while remaining in the shade.
Without the results of the surveys, which were not available Monday night, there is no clear message about what the majority of merchants want, but the chamber wants to continue the trial, Disero told councillors.
Coun. Wendy Cheropita says the signs made it look like the street was closed to pedestrians, and most walked on the sidewalk. "If we want a true test, with valid results, it would be great to make it look like an inviting pedestrian walkway."
Interim CAO Sheldon Randall says he has discussed signage with the chamber, which is committed to more welcoming signs for pedestrians.