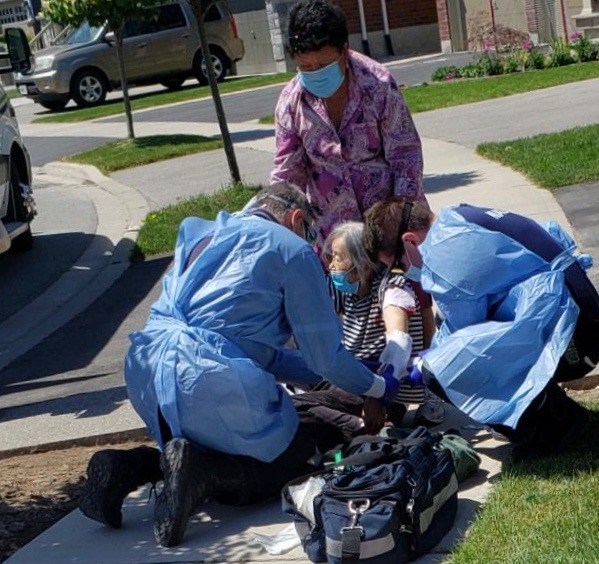 Update: This has been updated, after the man in the black car who stopped to help Ming Jaing contacted The Local. His story has been added to what Jaing and her friend Esther Marcos were able to tell The Local last week.
Ming Jiang goes out for a walk through the Cannery Park neighbourhood of St. Davids every day, and often stops to chat with her neighbours.
That's how she came to be friends with Esther Marcos, and she knows now how lucky she is to have such a good friend.
Last week, Jiang and her husband realized they had a problem with drainage from their backyard into the yard that backs on to theirs.
The homeowner had done some planting, and dirt piled up along the fence was stopping water from draining as it was supposed to. Jiang's husband said he could fix the issue, and she made arrangements with the homeowner to enter her backyard for a short time. Since the neighbour has an aggressive dog that is often in the backyard, "I asked her if she would keep her dog in the house while my husband was there working."
When he was finished, she knocked on her neighbour's door to let her know, and took her some fresh mangoes as a way of saying thank you for agreeing to let him complete the work, she says.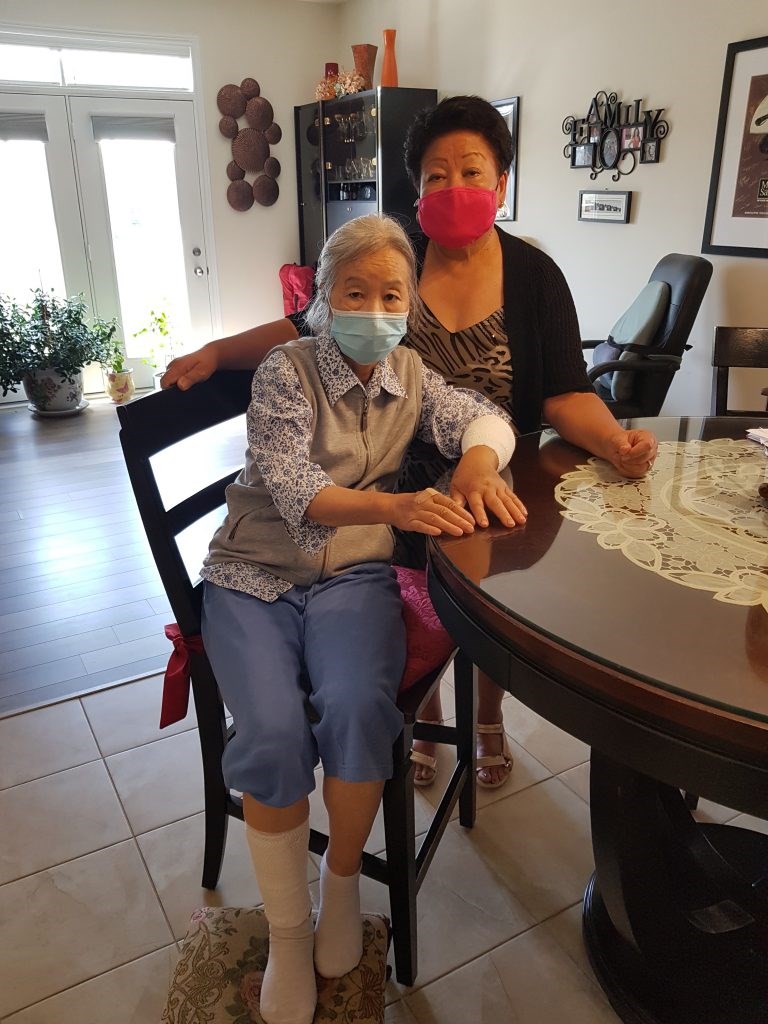 But when she knocked, the dog began furiously scratching the inside of the door. "It was trying to escape, and I was very nervous. I felt I needed to escape."
When the door was opened, the dog sprung at her, viciously attacking her.
Jiang, 72, a tiny woman, says she was screaming for help on her neighbour's porch, and a man passing by in a black car stopped, got out and approached the porch to help her.
The dog was distracted and took after the man, and she isn't sure what happened to him — he must have jumped back in his car to get away.
But that gave her a chance to also run, screaming, and her friend Esther, who had been in her backyard heard her and ran to her aid.
Fortunately for Jiang, Esther has worked for decades as a nurse, having retired as a charge nurse from an Oakville hospital. She's accustomed to the sight of blood, and knew what to do, although she's 75, and found acting on her own difficult.
"There was so much blood," she says, describing a section of Jiang's left arm where about six inches of skin was just hanging down, blood pouring from it. "It was really bad, just gushing blood."
Jiang was shaking and crying, extremely upset and clinging to Esther, and Esther was trying to pat her on the back, trying to calm her down, telling her she was going to be okay, to take deep breaths, all the while trying to hold a towel with enough pressure on the wound to at least slow the bleeding.
Another neighbour from across the street had brought her the towel, and Esther, after trying to call 911 herself, realized she couldn't answer all the questions she was being asked and shouted for her husband Roger to place another call to 911.
He was being asked all kinds of questions by the dispatcher that he didn't know the answer to and was shouting the questions to Esther, who was furiously trying to stop the blood flowing from Jiang's arm.
"Questions, and more questions, so many questions," says Esther. "I just wanted them to hurry up and get here."
Another woman walking by also called 911, and the paramedics arrived, as did the police and humane society officers, who went to talk to the dog owner, who has since brought flowers and apologized to Jiang.
Esther says she's been told it's a rescue dog, a rottweiler, and is known in the neighbourhood for being aggressive.
Jiang has several stitches under her arm — she's not sure how many — and has been told there is nerve damage that will probably improve.
Her left hand is badly bruised and swollen, and her right hand has a couple of stitches, as does her right calf — six, she thinks.
Although she's in pain, she can deal with that, she says. However, she keeps replaying what happened in her head, and the fear of the dog isn't going away. She keeps asking herself why the neighbour didn't put her dog in the backyard before answering the door, and Jiang says she will always be nervous when she is out walking and hears it barking — she can hear that it's still there, she says.
When Louis Hayes read about Jiang in The Local Wednesday, he reached out to add to her story.
He was the man in the black car who stopped to help, and lives on Angela Crescent, around the bend from the house where the incident occurred.
He and his wife were returning home from a shopping trip, and as they turned the corner, he saw "a frail, petite, elderly woman being attacked by a large, heavily-muscled rottweiler on the steps of a house, while an elderly couple, evidently the dog's owners, were completely incapable of controlling the dog. The poor woman was screaming and crying "help me, help me."
It looked as if the dog was literally going to rip this poor woman's arm off, he says.
'I ran over to them and was going to grab the dog by the collar. It let the woman's arm go and lunged at me. As she tried to move away, it grabbed her by the leg. I approached again and this time the dog let her go and came after me. It chased me down the street, snarling and barking and crouching to lunge at me several times. I was doing a crazy dance to dodge the mad dog as it seemed to be trying to decide whether to go for the arm, the leg or the throat. Finally, when I was four or five houses down the street, the dog responded to the owners' calls and retreated home, where they locked it in the house."
By then, Hayes, says, Jiang had disappeared and he went home, badly shaken. He called the town's canine control officer, and he, the police, and someone from the humane society all showed up at the scene at about the same time.
The next day, a police officer called called Hayes for a statement, and suggested he call the Humane Society, which he did, also calling the canine control officer.
Hayes hadn't heard what was going to happen to the dog when he contacted The Local, but he's concerned about the safety of others in the neighbourhood, especially children, "who frequently play outside just up the street from this house."
Hayes adds, "I want to take this opportunity to appeal to the dog's owners: Do the right thing. Have this vicious dog put down or get it out of the neighbourhood, before it kills someone."
Jiang says she wanted to tell her story to The Local for two reasons — to warn others in the neighbourhood about the dog, to watch children playing in the Angela Crescent area, and also, to learn the identity of the man who was driving the black car, to say thanks.
He put himself in danger by coming to her rescue, she says, and without him and her friend Esther, who knew what to do to help her, the outcome could have been so much worse.