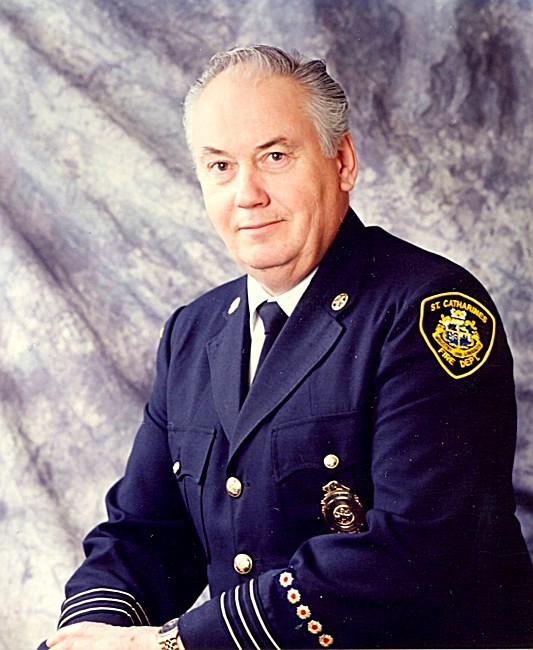 If you have been to a St. Davids Lions Carnival, chances are you have run into Bob Gill, for years one of the club members who served in the food barn he helped to build.
Gill, who moved from St. Davids to Fort Erie with his wife Dianne about seven years ago, died Tuesday, Dec. 21, at the age of 80.
He was well-known for his work in the St. Davids community, where he lived for about four decades, and was an active Lions club member.
Steve Burrows, club president during the year before Gill moved from the community and left the club, describes him as "fiercely dedicated and hardworking, and someone I liked as a friend. Whatever Bob's goal was, it was always what he thought was best for the club and the community."
Gill's career was as a St. Catharines firefighter, where he was known as a mentor to many, retiring after 37 years as platoon chief.
He was also known for being handy at building or fixing just about anything.
That made him the perfect person to be chair of the Lions housing committee, looking after the upkeep of the grounds and buildings. "He was someone you could count on to fix what needed to be fixed," says Burrows. "There is no doubt that he was headstrong towards setting a goal, and then making sure it got done."
When he moved to Fort Erie he again became involved in the community, as a member of the town's property standards committee, which he really enjoyed, says his son Brian.
He was also a devoted family man, says Brian, who was one of four brothers. In 1994, Todd, one of his brothers, died in a car crash, in which he was a passenger, leaving the three siblings, Brian, Bob and Greg. Bob and Dianne also raised TJ, Todd's son, born four months after his father's death.
He was "definitely close to his sons," says Brian. "He was an amazing man and father, always making sure we were safe, and heading in the right direction. He could be strict, but he allowed us to make our own mistakes and learn from them. He also taught us, 'never settle for anything less than you want, and do the best you can.'"
He was a man with a million stories, says Brian, as did all who knew him — everyone has their favourite 'Bob' story, showing he could be headstrong, but always for the right reasons, for the benefit of his family and his community.
With four grandchildren and four great-grandchildren, he was surrounded by family, and acted as both a mentor and father to all, but had a particularly strong bond with his four-year-old granddaughter Makenzie, says Brian. He loved spending time with her, taking her to soccer games, piano or dance lessons. "The two of them bonded in a way I'd never seen in my dad. He was a great man, but he was an even greater man when he was around her. Something in her changed him."
Pat Darte has considered Bob a good friend for decades, and saw first-hand his love for his community.
"He was always the guy who wanted to be doing the work, whatever needed to be done. Nothing stood in his way — he would just go ahead and do it. He was also a pretty funny dude — a guy who had as many stories as I did. He also knew the right way to do things, with pretty much everything. He was a great St. Davids guy, a very talented guy."
Bob had been battling leukemia from his days as a firefighter, when he, Brian and Makenzie all contracted COVID. "The two of us had no underlying conditions," says Brian, "but his lungs were badly damaged." He was in the hospital for about a week, and died with Brian, Bob and Greg with him at the end.
Friends and family will be received at the Hulse & English Funeral Home & Chapel at 75 Church St. in St. Catharines Thursday, Jan. 6, from 2 to 4 p.m. and 7 to 9 p.m. Proof of full vaccination will be required. A graveside service for Bob will be held at the St. Davids-Queenston United Church Cemetery on Friday, Jan. 7, at 12 p.m.
In lieu of flowers, donations to a local brain injury charity, CNIB or to the Canadian Cancer Society for leukemia would be appreciated by the family.