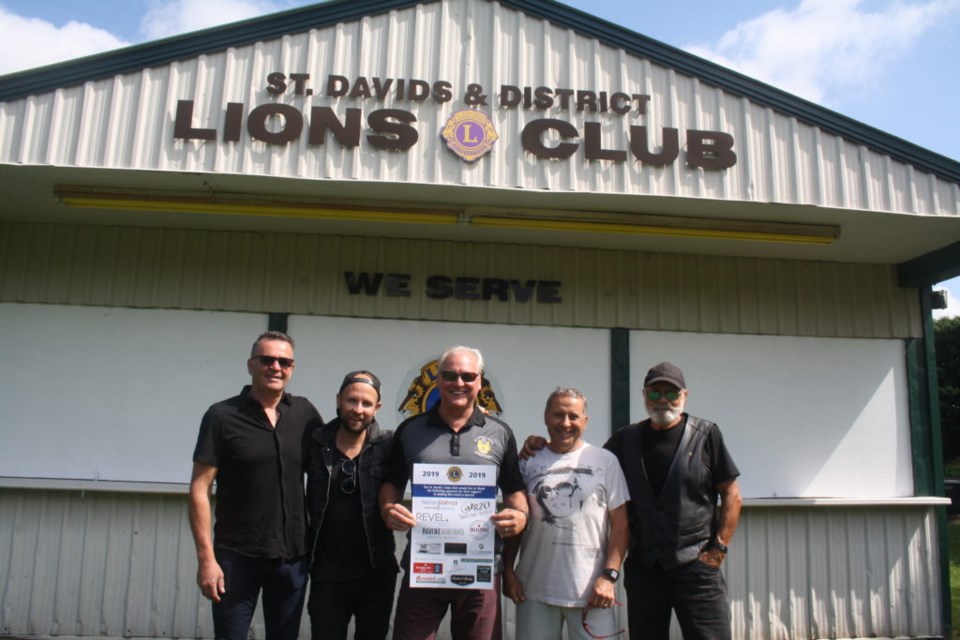 The St. Davids Lions Carnival is back for the 56th year of providing great entertainment, food, rides and games, beginning Wednesday, July 24 and running until Saturday, July 27.
There will be music and a beer, wine and cider tent all four evenings.
Wednesday evening, sponsored by Telecon, opens with Liz & Billie, followed by one of Niagara's hottest bands, The MadMen, featuring local Tom Gagliardi, says Ken Lamb, concert organizer.
MadMen will perform from 8 to 10 p.m.
Thanks to the sponsors, all costs of the concerts, including lights and stage, have been covered, and the musicians are being compensated, says Lamb.
Thursday's entertainment, sponsored by Ravine Vineyard & Winery, features Em as the opening act. Danny Lamb and the Association takes the stage at 8 p.m.
Friday, thanks to Orzo Restaurant and Milestone Millwork, Sarah Cook will open the concert, and back by popular demand, says Lamb, Clockwork will perform starting at 8 p.m.
The carnival will wrap up Saturday with a concert sponsored by Andrea Poirier of Revel Realty, with Jessica Wilson opening and Darkhorse headlining.
Last year, drummer Graham Lear of Santana made a guest appearance — he lives in Niagara-on-the-Lake. "He was awesome, and we're hoping for another special appearance," says Lamb.
While the decision to offer wine, beer and cider during the evening entertainment was made to attract a new demographic to the carnival, says Lamb, "it's still a great family event. And the music is for everyone — music is universal. But at the end of the day we make money through our food and games. This is one of the very few successful carnivals in Ontario, and it allows us to give back to the community."
It takes a lot of planning and organizing, he says.
"We have a group of volunteers who are really quite amazing in terms of all they do. The Leos (the youth branch of Lionism) have been super active this year. They will be selling juice and looking after the bingo tent. They have already funded a dog guide for a local child with autism, and they are raising money for a second one. They are a great bunch of kids who are really beginning to understand service to the community."
Townsend Amusement will bring rides for all ages, with daily specials — $2 a ride Wednesday, a discount of one ticket a ride Thursday, and $20 bracelets for unlimited rides to 5 p.m. Saturday.
Queenston United Church will be selling a selection of homemade pies made by parishioners, as they have for the last 56 years, says Lamb.
Raffle tickets will be on sale at the carnival for some fabulous prizes. The top prize is a new 19-foot Starcraft trailer, an Autumn Ridge Outfitter, donated by Niagara Trailers. It sleeps four, and has the added convenience of a slide-out.
"Niagara Trailers is such a great community supporter," says Lamb. Raffle tickets sold out early last year because of the value of the main prize, he says, "so get them early."
Also being raffled are two bicycles donated by the St. Catharines Welland Ave. Canadian Tire.
A Freedom Plus eTrike donated by Scooterville in Niagara Falls, valued at $2,500, has been donated by business owner Phil Dimaria, a St. Davids resident. It's a 60-volt, three speed ebike that will travel up to 60 kilometres on a single charge, he said. Tickets will be available throughout the carnival.
Admission and parking are free, with lots of parking and a shuttle bus available along York Road. The carnival runs Wednesday, Thursday and Friday, July 24 to 26, from 5 p.m. to 10 p.m., and Saturday July 27 from noon to 11 p.m.