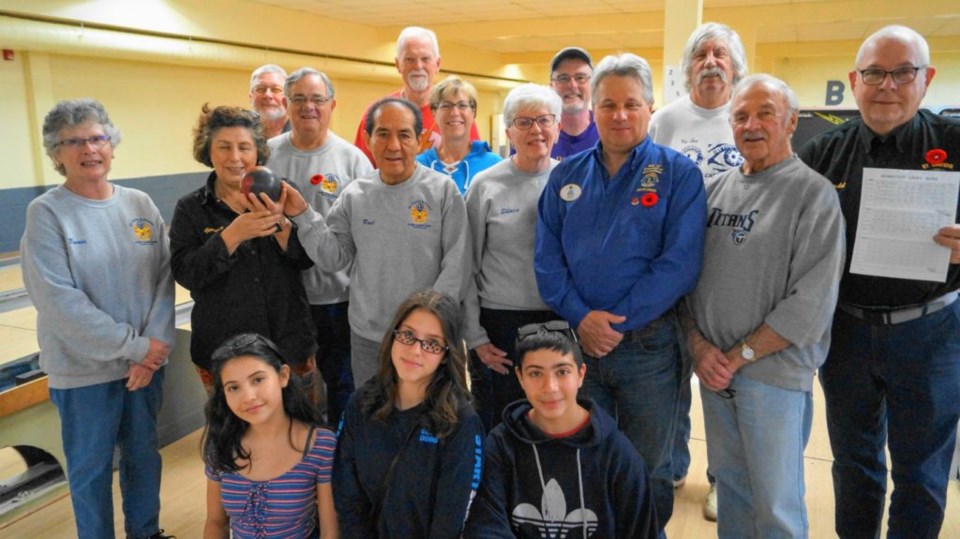 Two years in a row, St. Davids Leos raised money to sponsor two autism-assist dog guides for two children, with support from the Merritton Lions Club.
Last weekend, members of the the St. Davids Lions and Leos reciprocated, participating in an event to help the Merritton club sponsor a dog guide for a visually-impaired adult.
The goal of Leo clubs, for kids aged 12 to 18, is to encourage young people to affect positive change within their communities, develop valuable leadership skills, make new friends and have fun.
All of those goals were accomplished Saturday.
Ayla Jamal is a 13-year-old St. Davids student, and one of three local Leos who participated in the event, not only contributing to the support of the dog guide program, but also learning a little about how difficult it is to be visually impaired.
The fundraiser was a Dog Bowl, a five-pin bowling event held to raise money for dog guides. Often referred to as "blind bowling," it also helps educate participants on what it's like to be blind or visually impaired.
Bowlers wear specialized glasses provided by the Lions Foundation of Canada Canine Vision Dog Guide program. The glasses mimic eye disease, to allow participants to see through the eyes of someone who is visually impaired by diseases such as macular degeneration, diabetes, glaucoma or retinopathy.
One of the five members of each bowling team must wear a night mask to simulate bowling blind — that person is aided by another member of the team.
Jamal wore glasses that were spotted to represent diabetes.
"Honestly, it was pretty difficult," she says. "I had a hard time bowling. But at the same time it was a lot of fun, being with friends and meeting new people."
But more than that, she says, the experience taught her to be thankful for having good eyesight, and to appreciate how hard it is for those who don't.
"It showed me how difficult it would be to be visually impaired. I can't imagine having to deal with that all day, every day. It just gave me a taste of what it would be like, and I know that can't compare to what it would be like for someone who lives with it all the time."
The Merritton Lions operate a five-pin bowling alley in the basement of the Merritton Community Centre. one of its members, visually-impaired Bill Sowrey, created the bowling event a decade ago as a way to raise money for dog guides — eyesight is International Lions Club's cause — and also to provide education and awareness of visual impairment and blindness. His only ability to see is limited peripheral vision, he says. "If someone is standing less than 10 feet away from me in my peripheral vision, I can see someone there, but I won't know who it is," he explains. He was a recreational bowler with others who are visually impaired, and that gave him the idea to develop a program that combines sight awareness and bowling.
In 2013, the Lions Foundation of Canada launched Dog Bowl nationally, based on Sowrey's model, and there are now other clubs across the country with similar programs. All that's needed is a bowling alley and some members willing to give it a try, he says — the foundation provides the special glasses. All proceeds support the Canine Vision Dog Guide program.
Autism is one of seven Lions Canada dog guide programs; they also provide service dogs trained to help those who are visually impaired, hearing impaired, have a medical or physical disability, or suffer from epilepsy or diabetes.
While he was grateful the Niagara clubs were able to provide assistance for children with autism, one in Burlington and one in Oakville, Sowrey says he'd like to see money raised in Niagara benefit a local child, and he encourages local families with autistic children to register for a dog guide if they think it might be helpful. For more information call 1-800-768-3030.
The St. Davids Leos are now working on their next goal — to raise money for a teen cancer unit in Hamilton.
The McMaster Cancer Clinic is being renovated and expanded in a project that will cost $1.6 million, says St. Davids Lions president Bradd Anderson. Lions clubs from Niagara and the Hamilton areas have pledged $75,000 by January 2021 to help fund a unique area for teens undergoing treatment that will be separate from the adult centre.
The St. Davids Leos Club, now 44 members strong — one of the largest, if not the largest, in Ontario — has committed to raising $1,800.
The Leos Club has grown as members have attracted friends, both from St. Davids Public School and now from Niagara high schools attended by Leos who have graduated from St. Davids and remain members.
Meetings with the elementary school members are held at lunch time in the school, and at the Lions Hall to include the high school-aged members, says Anderson.
The school and the club, neighbours on York Road, developed a partnership when the school was looking for donations to help purchase smart boards — interactive whiteboards that bring technology into the classroom. Students began helping out at Lions fish fries and the annual carnival, and the Leos Club was started to keep students motivated, contributing to their community, and hopefully interested in becoming Lions as adults and continuing service to their communities, Anderson says.
But whether or not they become Lions, they are learning volunteerism and skills that will help them throughout their lives, and getting involved in their communities.
Jamal will graduate from St. Davids at the end of the school year and plans to attend Laura Secord Secondary School in St. Catharines next September. She is determined to remain a Leo member.
She's excited about what is being called the MacKids Teen Zone Project, knowing that the Leos will be helping teens with cancer.
Leos have been raising money by selling popcorn and caramel corn at the Lions fish fries, and are also organizing a movie night for teens at the Lions Hall, to be held Nov. 29.
She's delighted to be part of a club that helps other people, and in this case, young people, she says. "This is such a worthwhile opportunity. Being a member of the Leo club is a lot of fun. It's great being able to hang out with friends and meet other people, but what is really important is being able to do good in the community. It feels so amazing to be able to do this."