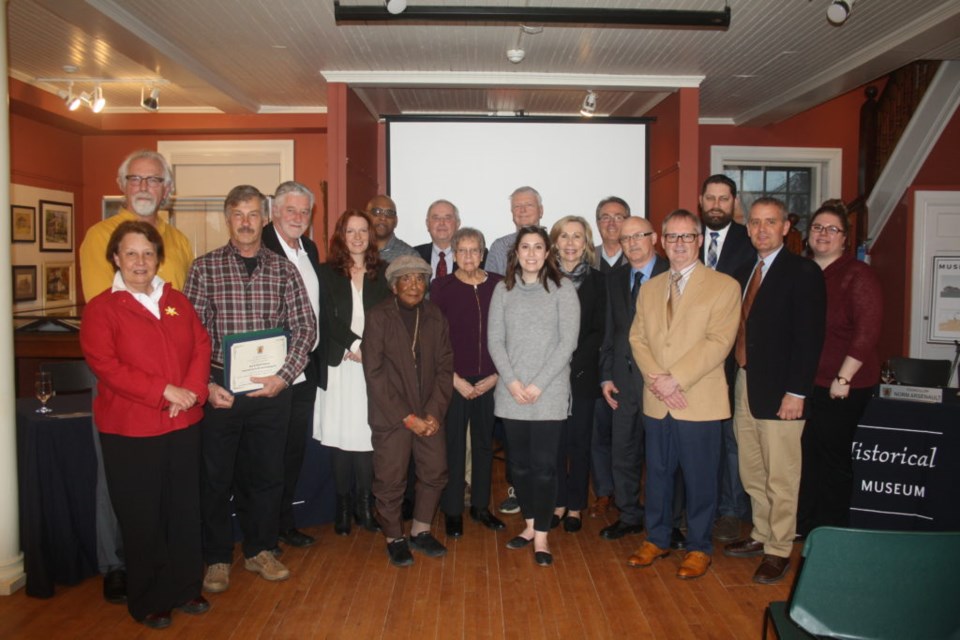 When Lord Mayor Betty Disero opened and closed the special council meeting to celebrate heritage Monday at the Niagara Historical Society and Museum, her pride was evident.
And she shared that with those gathered to celebrate with her. "I'm thrilled to be Lord Mayor of a town that takes so much care of its heritage and preserving it," she said. "I can't tell you how proud I am of that."
Disero also spoke of the Town and Regional funding that provided heritage grants for more than 100 properties last year — since the inception of the Niagara-on-the-Lake Heritage Grant Incentive Program in 2005, she said, the Town has processed more than 100 applications to conserve the heritage attributes of town buildings.
"A total of $54,413 was provided for heritage grants last year. And over the past several years — with combined funding from the Town and Region of Niagara — nearly $700,000 has been provided for heritage conservation projects within our municipality."
Pride was what the celebration was all about. Chris Zoetewey of Parks Canada spoke of the restoration of Butler's Barracks as part of an "unprecedented" $3 billion federal infrastructure investment in heritage projects across the country, aimed in part at "halting the loss of significant built heritage." The restoration earned a Peter J. Stokes Heritage Commendation for the project, which turned the barracks, built in 1814, into a modern-day field unit office.
"Adaptive reuse has been around for a long time," said Zoetewey, pointing out a photo of his office in a corner of the building, which also now has a reception area and a kitchen — modern amenities in a structure that boasts remnants of its 200-year-old shell.
After being used for many purposes throughout its first 150 years, in 1966 it was slated for demolition, along with some other buildings on the Commons, Zoetewey said. They were saved by residents who made a case to the Department of National Defence, then in control of the property, that the buildings should be kept. "They remain there today," he said.
Recognized with heritage plaques were Kathie and Bill Clark for 109 Queen St.; 167 Regent St., a house which has just sold but was owned by Henry Wiens; and 156 Gate St., owned by Christian Martineau and Denis Frenette.
Receiving Peter J. Stokes Heritage Commendations, in addition to Butler's Barracks, was the Voices of Freedom Park; the restoration of the home of Thomas and Kimberley Elltoft; Steve Cohen and Joe Carlino for the compatible design of 210 Centre St.; recognition for the adaptive reuse of 1607 Four Mile Creek Rd., once the Virgil fire hall, now Teenie Panini, a bakery with two apartments above it; and 23 Four
Mile Creek Rd. for maintenance of the property and its mature trees and gardens, now owned by Creekside Senior Estates Cooperative.