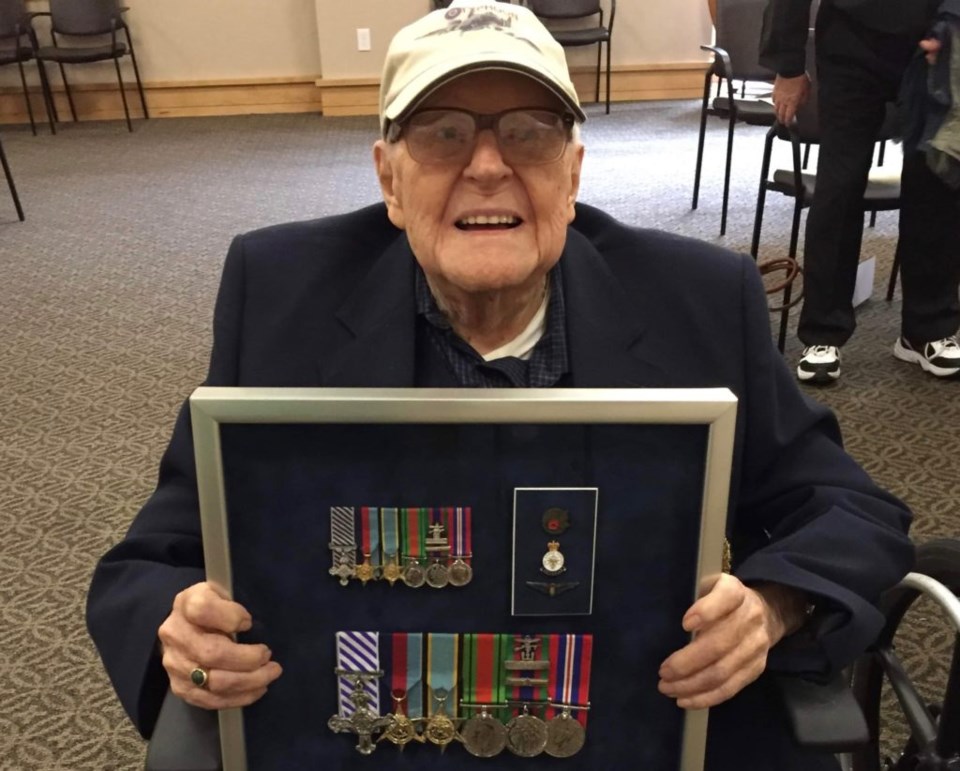 Norm Howe, a man who earned a place in many hearts in Niagara-on-the-Lake, died Dec. 6 at the age of 98.
A beloved father of four and husband to the love of his life, Margherita, who died in 2006, he was also a friend to many in town.
This Saturday, at the Shaw Festival Film Series, a short video about him will be shown before the feature movie, providing a glimpse into not only his life but life in Niagara-on-the-Lake following the end of the Second World War.
"He was intelligent, loving, funny, engaging, generous, witty, empathetic, creative and self-sacrificing. He saw the best in others and gave the best he had," wrote his son Michael for Norm's obituary, also describing him as a champion tennis player, an amateur water colour artist and a bird-watcher.
Those who were fortunate to call him friend knew him as a great story-teller with a quick, dry wit, and a man who in his heyday, while raising a young family in NOTL with Margherita by his side, loved to party.
There were several couples of the post-war era, raising kids in town during the 50s and 60s, who met often for dinner and socializing, says daughter Louise Howe, who recalls those years as an ideal time to grow up in a tight-knit community. When the parents got together, there was always lots in town for the kids to do, she said, playing outdoors, on the commons, getting into the sorts of harmless hijinks kids did when left to their own devices, as they were in those days.
Her dad was a "kind and accepting father," she said, and well-liked by others.
He was also a great role model for her and her brothers, Michael, Robin and Peter, she added.
"He instilled in us a great love for humanity."
A glimpse of those years in the Old Town has been recorded by film-maker Barbara Tranter, who grew up living beside the Howes. Her parents were part of the "party scene" with 20 to 30 couples, she said, which went on for 10 to 20 years.
And the kids, she added, also had fun, mostly unsupervised and "free to develop our own scene. Life was so different for kids those days."
It was the party atmosphere of those decades, which she considers part of the social history of NOTL, that she wanted to capture in talking with Norm. Although Margherita was the extrovert and Norm the quiet one, he had a great sense of humour and lots of entertaining stories of the era to pass on — stories which would have been lost eventually without that recording.
"I'm trying to capture the stories and the people before they're gone."
Her interview with Norm was done in 2017, and the resulting video was shown last winter as part of Tranter's Historical Gossip series during the Shaw Festival Film Series one Saturday afternoon, before the feature movie.
Tranter interviewed Norm again about three weeks before he died, and is in the process of editing the footage in preparation for showing it at this year's Shaw film series in February. This second part will focus on his war years, when he served as a fighter pilot in the Royal Air Force, based in Britain and flying bombing missions over Germany.
He had aged considerably since the first video was made, she said, but his mind, and his familiar and much-loved wit, were still sharp. He showed a different side, one of the pragmatism required of a young man who understood the devastation caused by about 80 solo bombing missions, for which he was much decorated, and which he could describe without emotion as doing the job he was sent to do.
Tranter has had several people ask if the first video of Howe could be shown again, she said, and was able to arrange it for this Saturday, Jan. 5, before the afternoon Shaw Festival film series. Doors open at 1:30 p.m. (Film starts at 3 p.m.)
It's a wonderful glimpse of him at his finest, reminiscing and joking about about some of the best days of his life.
The five-minute films are meant to show a "vignette" of the people she has interviewed, but the one focused on Howe was as much about life in NOTL in those decades, as seen through his eyes, said Tranter. His stories and some of the photos she includes in the film provide a sense that it was a time of great fun and celebration — the war was over, and although many lives had been lost, these young men and women had survived to marry and raise their families in a community they had chosen to call home, and in a way that was surprisingly normal given what they had lived through, she said.
During the years that followed, Norm was Margherita's biggest supporter, her passionate activism an accepted part of family life. It led to several awards, including her being named to the Order of Canada for her fight to clean up the Great Lakes and the Niagara River.
At her funeral at St. Mark's Church, Norm spoke of her with great love and admiration, while holding on to a beautiful wooden box that had been a gift to her from the Great Lakes Society, and which held her ashes. He said when his turn came, he hoped she would "scooch over" to make room for him.
He's there with her now, said Louise, following a private family service. A public celebration of Norm's life is being planned for the spring.