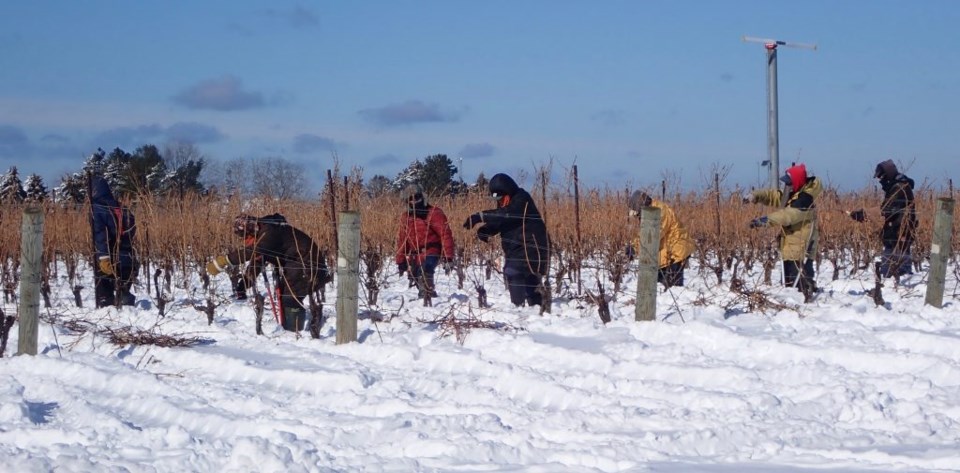 Since farm workers began arriving in Niagara in January, and with more arrivals several times a week leading up the real rush, which comes about mid-March, local growers are saying the chaos of the last two years has been calmed.
Farmers depending on the arrival of the help they so depend on still have concerns, but they are not dealing with the nightmares they experienced in recent years as all levels of government figured out how to bring seasonal workers to Canada during a pandemic, and how to keep them safe once they got here.
Ken Forth, Foreign Agricultural Resource Management Services (FARMS), says he's expecting — hoping for — at least 20,000 workers from the Caribbean and Mexico this season, the early arrivals already at work mainly in Ontario greenhouses, although some in vineyards as well.
The first two years of the pandemic, they had to quarantine for 14 days when they got here, some in hotels, an expensive proposition for growers, says Forth.
This year he's feeling a little more optimistic — isolation is only necessary with a positive result from a random COVID test on arrival, and travellers are being tested before they leave home.
"A small percentage have to wait a few weeks until they can travel, but not many."
All workers coming from Jamaica have to be double vaccinated, and although that is not the case with those coming from Mexico, most of them are as well, he says.
Forth, a highly respected third-generation grower of broccoli and onions in Lynden, outside of Hamilton, received the 2019 Grape Growers of Ontario Award of Merit and sits on boards of several agricultural organizations. His role with FARMS is to ensure reliable offshore labour, supporting local farmers and workers throughout that process.
That was a struggle in March, 2020, when the program was suspended for a couple of weeks while the federal government halted arrivals from outside Canada, including farm workers. Once that was worked out, there was still concern about how many workers would be able to come, a lot of paper work to deal with and many regulations to institute. "2020 was a tough year," says Forth.
Last year was easier, "but still erratic. Farmers stepped up on this, as they always do." Whatever the regulations were, "they did it all, to keep their workers safe. In a lot of cases, the workers are our friends. We don't want them to be sick," he said.
"Hopefully this season will be more like it used to be. COVID is something we have to live with, and we've got to get on with life."
Nothing much has changed since last year, except proof of vaccinations required for some places locally, at least for now, but most workers are able to provide those — many of them were vaccinated in Canada before they went home last fall. And with growers more familiar with the regulations, "it is a little more relaxing. I'm also optimistic the numbers are going to be way down this year."
Coun. Erwin Wiens agrees this year should be a little less chaotic for farm workers trying to get to Niagara and growers waiting for them. "We've all navigated this for two years. It's not coming as a surprise."
But there are still concerns about their arrival, he adds.
"We understand what we have to do and work with it, but you still have to worry about what you do if they don't get here."
There is still uncertainty as rules change though, he said.
He has eight men coming for the season, and not all were able to get on the plane when expected, due to paperwork that had to be completed, and delays with testing.
They are all vaccinated, which makes it simpler, he says. "If you're bringing in a group of guys, and one isn't vaccinated, how do you deal with that?"
Most growers want the policy for farm workers to be the same as for other arrivals, that they all have to be double vaccinated. "It makes everybody feel safe," he says.
As double-vaxxed farm workers arrive, they are offered a booster shot at the airport when they land, "if they want it."
Although Wiens says his farm is now well-equipped to handle all the necessary regulations, as are others, after two years, "the biggest concern is who is going to get on the plane. There is a lot of bureaucracy involved. Will we get the crew we need? I hear about guys who are expecting 10 men to arrive, and they get seven."
Weins said when he heard not all of his workers were able to come at the same time, he pushed their arrival by a week to allow them to get the paperwork in place so they could travel together.
"There is still a lot of work to do, between COVID tests and paperwork. It used to take about an hour, and it was easy. Now we have to start applying in September, and still nothing is guaranteed. There is just so much paperwork, so much bureaucracy," he says, listing Service Canada, Public Health, and the RCMP, all involved and asking questions.
"The phone never stops. They're trying to reach men who are isolating, to be sure they're doing what they're supposed to do, but the men don't have a phone card yet because they're isolating. Then whoever's calling asks me to give them my phone, but I can't, because they're isolating. They have no way of communicating. Logistically, it just doesn't always work."
Despite the difficulties, Wiens believes it's easier in Niagara than in other areas of Ontario. Public health has been great to work with, he says.
"At the end of the day, we all want the same thing. We don't want anybody to be sick, and have to be isolated. And in Niagara-on-the-Lake, it's a different atmosphere. They have places to get together. They have a community. They get to know each other and they're really well-looked after. People like Jane Andres and Julia Buxton Cox are doing a great job. There can always be improvements, but I think it really is a better atmosphere here."