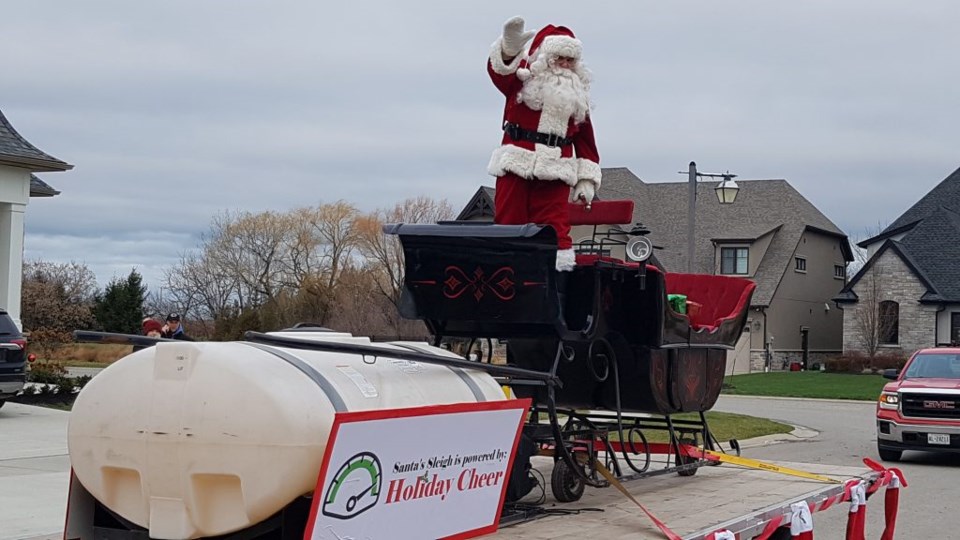 Santa Claus still isn't sure of the date, but he's keeping some time open to visit all five communities of Niagara-
on-the-Lake.
In his down time this summer, he's been playing golf and volunteering with some organizations that help children, but now he's working full out, getting ready for Christmas.
He will be sitting in a sleigh, pulled by a truck, and last year, he says, there were occasions when the driver stopped and gave him some time to chat with kids and their parents, and have photos taken with them.
"It was really a unique experience, something I don't usually have a chance to do," he says. He was also close enough to see kids' faces, and even call to them and have a little conversation. "It made for a more personal interaction."
Santa remembers the NOTL parade from the beginning, and recalls a local business, Simpson's Pharmacy, sponsored Santa's float and provided the truck to guide it through NOTL streets.
He enjoyed the change in route last year, although he admits to being a little sore on the backside from sitting so long after the trip through Glendale, Virgil, St. Davids, Queenston and the Old Town, "but it was a lot of fun, and I'm really elated to do it again this year."
Last year was perfect weather, "but I'd love a little bit of snow — that really makes it a great day."
There won't be the crowds he remembers from previous years when everyone gathered on Old Town streets, but he will get to once again admire the beautifully decorated homes along the route, in the daylight, rather than on his sleigh at night. Seeing all the concessions and lines in the rural areas also gave him a new perspective on how beautiful this town is, he added, which is impossible for him to do on Christmas Eve, when he has so many places to visit, with his reindeer flying him all over the world with presents for all the boys and girls.
However, he will miss the great Christmas music of the marching bands in the traditional parade — NOTL always has the best bands and floats.
"Of all the parades I've been in, it's the best."
Santa would like to remind all the moms and dads to help out by writing kids names, black on white so he can see them, and call out to them along the way.
"Looking forward to being part of the Christmas season in Niagara-on-the-Lake," he adds.
"I haven't received an official date and route this year, so stay tuned to your local newspaper."