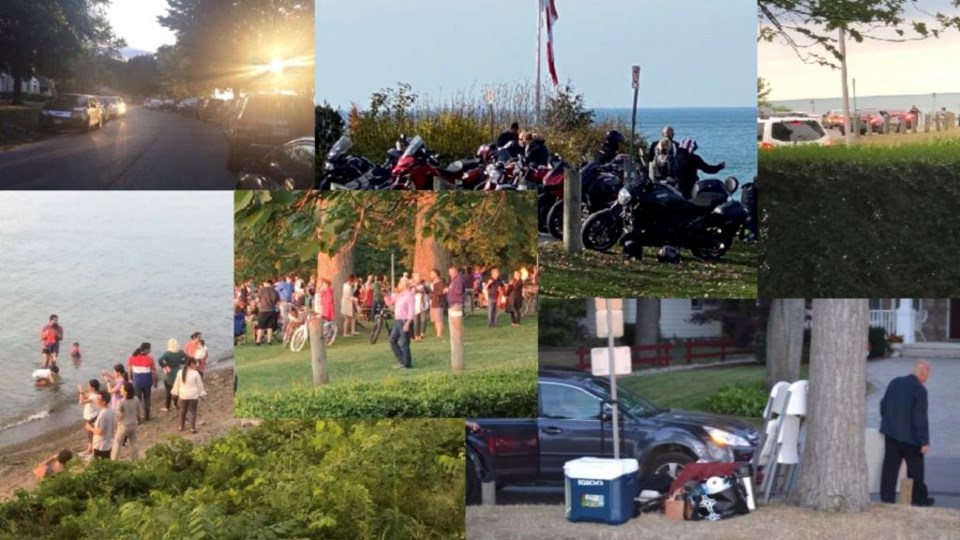 With warm weather in the forecast, council has approved a bylaw to impose some limits to activities in local parks, as a result of issues experienced with the arrival of a large number of visitors once the warm weather arrived last year.
The bylaw sets hours for parks to be open, and restrictions about barbecues, tents, alcohol, and organized activities, among other concerns.
Coun. Sandra O'Connor asked last week for a deferral to allow for some public input, which was missing in the drafting of the bylaw, but as Lord Mayor Betty Disero pointed out, while public feedback is important, the bylaw doesn't include anything "extreme," and this summer can be considered a trial period before deciding whether changes are required.
Director of operations Sheldon Randall explained the bylaw is not unusual, having been created based on similar legislation used by other municipalities in Niagara and across Ontario.
"We're four to six weeks away" to the summer surge in park visitors, said Coun. Allan Bisback, with warm weekends already attracting people to parks, which were busy last weekend.
His concern, and that of other councillors, was the town's ability to enforce the bylaw.
There are many competing issues for the attention of the existing bylaw complement, and although there was a bylaw on the agenda Monday night for five more, two of them are assigned to the fire department for prevention and inspection, and the other three for parking, said Bisback, adding it's a concern he will continue to mention.
He said Monday he's worried that a bylaw creates an expectation with residents that there will be enforcement, and asked that staff look at how to schedule more enforcement staff for weekends.
The staff report on the park bylaw made it clear "there are multiple constraints" on bylaw enforcement, and that this one would add to the strain on existing staff. It advised the number of complaints would be tracked, and if needed, a business case for resources for more bylaw officers would be included in the 2022 operating budget.
Coun. Norm Arsenault agreed that it's a good bylaw, but asked at council before its final approval, "how are we going to enforce it on weekends when most of these problems are going to occur?"
"I'm not totally sure, to be honest with you," said Randall.
His plan is to allow for feedback throughout the summer, to see whether the bylaw is working or not. Parks staff will be out on weekends, and can approach and talk to people, ask them to stop illegal behaviour, and if necessary, call bylaw officers or the police.
"If we need police, without a bylaw there is nothing to enforce, nothing for police to assist us with," he said.
"I want to make sure we understand there are certain things we can't enforce without the assistance from the police," said Coun. Erwin Wiens, pointing to the ban on alcohol or firearms in the park. "Drunken revellers" can't be controlled by municipal bylaw officers, but the bylaw is a good tool to have, adding "hats off" to staff for creating the bylaw.
One change recommended by Coun. Clare Cameron was the wording regarding metal detectors, which limited their use to specific areas, wanting "an all-out prohibition to metal detectors" in all areas, suggesting even ball diamonds could easily be dug up by someone looking for historic artifacts.
Coun. Erwin Wiens said he would like to see small propane or butane barbecues allowed in parks, which are safe, but couldn't get any support for his suggestion.
Disero disagreed with him, saying last summer residents complained about the smoke and tents, making public parks look more like campgrounds. "People should be looking around and enjoying the views in the parks," then going to one of the restaurants on Queen street or picking up something to eat at one of the grocery stores, not having a barbecue, she said.
Staff is recommending new signs to help park users identify the rules related to the bylaw, and park safety.
This signage will include a QR code, those black squares arranged in a square grid on a white background. When scanned using a smartphone camera, the QR code will redirect the user to a webpage, accommodating for revisions to the bylaw that might be made in the future.
The report to councillors estimates 31 new signs will be required at a cost of $150 each, for a total of $4,650.
There is a provision in the bylaw for special occasion permits, with a processing fee, which, with council approval would be required for large events in Queen's Royal Park and Simcoe Park. They would be needed for events with expected attendance of 250 people or more; road closures exceeding 12 hours; and alcohol or food trucks on the property.
Barbecues and bonfires are outlawed without a special
permit.
Picnics and organized gatherings or events for more than 50 people also require a permit.
Amplified music in a park, or music that is bothering others as determined by a bylaw officer, is outlawed.
Park hours set in the bylaw are: Simcoe Park and Queen's Royal Park will be open from 7 a.m to midnight; Memorial, Niagara-on-the-Green and Centennial Sports Parks from 7 a.m. to 11 p.m.; and all other parks 7 a.m. to 10 p.m.
The park bylaw bans riotous, boisterous, violent, threatening, indecent, or illegal activity; activity that creates a public nuisance, including being intoxicated; loitering, spying, frightening, annoying or otherwise interfering with the use and enjoyment of the park; smoking in contravention of regional bylaws; activity that may cause injury or damage; carrying or discharging a firearm, or fireworks without a permit; releasing balloons, paper lanterns, glitter or confetti; operating motorized models of aircraft, watercraft or vehicles, or using a skateboard, non-motorized scooter, or rollerblades other than in designated areas; playing or practising golf; throwing any object that might hurt someone or damage something; or putting up a structure such as a tent or booth without a permit.
Shadea shelters for children with an adult are permitted.
Anyone contravening the bylaw can be asked to stop the activity not permitted, asked to leave the park, or fined.