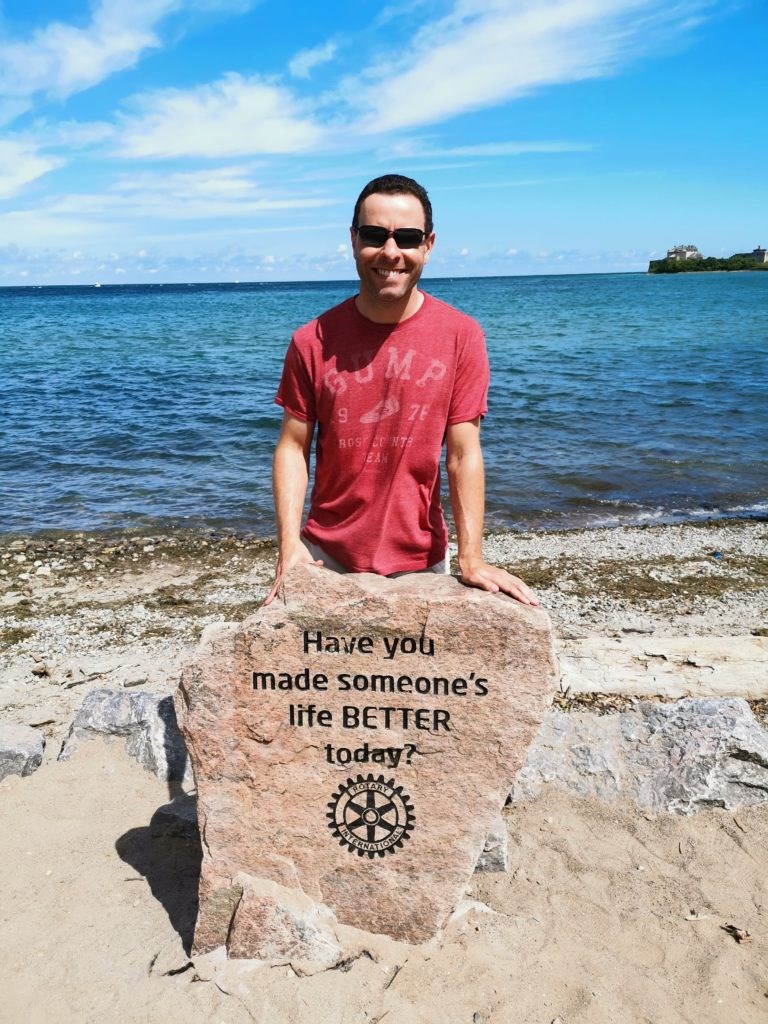 After a series of unavoidable delays, the Rotary Rocks stone, planned as part of a project to celebrate the NOTL club's 25th anniversary, has been engraved.
Paul Lalonde, chair of the NOTL Rotary Club's community service committee, says the reaction from people on Queen's Royal Beach, "has been overwhelming."
The limestone seating arrangement at the beach was the club's gift to the town, with members helping to raise money and also doing some of the work toward installation.
The project was completed last October, except for the engraving on the centrepiece stone. The goal of Rotary, Have you made someone's life BETTER today?, and the Rotary symbol, are now etched in stone for all to see.
"It was finished this last Saturday afternoon, and within minutes, people were taking selfies," said Lalonde. "The next day, when I visited, so many people were reflecting on the message. It was so gratifying to watch people talking with their kids about the message and what it meant and how they felt about it."
The words were meant to call people to action, to reflect and to start conversations, said Lalonde.
"In a world where we hear so much negative, the club wanted to encourage people to do better, to make a difference. In such a beautiful park that is tranquil, peaceful, what better place to have a focus on what to think about."
The message is a simple, pay-it-forward mantra, a call to action and reflection, he said.
"The back side has The Rotary Four-Way test on its simple principles that we should all try to consider when dealing with people in life or in business. It's part of the Rotary DNA and we are proud to share our philosophy with the town and the world."
Rotary is dedicated to making this community better whenever it can, he said.
"The town and its residents have been so supportive of our fundraising endeavours, and we are all about giving back. We hope residents and tourists love the new addition."
This park is a special place, he added, "and we wanted to enhance its beauty and usage. We feel we've achieved it and we couldn't be happier."
Due to record water levels, the bottom section of the stone and sand were partly destroyed in a storm, but will be repaired in the fall as water levels continue to recede, said Lalonde.
"In the meantime, we hope this positive message and story will impact many lives and change the world, even if it's in a small way."