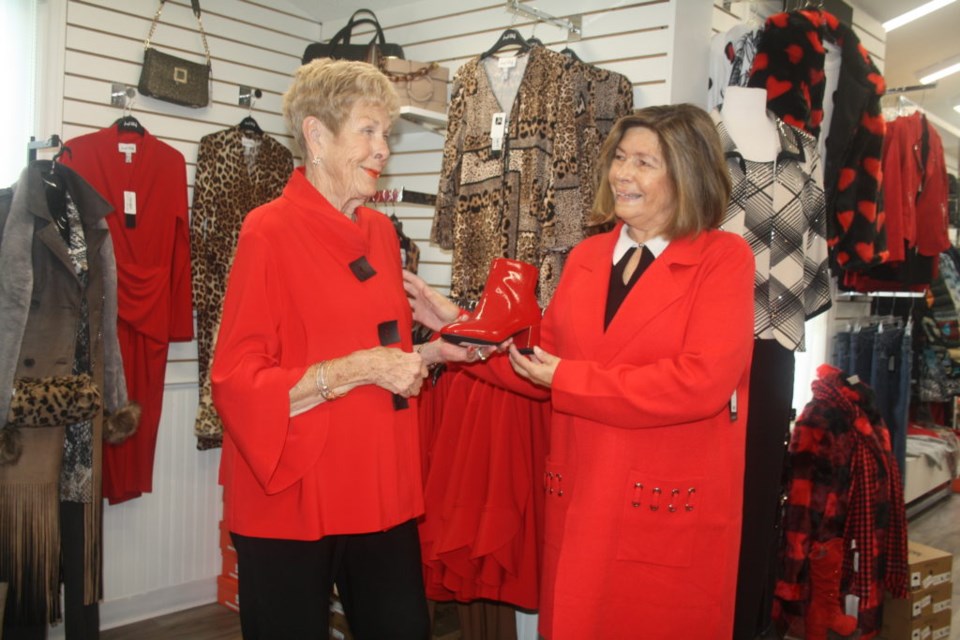 Polio is close to being eradicated, thanks to the efforts of the Rotary International campaign, but there are still a small number of cases each year in difficult-to-reach areas, and some money is needed for more vaccinations before being able to declare polio has disappeared for good.
The Rotary Club of Niagara-on-the-Lake is organizing a Fall Fashion Show to support the End Polio Now campaign.
Rotary has been working to eradicate polio for more than 30 years, and has made incredible progress in the fight to rid the world of it forever. As a founding partner of the Global Polio Eradication Initiative, Rotary has helped to reduce polio cases by more than 99.9 per cent.
"Rotary International is absolutely committed to seeing it through," says Lynne LeGallais, one of the fashion show organizers.
The Bill and Melinda Gates Foundation matches Rotary proceeds for polio eradication with $2 for each $1 raised, she says.
Pamela Wilson, a local Rotary member who contracted polio as a young girl, will speak at the fashion show.
She explains that there are two countries that have had polio cases in the last three years: Pakistan and Afghanistan.
To declare those countries polio-free, there have to have been three years with no reported cases. In Pakistan, there were four cases in 2016, none in 2017, and none in 2018.
"We have to hope there are none this year," says Wilson.
Afghanistan had 13 cases in 2016, 14 in 2017 and 21 last year.
"Both have high mountain ranges, with nomadic people crossing borders," explains Wilson. "There are vaccinations being carried out, but some children are being missed."
There are refrigerated trucks and volunteers from those countries going into the mountains to vaccinate, as well as a laboratory truck to help track down where the polio virus is in the water and eliminate it, she says.
Wilson was five years old when she contracted polio in 1953. That year, families from Toronto were taking their children to Lake Simcoe, to escape the polio outbreak. For Wilson, it was too late — she spent three months in the Hospital for Sick Children in Toronto, alone and afraid, separated from her parents. There were no visitors allowed.
She remembers vividly having the very high fever that accompanies the disease, which attacks muscles, and the long rehabilitation in Thistletown, an area of Toronto, where she stayed for almost a year surrounded by other children also recovering from polio.
The vaccine came to Canada the following year, she says.
"Polio is preventable," says Wilson. "We just have to make sure even in this country that children are vaccinated."
The Fall Fashion Show will take place on Sunday, Oct. 20, from 12 p.m. to 2:30 p.m. at the newly renovated Gate House Hotel on Queen Street.
LeGallais says the Rotary Club is partnering with Joy Kassai-Molon of Queen Street's Bella Grace Boutique, which is arranging the fashion show, and Steven Treadwell, who is providing a three-course lunch at the Gate House.
The lunch includes sparkling, white and red wine, and tea and coffee.
The fashion show features the Joseph Ribkoff fall and winter collection, with hats provided by Beau Chapeau, says LeGallais.
"There is no runway — models will be weaving their way through the tables, so we can feel the fabric and see the designs up close. It makes it very approachable."
Lord Mayor Betty Disero, an active Rotary member, will be the Master of Ceremonies.
Rotary member Jeannie Manning and Scandinavian exchange student Frida Neilsen will be among those modelling Bella Grace fashions.
"We are thrilled Frida will be able to take part in the show," says LeGallais.
Tickets are $80, and are available at Bella Grace Boutique, 118 Queen St.