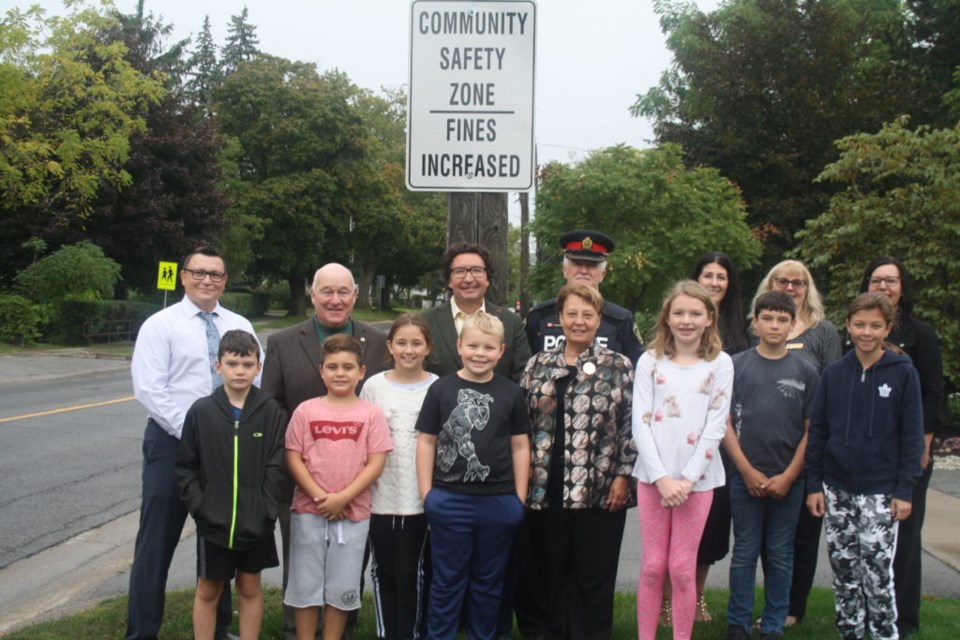 Niagara-on-the-Lake's regional councillor says the greatest number of emails in his inbox come from residents who are concerned about the large number of collisions on local, mostly rural roads.
In response to regional concerns for increasing road safety, there have been major discussions and solutions offered recently, as the Niagara Region works toward making regional roads and intersections across Niagara safer. Coun. Gary Zalepa says he supports three initiatives he believes will improve traffic issues in NOTL.
One large project many residents continue to oppose is the roundabout at the main intersection in St. Davids, for fear it will destroy the small-village atmosphere of the community.
Zalepa says the intersection is already busy, and he is looking further down the road as growth in the community and traffic demands continue to increase. He believes the region has come up with the best long-term solution to address traffic concerns, and it will benefit rather than harm the village.
He is also relieved the region will soon be installing a four-way stop on York Road at Concession 6, an intersection that has been the location of many collisions since Mewburn Road Bridge reopened in 2019, after being closed for about 10 years. It had been used as a throughway from Niagara Stone Road to Niagara Falls, and since the bridge has reopened, has seen an increase in traffic. With the majority of collisions at that location caused by vehicles driving on Concession 6 and not stopping for traffic on York Road, the region first installed oversized stop signs in both directions on the concession, with flashing red lights. The speed has also been reduced on York Road from 60 km/h to 50 km/h, leading to the Concession 6 intersection, and on Concession 6 between York and Queenston Roads, to 60 km/h from 80 km/h.
The region has also decided to add a four-way stop, and would have already done it, if not for the amount of snow on the side of the road, says Zalepa. He has been assured by Niagara Region's director of transportation Carolyn Ryall that the project will be completed "when the snow melts, hopefully soon."
Another initiative he supports, and which Niagara-on-the-Lake councillors are enthusiastic about, is a regional plan to use photo radar. Four speed cameras will be rotated around 13 community safety zones in Niagara, including one on York Road by St. Davids Public School, and one on Niagara Stone Road in front of Crossroads Public School, town councillors heard last week.
The traffic safety program, called Vision Zero, also includes 10 red-light cameras in the region, which will be deployed at intersections around the region. Along with the four rotating photo radar units, the goal is to eventually eliminate injuries and deaths on Niagara roads to zero.
But before it can move forward, all 12 municipalities have to agree to it, and so far, the majority of Grimsby councillors are opposed to the initiative.
Zalepa explains all municipalities have to be onboard to allow for a revised administration to Niagara region's inter-municipal court agreement that deals with tickets, and how the revenue collected will be spent.
The program will cost an estimated $4 million to implement, which the region will pay for, says Zalepa. Moving forward, program costs would be funded by revenue from the tickets. Any revenue over and above program costs would be split 50-50 among the region and lower-tier municipalities, to be used for road safety initiatives.
Zalepa wants to see the project move forward to increase road safety across the region, and believes it would be especially beneficial to the rural municipalities, which suffer more critical collisions on rural roads with higher speed limits than in urban areas.
Once the municipalities have all voted — only Port Colborne has not — regional councillors expect a report on how to move forward without the agreement of all municipalities, but Zalepa says he hopes Grimsby will have another look at it and join the program.
Judy MacPherson, the region's transportation services co-ordinator, spoke to NOTL councillors recently and answered some of Grimsby's concerns, including that photo radar on regional roads might mean drivers would avoid them, increasing traffic on municipal roads.
MacPherson assured councillors that won't be a problem, "due to the geographical setup of those roads." Although the project will start with regional roads, it is expected to expand to municipal roads as well, she said.
Ryall addressed the same issue, referencing the "halo effect" that should result from a change in drivers' behaviours. In response to a question by Coun. Allan Bisback, she said that will also influence drivers who come across the photo radar in other municipalities, with increased driver awareness, which will increase traffic safety across the region.
Although school safety zones will be the first to be targeted with the four speed cameras, she said, that part of the project could expand to include community centres, long-term care centres and other busy locations.
The red-light cameras are proven to reduce right angle collisions by 25 per cent, she said, "making streets safer for all users. It's an effective means to stop drivers from running red lights."
There are still details to be worked out, including how to proceed if Grimsby councillors don't change their minds — Zalepa says he can't imagine anyone not supporting road safety.